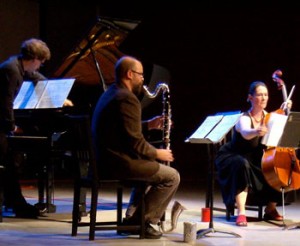 Musical programs come in all shapes and sizes, just like people. But getting a program to make sense is what separates the quick from the dead. The San Francisco-based new music chamber group sfSound usually puts on provocative programs, and their latest one, on Sept 19th at our town's Community Music Center in the Mission, presented different kinds of musical energies, and made perfect sense.
It's never wise to serve something heavy before the main course, and Swiss composer Beat Furrer's 5 minute Ayer (1991), though not exactly lightweight, didn't tax its audience unnecessarily. Sure, it was somewhat demanding–for the players–but also mercurial, with linear and disjunct material, plus a broad range of colors, which Matt Ingalls, clarinet, Christopher Jones, piano, and Monica Scott, cello, dispatched easily.  The succeeding 9 minute group improvisation by John Ingle, saxes,  Jones again on piano, and Kjelll Nordeson, percussion, was thicker in texture, but not especially memorable.
Hans Thomalla's 14 minute Lied (2008), which the composer described in truly informative program note, made a far stronger impression. It didn't sound particularly Germanic–meaning Angst-ridden or drily didactic–but was instead carefully balanced–the sections functioned like strophes in a song–and full of sonorous contrasts, especially in the tenor sax part–John Ingle again–which had a long slow sequence of closely related pitches. The piece wisely avoided closure–is anything ever really resolved?–which made it doubly poetic, with Ingle capably supported by Nordeson, vibraphone, and Jones, piano.
Matt Ingalls' Improvisation for Solo Clarinet (2010) was both minimal–constructed from the most basic elements like scales and detached notes–and more complex musical ones like difference / combination tones, which thudded at unexpected intervals from the speakers on the stage floor.  And, like any good improv sounded both spur of the moment and composed, and Ingalls' easy virtuosity held the audience spellbound for 17 uninterrupted minutes.
Philip Glass is famous–some would say notorious–for pieces of long duration, and his first opera with Robert Wilson, Einstein on the Beach (1975), which lasts over 5 hours,  is easily one of his most seminal works, and a landmark work in recent new music. And the entire ensemble here–with the addition of Stacey Pelinka, piccolo, Kyle Bruckmann, oboe, Matthew Goodheart, electric ogan, Hadley McCarroll, electric organ and voice–she served as Glass the conductor by nodding her head dramatically before the next complex figure–and Diana Pray voice, made Train 1, from Act 1, go by in a flash , even thought it lasted 25 minutes. Glass' work requires perfect ensemble and the ability to play, evenly, at breakneck speeds –it begins at met. 92, and moves up to met.126. The carefully prepared modulations and textural changes were breathtaking, and joyful. And it was an unalloyed pleasure to hear the great composer working his magic, and the audience respond with way deserved cheers.