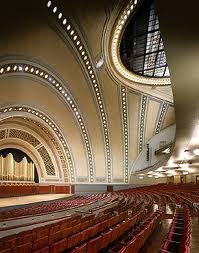 There are few institutions in America with a richer history than the University of Michigan School of Music, Theater and Dance and the composition department there has a particularly impressive tradition. With past and present faculty and students including Michael Daugherty, Bright Sheng, William Bolcom and George Crumb, UM composers have had a hand in much of contemporary American music history including the homegrown Once Festival and other movements such as Bang on a Can.  Moreover, with alumni currently holding faculty positions at premiere music schools across the country (including  UM), it seems safe to say that – despite the impossibility of pinpointing the best composition department in the country – Michigan's legacy is gilded with rare prestige.
I am not here to sell the UM to Sequenza 21 readers, but Michigan's reputation in composition is a quietly held secret, becoming increasingly obscured in recent decades as the landscape of American music education gained more parity. The test of time proves Michigan is neither an aging dinosaur nor a flash in the pan, and my experience here – though a brief three weeks – has evinced further proof that the UM's prowess in music is no accident.
With all this pomp, you may think the UM has cast a spell on me, but that is not the case. Just like any other music school, Michigan has limitations and specialties, but its environment is very special. Ann Arbor is extraordinarily supportive of the arts, particularly in relation to its population (114, 024), and in the last week I have gone to four remarkably well-attended concerts, namely because three featured contemporary compositions.
The first concert offered a selection of French organ and harpsichord music from the late 17th and early 18th century, which was followed later that evening by the Michigan Chamber Players' performance of two homegrown compositions: Andrew Bishop's The Juke Joints in Burgundy (Blues in Burgundy) and Paul Schoenfield's Ghetto Songs. The former was an exercise in timbre (scored for flute, harp and contrabass) and merging diverse influences. As Bishop explained in his program note, Juke Joints alludes to various French musical sources, but has a clear jazz orientation and climaxes with an extended jam between the three players. Ghetto Songs was decidedly more serious in tone, setting holocaust-era Yiddish poetry in a tastefully versatile musical landscape, which was at once evocative, suspenseful and somber.
To have Schoenfield and Bishop's compositions featured on a Michigan Chamber Players concert is not unusual because both are faculty members at the UM School of Music. More remarkable is that Juke Joints and Ghetto Songs shared the stage with Charles Martin Loeffler's Two Rhapsodies for Oboe, Viola and Piano (1905) and Johannes Brahms' Trio for Clarinet, Cello and Piano (1891). Perhaps in larger cities, classic repertoire is frequently juxtaposed with contemporary music, but one can't forget we are in Ann Arbor, MI with just over 100,000 residents. Moreover, two orchestra concerts from this last weekend also programmed recent compositions along side more standard pieces. Coming from my undergraduate in Houston, a city of more than 2,000,000 with an orchestra whose 2010-2011 season's most recently written offering is Prokofiev's Alexander Nevsky, I am stunned in the best way possible that the Ann Arbor community so enthusiastically receives modern music.
Of course, cultural centers like Boston, New York, Los Angeles and Chicago can provide similar experiences for young, learning composers. But, there is one thing Ann Arbor has that most other places don't: pride in their own. As cheesy as this sounds, I think it lies at the heart of the community's receptive attitude towards a repertoire other audiences would scoff at. As evidence I give you Sunday's Ann Arbor Symphony concert so-called "Made in Michigan". Here, Shostakovich and Saint-Saens sat second fiddle to Bill Bolcom, William Albright and Michael Daugherty and – with the help of command performances like flautist Amy Porter's delivery of Daugherty's concerto, Trail of Tears – the audience received their music with respectful avidity. Two nights prior, I witnessed an astounding display of the Ann Arbor community's musical perspicacity as they recognized the high quality with which the University Symphony Orchestra performed Chen Yi's Percussion Concerto and were not fooled by the familiarity of Berlioz's Roman Carnival and Rachmaninoff's Symphonic Dances, both of which were not performed as well, and the audience's reaction reflected the difference.
I am sure, by now, you are all wondering why this makes Ann Arbor a special place. The University of Michigan is like a jewel to the state, and its products, whether football or composers are always treated with respect by the Michigan community. The ability to hear a wide range of music on a regular basis is, by itself, no special quality, but when paired with the intimacy of Ann Arbor, the cultural environment of the University of Michigan becomes rather extraordinary. At worst, Ann Arbor is a close second to the country's brightest cultural hotspots, but I imagine these locales don't deliver the same nourishment of a tight-knit and supportive intellectual ecosystem. Again, I do not think this makes Michigan any better than the other places a composer can get an education these days, but it provides a rare platform for any young musicians burgeoning talents. I look forward to reporting more about his exceptional dot on the American musical map as my time here progresses.