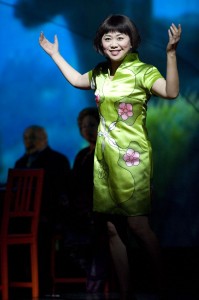 The music season has definitely kicked into gear all across the country. Sure, I will always love and find inspiration via New York City; I just received a great CD from a new friend in Brooklyn and the other night skyped for the first time with another NYC friend and collaborator who helped lead Burnt Sugar in a recent musical tribute to James Brown at the Apollo Theater (Salon Series at the Apollo is looking really, really cool. Miller Theatre, you have been warned…).
But I'm excited by the music new I'm reading from all the coasts (and Midwest). Here's yet another great concert event taking place in my new home – Houston, Texas.
This Saturday, October 16th, Houston's contemporary music group Musiqa launches its 9th season with the world premiere of composer Stewart Wallace's chamber piece for She Told Me This composed for and performed by Mezzo Soprano Zheng Chao with a libretto by Amy Tan. Sara Jobin, Assistant Conductor of the San Francisco Opera, conducts. A native Houstonian, Wallace is best known for his opera Harvey Milk , which premiered in Houston in 1995. Zheng Chao's recently diagnosed and current battle with lung cancer in part inspired Wallace to compose this piece especially for her. You can read more about Chao and her story here.
Saturday's program also includes a world premiere dance performance by Dance of Asia America to works by Lei Liang and Lou Harrison as well as two pieces by composers Anthony Brandt and Todd Frazier commissioned for the recent anniversary of Rice University's Richard E. Smalley Institute for Nanoscale Science and Technology.
It all takes place Saturday, October 16th, 2010, at 7:30 p.m. in Zilkha Hall of The Hobby Center for the Performing Arts. A pre-concert screening of a film about Stewart Wallace and Amy Tan's collaboration takes place at 7:00 p.m. You can purchase tickets at www.musiqahouston.org