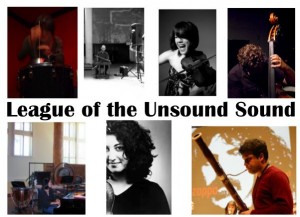 Thursday evening was a good night for new music, as a new chamber ensemble formed by Baltimore-based composer David Smooke gave its maiden voyage performance at Mercyhurst College in Erie, Pennsylvania to an enthusiastic and supportive audience. Sporting the memorable moniker of the League of the Unsound Sound (LotUS), the first performance was a hybrid of members of the core ensemble with guest performers, as pianist and Mercyhurst faculty Shirley Yoo, percussionist Tim Feeney and Smooke on toy piano were joined by percussionist David Schotzko and pianist Stephen Buck.
Upon entering the recital hall, one was immediately drawn to the figures of Feeney, Schotzko and Smooke posed across the state like statues as the audience filed in. While the concertgoers casually chatted and checked their programs, Schotzko began to move his arms slowly and deliberately as Feeney muttered under his breath as he sparsely played a hand drum; it took a few moments to realize that the pre-concert had already commenced with Feeney performing Georges Aperghis' Le Corps à Corps while Schotzko was simultaneously enacting Huang Ruo's performance art work Sound of Hand. After Feeney's mutterings evolved into shouts and nonsensical rants, both percussionists returned to their silent poses as Smooke began a brief but stimulating improvisation on his instrument of choice, the toy piano.
The concert proper started off with a fantastic performance of John Cage's Credo; Yoo's deft performance of the radio brought smiles as one of the FM channels abruptly stated something about "dealing with only part of the breast" (a post-concert debate over whether or not she had found a sex show or a cooking channel ensued) in the middle of the piece. Buck and Yoo proceeded to throw themselves into the U.S. premiere of Arlene Sierra's Of Risk and Memory for two pianos with gusto – it's a great work and will hopefully find more performances on this side of the pond. Smooke and Feeney participated in another improvisation, this time with Smooke bowing and plucking on the inside of the toy piano while Feeney effortlessly coaxed a wide range of sounds from a tom-tom. The first half concluded with Thierry De Mey's Table Music, which seemed to be a crowd favorite. Stephen Buck and David Schotzko explored the serene musings of Peter Garland's Peñasco Blanco, which was an effective tonic to some of the earlier experimental works. The concert came to a bombastic close with my favorite work of the evening, David Smooke's work for two pianos and two percussion, Hurricane Charm.
Future LotUS concerts are scheduled at the State University of New York at Fredonia on February 19, Catholic University in Washington D.C. on March 19, and The Windup Space in Baltimore on March 20 and will include the entire core ensemble with violinist Courtney Orlando, violist Wendy Richman, bassoonist Michael Harley, and bassist Michael Formanek as well as Yoo, Feeney and Smooke.