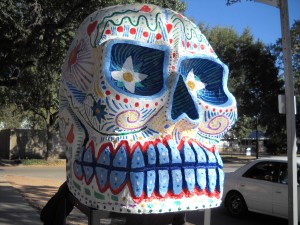 Skeletons! Witches! Vampires! No, I'm not talking about candidates in Houston's midterm elections. I'm talking about Halloween and the two days that follow known as Dia de los Muertos or Day of the Dead. Like many other places in the Southern U.S., Houston culture is a healthy mix of the supernatural and the spiritual. In the Mexican tradition of Dia de los Meurtos, food, beverages, and sweets are placed on homemade alters as gifts for the spiritual manifestations of those who have passed who will, over the course of the 48 hours that is All Saints Day and All Soul's Day, visit the people they knew before the afterlife. Gift giving and the ephemeral nature of playing music – particularly improvised music – have all been on my mind lately.
In his recent book Tradition and Transgression about composer John Zorn, author John Brackett includes a chapter describing Zorn's music from the perspective of "the gift and gift giving." The composer receives a "gift" from an artist – maybe an artist from an earlier time – in the form of creative inspiration and techniques that can be applied to their respective medium and then passes the "gift" along in various forms of musical homage. There are so many examples of this practice in music. Many compositions by Charles Mingus are named for musicians he knew and loved and directly referenced in melody, harmony, and/or rhythm (A few examples are Reincarnation of a Lovebird, So Long Eric and Goodbye Porkpie Hat for Charlie Parker, Eric Dolphy and Lester Young respectively). Certainly there are parallels between creating art and celebrating our ancestors. Maybe there's actually no difference between the two actions?
Who are some of the composers, friends, and/or family members you yourself have paid homage to in musical form?
For the month of November, the tireless Dave Dove and his organization Nameless Sound continue their They Who Sound "First Time Duo" series at Houston's Avant Garden, every Monday from 7pm to 9pm. Each week, two to four improvisers who have never played together share the stage to perform a set of entirely improvised music. This is a great concept, and I wonder if it could expand beyond its current network of free improvisers to include pairings with members of Houston's classical, jazz, and rock communities. Maybe some students from Houston's School for the Performing Arts could share the stage with people with a history in Houston's free improv and/or so-called noise scenes and try to find some common ground?
Also at Avant Garden on the last Wednesday of every month, keyboardist Robert Pearson presents a program of experimental music (Robert was kind enough to invite me and Alex to play last Wednesday, and we had a ball). These Wednesday shows are also an opportunity to hear Robert who doesn't play like anyone I've ever heard before. Imagine Matthew Shipp, former Birdsongs of the Mesozoic Roger Miller, and Erik Satie all at 200 bpm and you sort of get an aural impression of what Robert sounds like on the keys. The resulting music is almost Zen-like in spite (or maybe because of) the tempi. Go hear him for yourself!
On November 2, 2010, 7pm at Talento Bilingue de Houston, Cuban tenor Alejandro Salvia Cobas and belly dancer provocateur Ms. Y.E.T. perform at show of artist and longtime A.I.D.S. activist Lourdes Lopez Moreno's show of hand built clay skeletons. Moreno's work will be on display through November 7th. A short, spooky video featuring Cobas' voice is up on YouTube.
On November 7, 7:30pm at Zilkha Hall, Houston's composer led contemporary music organization Musiqa celebrates the work of Benjamin Patterson, a groundbreaking artist who was a founding member of the avant-garde group, Fluxus, and whose work explores the experimental and improvisational possibilities in music. The concert Born in a State of Flux(us) is free, and Patterson will be there for what should be a crazy evening.