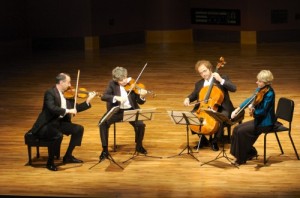 The Takacs Quartet gave the U.K. premiere of Daniel Kellogg's Soft Sleep Shall Contain You, a hauntingly beautiful, touching "Meditation on Schubert's Death and the Maiden." The BBC has made the performance available online here.
Kellogg's quartet is a simply beautiful, evocative work that comments–at times gently, at others savagely, ultimately transcendently–on the refrain of Schubert's famous song, "Death and the Maiden" (and, by extension–and design–the string quartet which bears its name thanks to the variation movement based on this same music). It is a little gem, its biggest–and only–flaw, perhaps, that it feels slight for a piece that is nearly 15 minutes long (although perhaps that's not much of a flaw at all). This is music that manages to comment on the past while making a statement of its own time, that challenges without alienating and uplifts and enlightens without being patrionizing. A deeply moving work performed impeccably by one of the world's premiere string quartets.
Hats off, ladies and gentlemen!