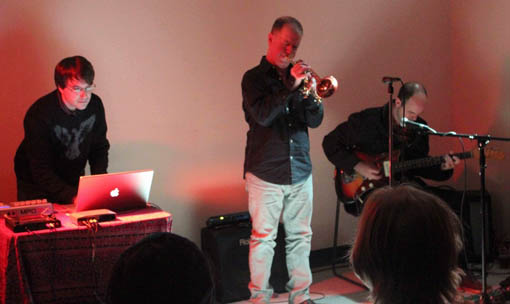 Shh! We're improvising! The Lepers of Melancholy, Houston TX (photo by Jonathan Jindra)
While reading Conversing With Cage at a bus stop today, I stumbled across this funny yet in the end profound exchange (circa 1980) between John Cage and John Robert with Silvey Panet Raymond:
How do you consider new popular music – punk, New Wave?

What is the New Wave? I don't really know what it is. If you could point it out to me, I might have some reaction.

It's very simple, three – , four-chord stuff, aggressive, fast.

There's a good deal of dancing on the part of the performers?

Usually jumping up and down

I've seen something like that. It was entertaining to see but not very engaging.

But they use very dissonant sounds; I wonder how you felt about that?

I have no objection to dissonance.

I know you have no objections, but I wanted to know whether you felt any pleasure that things were coming round to your way of thinking.

But this isn't it, is it? Isn't it a regular beat?

Not all the time.

I think it's part of show business.

Aren't you?

No.

In a marginal way?

No. I'm much more a part of music as a means of changing the mind. Perhaps if you want to say that, I wouldn't myself.

Opening up the mind.

A means of converting the mind, turning it around, so that it moves away from itself out to the rest of the world, or as Ramakrishna said, "as a means of rapid transportation."

So your music in itself is not that important.

The use of it is what is important.

The use rather than the result.

That's what Wittgenstein said about anything. He said the meaning of something was in its use.
As exasperated as I get by quotes attributed to John Cage regarding jazz improvisation, so-called popular music, and well, composing in general, I have been and will continue to be educated, provoked and inspired by his writings and music. My most recent work-in-progress for five electric guitars and electric bass is in part a homage to Cage's Imaginary Landscape No. 1 (1939) that utilizes notation borrowed from Leo Brouwer's wonderful guitar quartet Cuban Landscape With Rain (1984) to realize various aleatoric events. How my new piece (or for that matter Brouwer's) would sit with Cage and his desire that music realized via chance operations covert the mind of its performers and listeners is – since he's no longer with us – open to debate.
Maybe including "…for John Cage…" in the title of my piece isn't appropriate?
Cage also readily admitted he was "close minded…" about many things.
Does Cage present to you a similar grab bag of ideas – some valuable, some exasperating? Has your attitude and appreciation of Cage changed over time?
P.S. Have a safe and relaxing holiday!