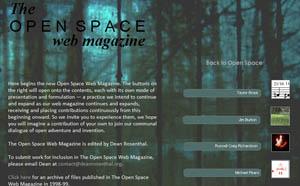 …Though it never really closed… Started around 1998 in upstate New York by a small group of musicians including Benjamin Boretz, Mary Lee Roberts and Arthur Margolin, The Open Space was conceived as print and online magazine venture and CD publisher dealing with contemporary music as "…output from a community for people who need to explore or expand the limits of their expressive worlds, to extend or dissolve the boundaries among their expressive-language practices, to experiment with the forms or subjects of thinking or making or performing in the context of creative phenomena. We want to create a hospitable space for texts which, in one way or another, might feel somewhat marginal — or too 'under construction' — for other, kindred publications."
Given that they may have jumped into the pool just a tad early web-wise, and given the loose nature of of the project along with the busy and evolving schedules of the editors, The Open Space has tended to offer up things in spurts; the print magazine's last issue was from late 2009, and the website languished for quite a while. Still, as befits an "open space" there has always been a very interesting accumulation of various article, scores, recordings and sound files available on their site, well worth a contemporary musician's time to sift through. You can order CD recordings and back copies of the print magazine right from the site, as well.
Just last year, composer Dean Rosenthal signed on to get the purely digital webmagazine up and running again, and Dean's happy to announce the first "issue" is online and available. The current form is a collection of contributions from various composers, of streaming recordings/video of selected works, some coupled with notes and scores of the piece. First offerings include such outside-the-mainstream luminaries as Michael Pisaro, Henry Gwiazda, Richard Coldman and Howard Skempton and others. And of course Dean is always happy to recieve submissions from you composers/performers out there, so why not give it a shot and help populate that open space with even more art and exploration!