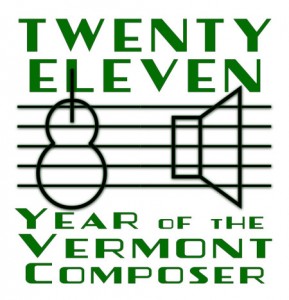 On February 17th, Vermont Governor Peter Shumlin declared 2011 the "Year of the Composer" in Vermont, the first such proclamation in the country. Getting the proclamation itself — little more than a prosaic document signed by a friendly politician — and getting something useful out of the proclamation are two separate stories, one still in the process of being written.
The proclamation is a whereas-filled document that states, "the creation and presentation of newly composed music is fundamental to the history of Vermont and provides a basis for continuing growth of educational opportunities, progress in the our cultural leadership and breakthroughs in new technologies" and "Vermont has shown leadership in the creation and presentation of new music, as revealed by its high proportion of new composers and presentations of new music."
That last sentence sums it up. Vermont is one of the most composer-friendly places in the U.S. with a dense population of composers — one of every 2,500 residents is a nonpop composer, a number that balloons when including composers and improvisers in the other genres.
It wasn't always that way. The Consortium of Vermont Composers was founded in 1988 when artists in the state were isolated by mountains and weather, pre-web, without urban settings that could give rise to performance spaces (and audiences), and with no awareness by performers and ensembles. Their work was largely heard elsewhere. A core group of a dozen composers organized state-wide festivals of new music. Within a few years, nearly every ensemble and nonpop soloist in Vermont was performing new Vermont music and the music began being broadcast (albeit sparsely) on Vermont Public Radio.
More familiar to S21 readers is a side project that grew from the Consortium during its fallow years in the 1990s. Consortium co-founders Dennis Bathory-Kitsz and David Gunn began Kalvos & Damian's New Music Bazaar in order to broadcast Vermont music on local radio—the earliest regular new music program online by September 1995, and soon reaching out to composers worldwide. Central Vermont—home to both old hippie communes and young professionals—was fertile ground for K&D, and the show soon became WGDR's largest source of contributions during fundraising. K&D also won an ASCAP/Deems Taylor Award and subsequently brought the Ought-One Festival of Nonpop to the state capital of Montpelier in 2001, featuring 37 concerts and 100 composers from around the world.
Each event, no matter how large, has a short tail in a sparsely populated state blanketed by snow for eight months. So engaging the visible enthusiasm of politicians in Vermont has been important—also because the state Arts Council is actually a private membership organization with a lukewarm public and more emphasis on education and outreach than groundbreaking art; Vermont is best known as a kind of arts-&-crafts haven. Most Vermont arts grant programs go through Boston, where the northwest neighbor is largely dismissed. The Consortium's earliest members, though, included composer Gwyneth Walker, whose energy engaged Governor Madeleine Kunin's enthusiastic support of (and attendance at!) Consortium festivals beginning in 1988. In 2001—just in time for the Ought-One Festival—Governor Howard Dean proclaimed August as "Vermont Composer Month".
By 2010, attention to new music was rising in some areas—especially among the region's several youth orchestras—but fading on public radio and in more 'ordinary' classical programming. The composers met again, looking for a good reason to hold a year-long celebration, and soon found three: Composer Gilles Yves Bonneau had left the Consortium a bequest for support of major events, and the bequest was finally in the bank; 2011 would be the 10th anniversary of the 9/11 attack to which Vermont composers responded with a heartfelt outpouring of new compositions; and 2011 would also be the 250th anniversary of the land grants of Governor Benning Wentworth that created the place called Vermont out of the New Hampshire and New York colonies, setting it on its way to nationhood and later the 14th members of the young United States. So 2011 seemed an ideal time to ask the new Governor Shumlin to proclaim a year for Vermont's composers.
The Governor-elect's transition team and his post-inauguration staff were far from enthused. "Year" proclamations are rare—particularly one with such as small constituency—and the new Democratic Governor was already swamped in his move away from the economic policies of Republican predecessor Jim Douglas.
Dennis submitted the wording of a proclamation to help clarify its intent for the staff—but still met with a cool reception. He kept emphasizing its importance to Vermont culture, its timing for 2011, and how it would introduce the new Governor to a skeptical artistic constituency ill-served by the previous administration. Campaign contributors were enlisted, and he prodded the Governor directly on his official Facebook page. After six weeks, the staff agreed, the proclamation was rewritten to their tastes (including, alas, grammatical errors), and a ceremony was scheduled.
Announcing a ceremony is great, but getting the composers to show up on short notice in sub-zero winter was tricky. Two hundred emails were sent; a dozen composers could make it on a mid-week afternoon. Jorge Martin drove 50 miles over the Appalachian Gap from Addison; Sara Doncaster drove 50 miles from the Northeast Kingdom's Irasburg; Derrik Jordan had the longest run, 120 miles straight north from Brattleboro, near the Massachusetts border.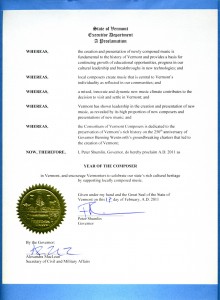 But show up they did, as did the Governor—albeit a little confused that there could be so many composers in his fair state. He was unaware that, as Dennis pointed out in his remarks, "music actually composed in Vermont goes back to Justin Morgan, better known for his iconic horse than the exquisite music he created." The public radio network covered the event, as did one of the state's two daily newspapers.
Fun it was, and that was that. Now what?
The proclamation came as a surprise to many musicians and ensembles, and a sense of excitement rippled through. Organizations like the Vermont Philharmonic immediately put out a call for scores. Commercial classical radio instantly scheduled weekly broadcasts with Vermont composers and their music. The Vermont Contemporary Music Ensemble was featured on public radio with interviews and music from the weekend performance. A Facebook page opened to be a performance 'switchboard'.
The proclamation opens the door to commissions, keeps the "Twenty Eleven: Year of the Vermont Composer" logo on programs, and reminds people of the average of one composer for every town in Vermont. Certainly Vermont is a small state where meeting with the Governor is not a difficult task. Even so, the Consortium hopes that Governor Shumlin's proclamation will be just the first among many nationwide. Echoing the sentiment on Facebook, composer Lynn Job wrote from Texas, "only 49 other states to go."