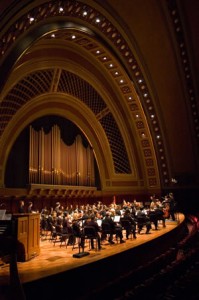 Despite driving snow and slippery roads, an eager crowd gathered Sunday evening to hear Michigan's University Philharmonia Orchestra deliver eight world premiere performances of works by student composers. The concert is one of the most highly anticipated of the year and is a culmination not only for the student composers involved but also for the student conductors responsible for bringing their pieces to life. This year was even more special than most because all the pieces on the programs were Masters Degree theses from the 2011 class. This fact made the evening more of a watershed event than usual as it represented these composers' first forays into the venerable land of orchestral writing and all the professional implications we associate with it.
The music was consistently good throughout, which slightly surprised me because these works were many of the composers' first attempts at handling a full orchestra. The pieces were also very individual, though it was possible to hear the history behind a few of them. Even though the connection some of the works had to the orchestral tradition did not affect my enjoyment of them, I must confess I found the more unique works more striking at the time. However, after a few days have passed and my initial reactions dissipated, it is clear this was an amazingly strong showing from a class of composers filled with distinct personalities and musical voices.
The evening began with Patrick Harlin's Rapture, which he explained is, "not meant to invoke religious imagery…rather a state of extended bliss." Mr. Harlin's work fulfills his description with sustained periods of high energy bubbling with brief, repeated rhythmic-melodic packages embedded into a landscape of constantly shifting orchestral colors. Eventually, long lines emerge carrying the primary thematic material of the piece, but the energy level remains high most of the way through. Impressively, though Rapture careens through a narrow range of rhythms, Mr. Harlin avoids setting a groove or creating trite rhythmic parallelisms. Particularly towards the end of the, the phrasing is delightfully choppy and the orchestration shifts chaotically. To balance this out, Mr. Harlin makes the primary theme very clear, particularly leading into its final recurrence, which is signaled by a piccolo solo. In the end, Rapture comes across as both joyful and frenetic, and the work's ebullient themes bounce across the orchestra like patrons of a wild amusement park ride.
Next was Donia Jarrar's Border Crossings, which featured the composer on stage as a vocalist and narrator. The piece is overtly programmatic and deals with Ms. Jarrar's experience as a young girl fleeing Kuwait after the Iraqi Army invaded the small Middle Eastern nation in August 1990. As one expects, Ms. Jarrar's music references the setting of her story, but she is very intelligent about incorporating her allusions to the Middle East into the framework of the piece. The most striking example of this is the beginning where Ms. Jarrar sings over a drone of open fifths. The harmony changes but remains quintal until the strings land on an incredibly poignant major-seventh chord and the pattern of sparse accompaniment is broken. Border Crossings succeeds as a backdrop for Ms. Jarrar's text, but it was her performance that rent the most hearts on Sunday night, nearly stealing the evening had it not been for the strength of the other pieces on the program.
Jeremy Crosmer's Catalyst Suite followed Border Crossings. As I have mentioned in previous reviews, Mr. Crosmer has a clear and specific sound in his writing, which proudly pays tribute to masters from the middle of the 20th-century such as Howard Hanson and Igor Stravinksy. Catalyst Suite was no exception and was heavily laden with the active counterpoint and clear, crisp orchestral textures typical of 1920s and 30s neoclassicism. The work's first movement exemplifies this idea and takes on a delightfully regal character as if the music were accompanying the entrance of an early 20th-century European noble. The next movement is more convivial and self-referential, and the last movement is a fugue well disguised by Mr. Crosmer's orchestration. As atypical as Mr. Crosmer's music appeared against the aesthetics of the other composers on this concert, his belief in his sound world was just as firm as any of his colleagues' and it came through confidently in Catalyst Suite.
The final piece before intermission on Sunday was Michael-Thomas Foumai's The Light-Bringer. Before the piece began, Mr. Foumai told the audience how historical events often inspire him and, for this piece, he drew on the tale of Lucifer, the fallen angel who becomes Satan. The Light-Bringer is filled with numerological references to '666' and, overall, possesses the furious and deliberate power of the leviathan figure it hopes to portray. Like the Catalyst Suite, Mr. Foumai's work connects to an orchestral tradition, just one a little more recent: the string of epic symphonic works of the late 1980s produced by titans like John Corigliano and Christopher Rouse, among others. Mr. Foumai's score is appropriately dramatic and filled with a variety of engaging textures, which produce plaintive, frightening and maniacal moods at different points in the piece. When trends suggest orchestras want short and fast pieces, Mr. Foumai has turned an 'about face', producing a dense and captivating portrayal of a most compelling subject and employing every sonic means at his disposal.
In a delicious contrast to the The Light-Bringer, the second half of the evening's music began with Hakki Cengiz Eren's An Imaginary Vision of St. Barnabus When There is Snow, for string orchestra. St. Barnabus delivers a delicate and nuanced impression of a famed monastery on Mr. Eren's native island of Cyprus. Purposefully, Mr. Eren's orchestration sets a tone of mysticism and undergoes subdued transformations from one section to another. There is a unique fluency with which St. Barnabus navigates from one texture to another, giving the work's structure an evolutionary character. Mr. Eren's material is tight-knit but far from redundant, a feat made more impressive by the limited presence of distinct musical recurrences. When the strings land on the final sonority, the audience understands we haven't traveled far, but the profundity of the journey cannot be understated. For this, the end of St. Barnabus was one of the most beautiful moments on the program.
Following St. Barnabus was Bret Bohman's Kindred Streets, a self-portrait in sound, so to speak, insofar as he aimed to reflect the three places in his life that have most influenced his musical sensibilities: the University of Michigan, rural Ohio and the night life of Rochester, New York. These aural landscapes unfolded in that order and worked together to create a fast-slow-fast ternary form with a few overlapping musical ideas. Most notable of these recurring themes is the opening fanfare, which is brash and angular and representative enough of the sound world here in Ann Arbor. After this, Kindred Streets takes the listener to a more halcyon musical sphere of long, high string melodies floating above a harp accompaniment. Mr. Bohman uses an English Horn solo to transition to the final, chapter of his piece: a twisted, charming and ostentatious fusion of jazz and electronic dance music. The aforementioned fanfare reappears and leads Kindred Streets to a clamorous conclusion, rounding out Mr. Bohman's well-crafted musical narrative with a bang.
The next work was Joseph Kern's Rusted Mechanism. Mr. Kern's introductory remarks were very intriguing as they described the piece's narrative design: a soundtrack to a robot Armageddon. I must admit my imagination ran wild with this idea, and felt reigned in by Rusted Mechanism's clear depiction of a very deliberate mechanical army slowly moving toward the final outpost of human resistance. The dark, superhuman forces are represented by a persistent minor third motive, aptly appearing in the low brass for much of the piece. Further apocalyptic imagery comes from Mr. Kern's unconventional percussion battery, which included a thunder sheet, siren and a heavy dose of bowed suspended cymbal. Mr. Kern represents the human victims in his frightened string parts full of tremolos and scattered melodies. As the piece goes on, it becomes clear the reactions against the ominous minor third motive are futile because it is hardly transforms and recurs many times, dealing hammering death blows as Mr. Kern's vision of the world's end plays out.
Roberto Kalb's Mascaras closed the concert fittingly as its sound world summarized the extremes of intimacy and grandeur the audience had encountered over the course of the evening. Heavily rooted in imagery of nature and inspired by Octavio Paz's collection of critical essay El Labertino de la Soledad, Mr. Kalb's work is earthy and somewhat exotic, and evolves similarly to An Imaginary Vision of St. Barnabus; that is, without transparent motivic connections but retaining a strong internal logic. Mascaras is full of wonderful orchestral colors, such as the opening where a gong underlies low strings and a mysterious clarinet solo. In contrast to other pieces on the concert, Masacaras lingers substantially longer in a slowly unfolding melodic space before any fast rhythmic music enters, a strategy I found rather dramatic. Ultimately, a sweeping, romantic string melody emerges as a decisive idea in the work, leading the audience to a climactic ending and tying together the disparate musical landscapes traversed over Mascaras' duration.
As proud as all of us in the University of Michigan community are for these composers and the student conductors and performers who made the concert possible, I could not help feeling bittersweet satisfaction when I got home Sunday night. Just the day before, the Detroit Symphony Orchestra Board of Directors announced it would suspend the remainder of the 2010-2011 season due to an irreconcilable 20-week impasse between the group's players and management. According to the Detroit Free Press, the DSO is the first American orchestra to lose a whole season due to labor conflict, and – with so many orchestras across the country experiencing financial uncertainty – can we really expect they will be the last?
For a long time, composers' ability has been judged principally on their orchestral writing, but how much weight should we put on writing for an ensemble that is slowly going extinct in our country? I realize this point of view is controversial, and I don't voice it to marginalize the excellence of the music I've discussed. Nevertheless, we cannot ignore what is happening to American orchestras. After acknowledging the tenuous viability of our age-old perspective on orchestral writing, the theory behind it remains, and stands to illustrate that – due to the showing they made Sunday night – these eight composers have set an admirable precedent for their future contributions to the world of contemporary music.