(Houston, TX) On February 25th and 26th at 8pm and February 27th at 2:30 pm (the third date added due to popular demand), the Houston Chamber Choir and Da Camera present Music for Rothko, a concert program of contemporary music in one of Houston's most unique performance spaces. All three performances are sold out.
Presented in the interior of Rothko Chapel, the Music for Rothko program includes piano works by John Cage and Erik Satie, Tagh for the Funeral of the Lord for viola and percussion by Tigran Mansurian, and choral compositions by John Cage including Four. Feldman's Rothko Chapel for soprano, alto, choir, celesta, and percussion, is the centerpiece of the program. The performers include the Houston Chamber Choir conducted by Robert Simpson, pianist Sarah Rothenberg, percussionist Brian Del Signore, and violist Kim Kashkashian in her first Houston appearance in more than 20 years.
New Yorker Magazine music critic Alex Ross recently tweeted: "It's Rothko Chapel week" in reference to several performances taking place this week across the country of Feldman's elegy for his friend painter Mark Rothko. It is exciting to find out via Twitter that this piece is receiving so much well deserved attention. Last Fall on Sequenza 21, I wrote about the Houston Chamber Choir and this upcoming concert. But I didn't know at the time that several other performances of the piece would take place within a short span of time. And now I'm interested in contemplating what will set the Houston performance of Rothko Chapel apart from those taking place in other cities?
In his wonderful collection of writings Give My Regards to Eighth Street, Feldman describes Rothko's paintings as "…an experience in depth…not a surface to be seen on a wall." Music for Rothko will be complimented by the fourteen paintings Rothko painted for Rothko Chapel; and this setting is one that venues in other cities will not be able to approximate. Rothko's paintings seem to move beyond the edges of the canvases, their surface appearances changing constantly thanks to the light coming through the chapel's skylight and Houston's unpredictable weather patterns. A fusion between the paintings, the architecture of the octagonal room, AND the live music is in store for the chapel's capacity audiences.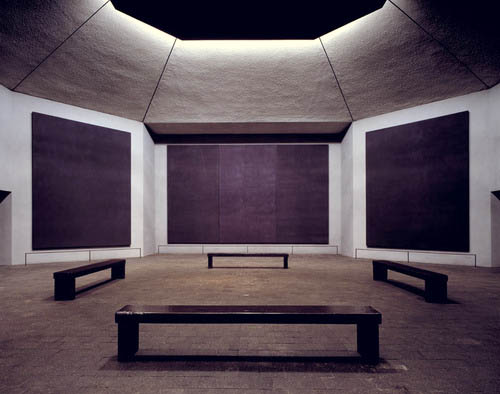 Music for Rothko takes place February 25th and 26th at 8pm and February 27th at 2:30pm at Rothko Chapel. All three Music for Rothko concerts are sold out.
A standby list will be created beginning one hour before the performances, and if there are unoccupied seats, ticket will be sold for $35 at the door beginning about 10 minutes before the concert begins.