[The latest iteration of the always-stellar Other Minds festival is now done and in the books. We asked our equally-stellar Bay Area musician friend Tom Djll if he'd like to cover a bit of it for us, and he happily sent along his impressions of  the second and third concert evenings.]
Other Minds 16
Jewish Community Center, San Francisco
Concert Two, Friday, March 4, 2011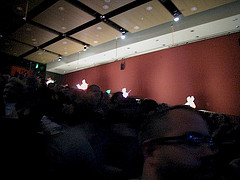 There's a shard of spotlight on my shoulder. A music stand hovers off the sphere of peripheral vision; under it, the shadow of fingers curl like the violin scroll toward which they crawl, spiderish. The fingers belong to a violinist of the Del Sol String Quartet; on both sides of the audience the quartet and the Left Coast Chamber Ensemble are arrayed up the steps toward the back of the hall. In forward vision is percussionist Andrew Schloss, standing behind a computer and percussion-controller on a table. Over these hover his wired drumsticks, sometimes striking the controller yet often just floating, stirring the atoms above it, sending flocks of musical messages to various slave percussives onstage, offstage, and hung from the ceiling above. The composer is David A. Jaffe, protegé of Henry Brant; the percussion-controller builder, German-born, Seattle-based Trimpin, master of MIDI and commander of solenoid soldiers.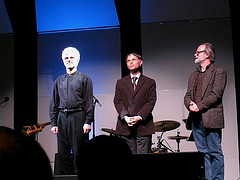 The Space Between Us might be called a "cubistic" composition. The subject is suggested by the title, or "what can be communicated and what remains unsaid," in the composer's words, as, with sticks held aloft in a gentle but dramatic gesture, percussionist-conductor Schloss signals yet another beginning, another foray into the problem of separation and identity. Somewhat reminiscent of Ives' The Unanswered Question, each new attempt answers nothing but only brings more questions to the surface, adding facets to the cubist puzzle in the hearer's mind. Strings quiver in mournful, canonic dirges in one phase; other times they signal impatience in brusque, un-pretty gestures. Later on, massed plucking is attempted, to better match the percussive chatter. Desperate glissandi from the computer-driven piano onstage are gobbled and hurled back by cello and viola, all to no avail. The space remains and separation seems unbridgeable, yet the sonic discussion has pushed the gloom back for at least a few moments of transcendent, clouds-clearing beauty. The conversation is aptly dedicated to Henry Brant, an Other Minds spiritual father.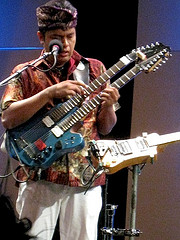 Next up was I Wayan Balawan, guitarist/composer of Bali. OM 16 marked the first appearance in the West of this gifted young man of Olympian technique and globe-trotting musical mind. He also possesses an awareness of stagecraft and audience engagement, reflected not only in his pleasing hybrid music but also humorous asides which broke the performer-audience barrier, and a precise approach to costuming. Onstage with him were, from left, Balinese compatriots I Nyoman Suwida and I Nyman Suarsana on gamelan instruments. They were clothed in traditional Balinese musician dress: Nehru-ish jackets, beaked fezzes, sari-like sashes and bare feet. Balawan himself kept the hat but otherwise he and the added rhythm section (Scott Amendola and Dylan Johnson on drums and bass) decked themselves casually. Sort of a stylistic continuum, with Balawan as the mid-point.
All the brilliance of Balinese music was in evidence as the trio launched into the first of three numbers (Amendola and Johnson laid out at first), with Balawan leading on double-neck electric guitar and voice, and xylophone doubling and drum accompanying. Balawan has all the chops and effects of any guitar god you can name, and his lightning-fast melodies were as often hammered out on the fretboards with one or both hands as they were plucked traditionally. Another electric guitar stood ready on a stand; both instruments were routed through various samplers and synths and footpedals. The tunes shone the happy sunlit sound of dissonance-free scales and world-pop beats. Balawan opened the final number with a demonstration of the hocketing melody as laid out by the Balinese players on each side of a metallophone; part by part, slowly, then briskly together, then doubling with guitar at warp speed in the tune's performance, and the audience slurped it up like Singapore noodles. This kid is going places.
Agata Zubel of Poland opened night two's second set with Parlando, voice + electronics in a rigorous yet easy-to-digest demonstration of vocal/computer self-accompaniment of the non-looping kind. One might have expected more integration of the hairier side of contemporary vocal extension (Diamanda Galas, Phil Minton, Shelley Hirsch), but Zubel's range of techniques was focused, precise, and mostly omitted noises in favor of dramatic gestures. The sounds and ambiences immediately brought to mind Cathy Berberian (more on her, later), but then an outbreak of avant-beatboxing shocked one back to this century. Then, after just eight minutes, it was over. (Zubel was given more of a presence on Thursday night.)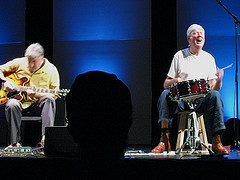 Friday night's ultimate act was the duo of Han Bennink (drums, Holland) and Fred Frith (guitar, devices, Oakland, by way of England). About esteemed Dutch drummer, improviser, and provocateur Han Bennink's stage presence, one's first impression is of a pair of malformed albino salami – wait, those are his legs? – revealed via Bennink's now-patented stage getup of beachcomber's shorts, teeshirt and headband. All that was missing was the metal detector, although had there been one available there's no doubt Bennink would have beat some music out of it. As it was, everything within the man-child's reach was fair game. That reach extended beyond the stage at times – backstage, an unguarded piano was hijacked for a short joyride; then he turned his back to us and set his bum on the drum and wailed away on the wooden stool; later, Bennink took to rattling his sticks on the railings flanking the audience, giving a fair approximation of gamelan, no doubt an intentional nod to the Balinese set that came before. And for a long while, Bennink simply sat spread-legged on the floor and ecstatically pounded it with his palms, generating an insistent beat in nearly every performing permutation. He also had a snare drum onstage for a few demonstrations of his peerless brush technique.
Bennink is one of the few improvisers around who can make Fred Frith look like the conservative guy onstage. Frith surely knew what he was in for, and kept his part well under control and always gorgeously musical. He even drew some laughs of his own, strumming the strings of his lap-held guitar with paint brushes. I've seen him drop rice grains on his strings a few times before, and this time the stunt made its beautiful, random plinks fit Bennink's manic-percussive thrash just right, somehow. These two together, who can turn practically any liminal sound-construction into compelling music without ever suggesting a tune or idiom, could lay claim to being the world's greatest bad buskers.
Concert Three, Saturday, March 5, 2011
The final program of Other Minds 16 had its first half given over to the Dutch composer Louis Andriessen, a big catch for the festival. With Mr. Andriessen, one expects the unexpected, and the ensuing three compositions did not disappoint, in instrumentation, structure, or performance. Monica Germino performed Xenia for voice and violin, informing us that it had something to do with chickens and that Charles Amirkhanian, OM's Artistic Director, had offered a prize to anyone who could find the reference. As it happened, glissandi and telegraphic triplets were more in evidence. Germino's work was characterized by grace, understatement and deliberate pacing. For Passeggiata in Tram in America e ritorno, she was joined by Eric Zivian on piano and Cristina Zavalloni, voice. The setting of the mad poet Dino Campana's words was composed for Zavalloni, and she owned it completely. In fact she rather took over the stage from that point on, the high point following with Letter from Cathy. 'Cathy' being Berberian, wife of Andriessen's teacher Luciano Berio and one of the great new music vocal interpreters of the previous century. A harp, contrabass, and percussion were added for this dynamic and humorous run-through. Andriessen's setting followed the light, chatty tone of the letter, emphasizing the idiomatic passages "working like a beaver," "cut my legs short," and "Not bad, huh!" – this last declaimed by Zavalloni, her raptor's eyes staring down the room, daring us to giggle.
Andriessen clearly has a soft spot for Zavalloni – "the first singer I've met since Cathy Berberian who has the same musicality and flexibility," he says in the program notes – and the two of them cavorted their way through an improvisation for piano and voice that showed Andriessen's skill at grafting diverse styles together on the fly. Having experienced such a rare treat – a major composer creating new music in real-time – one forgave the somewhat overextended length of the result.
Kyle Gann's Time Does Not Exist, for piano, was a straightforward composition of music for which one needed no reference to its programmatic underpinnings to enjoy (it's about the spiralling, looping journey of psychological therapy). Pianist Sarah Cahill, well-known to Bay Area and OM audiences, gave it a fine, graceful touch and flawless execution. The little pearls of sound that floated from the keyboard were atonal and non-resolving in a Feldmanesque way. That's fitting, as Feldman's late music was all about erasing the perception of time. One could have sat, bathed in these exquisite sounds all night. (Gann had more music presented in the Thursday night program.)
The final set of OM 16 brought us to the problem of Jazz, a genre and culture that's today locked in the incubation ward of its past. Jazz struggles not just with the contortions of an ingrown musical language and assaults on its identity, but the cloud of vernacular speech that surrounds it, packages it, mocks it, and delivers it to Starbucks loudspeakers. Hence, Jason Moran's Slang. Moran, a certified genius (MacArthur) and composer of studied eclecticism, as well as a fleet and well-versed pianist who refers to Cecil Taylor like candied ginger refers to the blood-stirring bite of the primal root, gave us a study in Jazz culture/practice that drew a line from every book in the canon. Words, words, words, somebody or other once quipped. That's where Moran's Slang starts and ends, with the jam-session argot of cool cats. Boldly declaimed (by Alicia Hall Moran) or playfully babbled by children (on tape), we were presented this litany of jive in numerous incantations and incarnations that wove in and out of the sounds from the assembled quintet of piano, guitar, voice, bass, and percussion. Actually, it started with clapping music, as the five players made their way to their stations from backstage, smacking hands in syncopation, while canned instructional recordings of extremely White Male voices provided an ironic frame. Interestingly, another Steve Reich reference came out later on, when the recorded voices were electronically clipped to just their sibilant sounds, building via phasing loops into a freight-train rhythm, thereafter segueing into a drum solo by Nasheet Waits. Subsequently, Moran proved he's checked out Anthony Braxton, as a multilayered stack of 'pulse tracks' clicked into place before Tarus Mateen gave us a lively update on Slam Stewart's bass/vocal doubling routine. Mary Halvorson (a mainstay of recent Braxton groupings), applied a wobbly effect to her guitar, sounding like an anti-autotune feature, which lent her contributions an endearingly goofy quality. Probably the strongest quality of this music, aside from the high caliber of performance, was its revelry in a complexity-generating multiplicity – of voices, styles, rhythms, textures, and cultural commentary – offering not just a lot to listen to at one time but generating a conversational chorus, as befitting the subject: Many voices pursuing many agendas, providing a raucous update of the old psalm, "Make a joyous noise unto the Lord."
After sixteen years, the Other Minds Festival occupies a comfortable place in the San Francisco cultural landscape, with expanding programs dedicated to young composers, fostering new works, and, now, travel (a trip to Iceland is planned for next October – see otherminds.org for more info). We congratulate the OM staff and artists for a job well done and look forward to next year's concerts.
— Tom Djll  [all photos: Michaelz1 at Flickr]