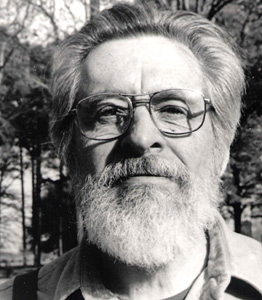 In every field of endeavor, there are people who are famous for being unknown.  Perhaps unknown is the wrong word–more like known and admired mainly by others in the same field who wonder why they aren't better known to the public at large.  Despite having published several admired novels,  William Gaddis was known mainly to other writers.  For many years, my friend, the sadly late Steve Lacy, was known mainly to other jazz players.
Ben Johnston, born 85 years ago today in Macon, Georgia, is such a person.  One of the few composers alive who can claim to have studied with both John Cage and Harry Partch (not to mention Darius Milhaud), Johnston is widely admired by other composers for his ability to reconceive  familiar tunes and idioms–neoclassicism, serialism, jazz, southern gospel–using just intonation musical tuning.   His biggest hit, so to speak, is probably his String Quartet No. 4, a complex series of variations on Amazing Grace.
For the past several years, the Kepler Quartet has focused  on recording and  preserving Johnston's 10 String Quartets–which Frank J. Oteri calls "one of the pinnacles of the American chamber music canon"–with the direct input of the composer.     The first disc–Quartets 2, 3, 4, and 9–was released in January 2006 on the New World Records label and blew a lot of people, including me, away for both the musical content and the performance standard set by the Kepler Quartet.  The second disc–Quartets 1, 5, and 10–was released in January and is also getting rave reviews and attention.  The Keplers are currently raising money for the third disc and you can help–by buying the CDs and/or by donation,  You can find out how to do so here.
And stay tuned–a couple of days from now on Thursday, St. Patrick's Day–we just might have a special musical treat from Ben, complete with commentary.