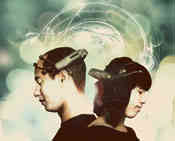 Last Saturday night I saw a concert that paired, more closely than any before, technology with the living composer. The debut performances of the MiND (Music in Neural Dimensions) Ensemble at the University of Michigan this weekend left its audience in awe as the performers used "advanced neurofeedback technology" in conjunction with live electronics to produce an evening of music controlled – literally – by their brain activity. Propelled by its uncharted level of novelty, the concert was a dramatic exploration of music's relationship with our mind and spirit unified but a spirit of interactivity that extended beyond the neurofeedback to audience participation and elegant live electronics.
MiND is made up of graduate composers David Biedenbender, Suby Raman and Sam Richards along with Robert Alexander, Dan Charette, Laura Gaines and Annlie Huang. Unlike most contemporary music ensembles where composers often work behind the scenes, Mr. Biedenbender, Mr. Raman and Mr. Richards participated actively in the performance as instrumentalists and narrators. Given that their instrumental prowess was limited, the pure musical elements were simple and serene, if not a little cheesy at times. This trance-like character, however, did not detract from the evening's overall affect, which used meditations led by local T'ai Chi Master Washentha Young to set a tone of connectedness between mind, body and spirit.
The performance's zen-like mien was a wise creative choice because beating the audience over the head with the science of everything would have desiccated the performance like overcooked chicken. To be honest, it was not always clear how or what part of the music was being influenced by the neurofeedback at any given point. Though on multiple occasions the MiND musicians explained the types of brain data they were using to alter the music, it was not possible to completely discern how much of what we were hearing was live and pre-recorded.
This lack of transparency rested in the primitive quality of the neurofeedback devices, or "brain hats" as the MiND Ensemble members called them. In fact, Friday and Saturday's performances were as important to the world of music as they were to the scientific research of the brain. I couldn't resist relating the concert's equitable significance to science and music drew me to Milton Babbitt's famous article, Who Cares If You Listen? (I prefer his original title, The Composer as Specialist) wherein the late champion of total serialism compares the state of contemporary music – in 1958 – to the social standing advanced mathematics and science.
One of Babitt's main points is that specialized music is not isolated from the world for moral reasons – "I say all this not to present of picture of a virtuous music in a sinful world" – but, rather, because the world is, "inapposite"; unprepared to support the kind of music Babbitt advocates. Has the world – unforeseeably to Babbitt and, sadly, just after his death – finally caught up to music? Does the incorporation of neurofeedback technology in a live musical performance finally obscure the, "obvious differences" between music composition and scholarly research?
Clearly, at no other time – to my knowledge – has a concert so soundly straddled the gap between artistic creativity and empirical research. Yet, I don't believe the MiND Ensemble represents as full a union between science and music as Babbitt hoped for in Who Cares If You Listen? First of all, Babbitt does not suggest composers should become scientists, rather he proposes a, "total, resolute, and voluntary withdrawal from [the] public world," in the manner of scientific researchers. Ironically, though the composers in the MiND Ensemble relied so heavily on science, this neurological crutch was used to engage a public audience more than ever. Not only did the technology make the performance more compelling than a run-of-the-mill new music concert, the image of Sam Richards sitting behind a laptop at a given point is infinitely relatable in today's world where people are much more likely to use a computer than read music. Though I, personally, would have preferred a different prevailing musical style than the indy rock/eastern fusion/pseudo-minimalist hybrid that dominated the evening, Saturday's performance possess all the depth and drama and eye candy one could hope for in a contemporary music event.
On a different note, composer and NewMusicBox blogger David Smooke recently posted about how musical experimentation is – essentially – no longer possible; that, even if composers attempt to do something totally new, it has already been done. Although I agree with Mr. Smooke that earlier generations of composers pushed the musical envelope pretty much as far as it can go and currently active composers should, instead, attempt to synthesize the results of this experimentation instead of continuing it, the MiND Ensemble proves you can't foresee the boundaries of music's frontier.
Although there is real credence to Mr. Smooke's argument,  I believe it is as erroneous to claim musical experimentation is no longer possible as it was for the United States patent office to close it doors at the turn of the 20th century because  it thought everything imaginable had been invented. Although composers have covered immense ground in the last 100 years, I'm not willing to count out the future of experimentation when new technologies remain undiscovered, and new applications of existing equipment – such as live neurofeedback – can create innumerable and novel musical opportunities in the blink of an eye.
The MiND Ensemble performance I've discussed is only one of the several final concerts I've gone to in the last two weeks here at the University of Michigan. Given the amount of music I've witnessed, I won't parce through every concert piece-by-piece, but instead will touch on the profound, over-arching trends that were illustrated as the Winter 2011 Semester came to a close.
I'll keep with the Babbitt theme and identify the first of these threads by reversing the title of one of the late serial master's more well-known works: my beginnings are my ends.
This idea of circularity arose in multiple places in the many concerts I'll mention, but most obviously applies to the final Symphony Band concert I went to because it closely resembled the first Symphony Band concert I covered by in September. Two works on the program were by living composers: a transcription of Bright Sheng's Shanghai Overture and Kristin Kuster's work for violin and band, Two Jades. As curious as the latter of these may seem, Ms. Kuster balanced the forces at her disposal deftly and agilely, unbelievably finding a way for soloist Xiang Gao to project over the band. Last September, trombonist David Jackson was constantly slathered with brass and winds in John Mackey's Harvest, yet at the hands of Ms. Kuster, Mr. Gao's violin was able to shine against and play with the powerful accompanying ensemble.
Last Friday's season-ending University Symphony Orchestra concert similarly recalled an event from the beginning of the year with the performance of Michael Daugherty's violin concerto Fire and Blood, performed by concerto competition winner, Anna Skalova. One of the first concerts I went to in Ann Arbor featured a performance of Daugherty's flute concerto Trail of Tears with soloist Amy Porter backed by the Ann Arbor Symphony Orchestra. Despite predating Trail of Tears, Fire and Blood sounds much more mature, combining an expert display of the instrument's sound with more daring materials and structures than the typical Michael Daugherty composition. To this end, I liken Fire and Blood to Mr. Daugherty's Grammy-winning piano concerto Deus Ex Machina, which possesses an earnest tone akin to Fire and Blood and separate from other works in Mr. Daugherty's output that focus on more youthful and nostalgic themes.
This academic year also ended with two strong student composers' concerts at the University of Michigan. The first of these was the final department-wide performance, the last in the series of composers' concerts I've written about all year. Epically long, the concert was remarkable beyond the consistently high quality of the music; it essentially summarized all the compositional diversity present at the University of Michigan. Works ranged from stylistically retrospective a cappella choral music to folk songs in the ilk of musical theater, more than one multi-media composition (one for video and chamber, another – mine – for narrator and electronics), and dramatic and intimate solos, duos and trios. Every element of the "Michigan sound" was present on stage that evening – from the grand scale and more mainstream sounds of Joey Kern's brass choir work Blast Furnace, to the post-minimalist methods in Samn Johnson's Untitled, to Sam Richards' abstract electronic score, Sakura.
The second concert was more limited in scope by design: it was an evening of new pieces for organ, all but two written by students from Michigan. Many of the pieces (including mine) were rather traditional sounding – Pierre Derycz performed his counterpoint class assignment! – but there was still an impressive range of styles. Samn Johnson and Bill Zuckerman, for example, wrote pieces that incorporated indy rock and post-minimalist themes (titled The Abyss Stares Back and Recurrence Relics, respectively), while Geoff Stanton's King Rap and William Albright's Valley of Fire were more abstractly dissonant and modernist. Though this concert was more focused than the aforementioned final student composers' concert, its program portrayed the versatility and expressive abilities of a sometimes intimidating and often scoffed-at instrument.
In the end, these two student events displayed the trends in the University of Michigan Composition Department I've looked at in my posts all year. While there are certainly pop-rock/indy/post-minimalist ("New Synthetist"), expressive-modernist, neo-romantic and indeterminist presences in the school, the composition students here feel discovering and asserting their own voice is absolutely paramount. Influences are palpable in many students' cases – as they are with most composers – yet, almost all of us find a way to put our personal imprint of the other musics we reference, rely on and use seek as inspiration.