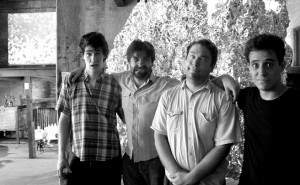 Like the New Music Bake Sale, there's another great Brooklyn tradition beginning to happen.  On Friday, July 8, 7:00 pm to midnight at the Invisible Dog Art Center, Dither will be hosting their second annual "Extravaganza."
This year they will be featuring an array of experimental sounds, presented by composers and performers notorious for carving out unique musical niches.
In addition to Dither, the lineup includes renowned guitarist Marc Ribot, powerhouse quartet So Percussion, Ches Smith and These Arches (an all-star line-up including Mary Halvorson, Andrea Parkins, and Tim Berne), Ted Hearne and Philip White's raucous noise group R We Who R We, Sound sculpting vocalist Lesley Flanigan, multi-instrumentalist Nathan Koci, and a multimedia work for suitcase radios by composer Paula Matthusen. Dither will perform works by Phill Niblock, Corey Dargel, Lisa R. Coons, Joshua Lopes, and Travis Just.
Dither's Invisible Dog Extravaganza!
Friday July 8, 7:00 pm – Midnight
The Invisible Dog Art Center, 51 Bergen St.
F/G to Bergen, 2/3/4/5 to Borough Hall, A/C to Jay
$6 admission
Sponsored by The Brooklyn Arts Coucil and Brooklyn Brewery
www.theinvisibledog.org
www.ditherquartet.com
(and if any of you still can't get enough of Dither, you can listen to my recent podcast episode with James Moore here.  I've also recorded an interview with Taylor Levine which will be available later this summer.  You can subscribe for free in iTunes if you're afraid you'll miss it.)