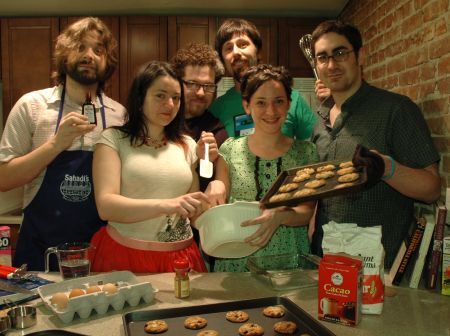 Of all the press releases I received over the summer, none made me happier than the one saying that, yes, there would be another New Music Bake Sale this year.
It's happening this Saturday, September 25, at the Irondale Center (85 South Oxford Street, Brooklyn) from 5-11:30pm and will be emceed by hosts from WQXR/Q2.
It looks like this year will be even more delicious than last year with more performances, more baked goods, and a silent auction.  All of the ensembles with tables have been invited to offer special items for auction (with all the money going directly to the ensemble); look for updates to the auction items here.  Want a piano lesson with Kathy Supové or a custom album written and recorded just for you by Loadbang?  The silent auction is where you'll have the chance.
There will also be a bunch of performances, and by incredibly diverse groups: the Respect Sextet, Wet Ink, Kathy Supové, MIVOS quartet, Matthew Welch, DITHER, Todd Reynolds, Mantra Percussion, and Anti-Social Music.  Unbelievable.  $15 gets you in the door, includes 2 drink tickets, and you can come and go as you please.
I said it last year, and I'll say it again:  even if you don't care for all the music, it's hard to deny the sense of community from having so many different groups all in the same room – we are all in this together! Tip of the hat to Newspeak, Ensemble de Sade, and the Exapno New Music Center for making it happen.
Finally, I'm not totally sure if you can still reserve a table as an ensemble, but if you are interested I would ask.  If you are interested in helping out I'm sure they would love to hear from you as well: info@newmusicbakesale.org
New Music, Beer, and Cookies.  Seriously, what else could you possible ask for?!