Krys Bobrowski is up next in our series of interviews with composers who are premiering new works at the 10th Annual Outsound New Music Summit in San Francisco on Friday, July 22nd.  The Friday night concert, entitled The Art of Composition, starts at 8 pm at the Community Music Center, 544 Capp Street, San Francisco. Tickets are available online from Brown Paper Tickets, and you can also buy them at the door.  Listeners who don't want to wait that long can get up close and personal with the composers, and learn about their creative process, at a free Monday night panel discussion at 7 pm on July 18th.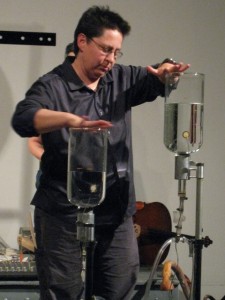 Krys is a sound artist, composer and musician living in Oakland, California. In addition to French horn she plays acoustic and electronic instruments of her own design. Her collection of original instruments includes prepared amplified rocking chairs, bull kelp horns, Leaf Speakers, Gliss Glass (pictured at left) and the Harmonic Slide.  Krys received her M.F.A. in Electronic Music and Recording Media from Mills College and her B.A. in Computers and Music from Dartmouth College.  In addition to performing her own work, Bobrowski plays with the Bay Area-based improvisation ensemble Vorticella.
Her new work, Lift, Loft, Lull, is a series of short pieces exploring the sonic properties of metal pipes and plates and the use of balloons as resonators, performed by the composer and Gino Robair. The compositions have their origins in Bobrowski's recent instrument prototyping work for the Exploratorium.
S21: Do your pipes, metal plates, and balloons come with any sound-generating history? Is there any "tradition" behind their use in music?
During my artist residency at the Exploratorium, I began experimenting with alternative resonators for musical instruments. I wanted to create an experience that would allow the listener to hear the 'sonic bloom,' the moment a resonator comes in tune and couples to a vibrating object.
As part of this project I started researching resonators in traditional and experimental instruments. I came across an interesting photo from the 1950s of someone playing an instrument made of glass rods attached to a series of inflated plastic cushions. The cushions were acting as the resonators for the glass. Later, I learned that the Baschet brothers, Francois and Bernard Baschet, invented this instrument along with dozens of other beautiful sound sculptures, including an inflatable guitar!
This started my exploration of using balloons as resonators, mostly for instruments made out of various kinds of metal: plates, pipes, bars, odd-shaped scraps. I also came across references to Tom Nunn's and Prent Rodgers' work with balloons and balloon resonators in a book by Bart Hopkin, 'Musical Instrument Design.' This led me to make a version of the 'balloon gong' instrument shown in the book.
The results of my sonic explorations and the 'balloon gong' will be featured in my composition, Lift Loft Lull.
S21:  Do invented instruments and found objects, with their newness, make different demands on the composer than orchestral instruments, whose capabilities are already well known?
Whether I'm composing for traditional instruments, invented instruments, found objects or any combination of the above, I'm organizing elements of sound. The only difference is what I'm organizing. A lot of my found objects and invented instruments can't 'carry a tune' so I'm not going to use lots of melodic and harmonic structures. Instead I'm going to organize the sounds and the variations of sounds that the instruments can make. This requires some exploration, and, for me, it's the really fun part: playing and experimenting with the sonic abilities and limitations of each instrument and object. It's definitely a continuous process; I'm still finding new and interesting sounds to make with my kelp horn–and I've been blowing into kelp for over twenty years!
S21:  In writing for these sound-generating items, how do you get beyond just showing what the instrument can do, to its next level of musicality?
I design and build my own instruments because I want to expand the sonic palette in my compositions, improvisations and installations; not simply for the sake of making a new instrument. I've had the opportunity to demonstrate my instruments at pre and post concert talks, at the Maker Faire and the Exploratorium. People are always curious. 'How does it work?' 'What does it sound like?' These events are very enjoyable, and I try to show everything the instrument can do. However, there is a big difference between demonstration and composition.
My main goal in designing instruments is creating interesting music and I always have a musical concept behind the instruments I build. These concepts may be concrete or abstract. With the Gliss Glass it was a bit of both. I was looking for an acoustic system where I could create very long slow glissandos. At the same time I was interested in the social and musical interaction of the performers. A system where the performers depended on each other to change pitches – if no one raised or lowered their part of the instrument the pitches would never change.
S21: Do invented instruments and found objects lend themselves, more than familiar Western instruments, to improvisation than composed music?
In the improvised music ensemble, Vorticella, I play French horn, funnel horn, kelp horn, Gliss Glass and other found and invented instruments. I like having the whole range of sound worlds to draw from. I find that the traditional and experimental instruments in the group often meet in an ambiguous auditory middle ground where it is hard to tell by listening which instrument is which.
With the French horn I can use traditional techniques, even blow the occasional horn call; but, I can also sing into the horn, modify the instrument by pulling out slides, use a pie plate as a mute, etc. The resulting sounds and textures bring the instrument closer to found objects and invented instruments played by other members of the group. At the same time, while I can't play a major scale on the kelp or Gliss Glass, I can find and hold certain pitches and often try to match a note on the cello or a harmonic emanating from one of the gongs.
S21:  You've recruited Gino Robair to be your duo partner in the Summit performance. (He's also premiering a piece on the same concert.) How did you come to choose him in particular?
I've always admired Gino's abilities as a percussionist and his musicality in any genre. Since meeting at Mills College in 1989, we've collaborated on a number of projects over the years including his opera 'I Norton,' my 'Gliss Glass' ensemble pieces, and many improvisation duo performances in the Bay Area and Europe.
Gino and I first performed together in the Mills gamelan ensemble directed by Jody Diamond. The group played both traditional and experimental pieces on the wonderful American gamelan built by Lou Harrison and Bill Colvig. Shortly after Mills, in the early 90s, Gino asked me to write a piece for him and one of my favorite gamelan instruments, the slenthem. I ended up writing a duo work, "Yellow Flower Burial". The composition is a set of three 'game' pieces loosely drawing on elements found in traditional gamelan music. We've performed this piece together on a number of occasions including the premiere at the University of Redlands.
When Gino agreed to perform with me at the Outsound Summit, I took the opportunity to revisit some of the same compositional ideas from over fifteen years ago. Lift Loft Lull picks up on both the 'game' theme and some of the gamelan concepts, including abstractions of kotekan (fast, interlocking parts) and balungan (core melody). There is also plenty of room for structured improvisation. I'm excited to be premiering this work with Gino.