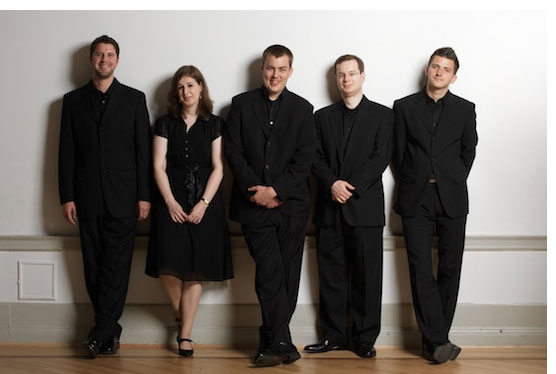 Don't know what you folks are doing this coming Tuesday night, January 17, but I will be trekking uptown to Symphony Space to see the Gaudete Brass, a splendid Chicago-based chamber ensemble rarely seen in these parts, who will present a concert of still-hot-off-of-Sibelius contemporary brass chamber music, including the world premiere of a new work by S21 familiar Rob Deemer.
"We were going to be traveling to New York to showcase at the Chamber Music America's National Conference and while we were in town, we decided to present a concert that will mostly feature music we premiered this past fall including works by New Yorker Adam Reifsteck, David Sampson and Stacy Garrop and we added the new piece that Rob wrote for us," says Scott Tegge, the group's tubist.
The concert starts at 7:30 pm but I'll be there at 6:30 for a pre-concert discussion with the composers featured on the program, led by the estimable Frank J. Oteri.
"One of the wonderful things that has happened this year is that we have gotten to know the composers individually throughout the year not just through their music, but from actually spending time with them," says trombonist Paul Von Hoff.  "This experience has produced amazing works that really reflect the strengths of the quintet and its members."
The quintet will present David Sampson's seventh and newest brass quintet, Chicago Moves as well as Helios, Stacy Garrop first brass quintet.  In addition to these new pieces, the concert will also feature the GBQ's take on five part Italian Madrigals by Giaches de Wert and Joan Tower's monumental composition, Copperwave.
Get yourself some tickets here and come on up.  See you there.