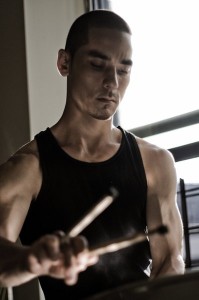 Andy Akiho may have started out as a performer only, but his heart has driven him to become not only a wonderful composer in his own right, but a composer/performer that creates some of the most wonderful and compelling sounding pieces combining steel pans with a variety of instruments from other great new classical musicians. Having studied composition with such greats as Julia Wolfe, David Lang, Ezra Laderman, and Martin Bresnick among others, Akiho had just recently won eighth blackbird's inaugural Finale National Composition Contest. Andy talked to me about that and some of my favorite works of his.
CM: Can you talk about your beginnings as a musician and how it led to composing?
AA: I started when I was about 9 years old. My sister had a drum set, and she wanted to be a rock drummer. I wanted to be like my sister, so I really enjoyed playing the drums–it was a lot of fun! I just started playing the drum set, and my older sister would teach me the different grooves and different patterns of her favorite songs. I took it seriously, and I played rudimental snare drum throughout middle school and high school–I used to do drumline and stuff like that, and I ended up going to school for it. That's how I got started with music and percussion.
Composition came later on. I didn't consider myself a composer until I was 28. So, about 2007 was when I was trying to compose for other instruments besides what I was playing or teaching at the moment. I did a Bachelor's at the U of South Carolina for percussion, where I was introduced to all types of ensembles: West African drumming, orchestral percussion, steel band, concert band, and drumline. Anything they had to offer, I was excited about because I wanted to learn everything about percussion. I always tried to create stuff, but I didn't consider myself a composer yet. I moved to NY after that. I went to Trinidad a few times. I would teach steel bands in NY, and I would do arrangements for people. I started to do a few original things with steel bands–That was a lot of fun, but eventually I was telling Baljinder Sekhon II, a really good friend of mine and a great composer, that I wanted to start writing for other instruments–not just steel pan solos for myself. I was starting to write pan solos back then [2003-06], and he encouraged me to write for other instruments by going back to school to meet classical musicians that are into playing new music and are interested in what I was trying to do with the steel pans. I wanted to incorporate steel pans with other instruments, not just within jazz, but also within western classical contemporary music. So, I auditioned for the Manhattan School of Music contemporary program the first year they had it [2007]. I hadn't played percussion for 6 or 7 years, only steel pans, so I had to work really hard for the audition–that was my door to start writing for the other instruments. I had many opportunities to perform, and had a lot of pieces written by other composers for the steel pan and other ensembles, but I was also given many opportunities to write them–that's how I got more involved with composition.
By the following year, I just went crazy with composing! I didn't sleep–I never slept, but I really didn't sleep then! I was the only percussionist in that program at the time because it was a brand new thing, and I would play in all the ensembles and work really hard to try to learn my music, and then go home and compose all night. From there, that's what really got me motivated to keep going with it. I was working with Julia Wolfe at the time, and she was a big inspiration for me to really push this and really go for it. Then in 2009, I ended up going to Yale. That was the first time I was actually going to school for composition, and that's when I felt like this is my life from now on. Without giving up performing completely, I still wanted to be a composer.
[youtube=http://www.youtube.com/watch?v=4VSH0p2W2ws]Alloy (Foundry Steel Pan Ensemble; BOAC Marathon, NY 2009)
CM: One of my favorite pieces of yours is "21", and it had been played brilliantly by you and Ashley Bathgate–I loved the story she told about the two of you performing it and her having the lion's share of the mechanics in that performance, but it had also been played by Mariel Roberts. Can you talk about this piece and their association with it?
AA: I met Mariel in 2008 at the Bang On a Can Summer Festival at Mass MoCA. When I was there in 2007, I was a percussionist, but in 2008 I got in as a composer, and I wrote a piece to be played there called "to wALk Or ruN in wEst harlem". While I was there, I took every opportunity to have other pieces played and to perform with the other performers. We did a piece of mine called "I falleN TwO" for steel pans and string quartet–It was the first time I had written for strings. This wasn't the premiere, but it was the second time the piece was played. Mariel was playing cello, and I thought she was amazing–Her timing, her rhythms–it was incredible for a string player to have such good timing, and I felt like she related to what I was trying to do with my music, especially with rhythm. We also played a show at The Stone that summer, and she asked me to write a piece for her recital at Eastman, so that's how that piece started. I wrote it that October, then we played it at The Stone in November, and then in December we played it at her recital. When I met Ashley, I introduced her to the piece. I said to her "If you think this is something you are ever interested in doing, I'd love to play this with you sometime", and she took it on and did a great job. I also performed it once with Dave Sedlins for the American Composers Forum New Music Salon in 2009.
[youtube=http://www.youtube.com/watch?v=E5aqER1FZ4s]21 (Mariel Roberts, cello; Andy Akiho, steel drum; music video)
CM: How did the CD No One to Know One come about?
AA: I wanted to make a CD for years. It was always my dream to record the Synesthesia Suite. I wanted to have the movements as different colors associated with each of the 12 key centers—plus white and black. It was always my dream to do all 14, and it ended up just being 6, but this worked out for the best. It was a better representation of who I was and where I came from at the time. While I was at Yale, I still wanted to have a performance outlet, whether it was a jazz or a chamber music setting. I went to this sushi restaurant called Misos, and I got to know the owner Ming Lau really well–he was like an uncle to me. He really looked out for us, especially the music students at Yale. I played a piece called "Aka" for his birthday, and when he heard it, he liked it and invited me to come play at the restaurant. Samuel Carl Adams was another composer I knew from Yale, so he and I got together and just started playing there twice a month, and we would invite other musicians from the school. Our main group included Sam Adams on bass and myself on steel pan. We had different drummers come in–Charlie Dye from Hartford, Sean Dixon or Kenneth Salters from NY–every now and then Mariel would come in. Maura Valenti would also play harp with us, and Domenic Salerni would play violin. Ming was the one that kicked-off the CD–he encouraged me to record it and he helped fund the making of the CD. I just didn't have the resources to make that happen and still don't to this day, so I'm very fortunate that it worked out.
CM: Another great piece you wrote is "Vick[i/y]" for prepared piano, and it was dedicated to and written for 2 pianists: Vicky Chow and Vicki Ray. Can you tell us about this piece and the 2 dedicatees?
AA: Vicky Chow and I started at Manhattan School of Music together in the contemporary program, and I was extremely impressed by her. I never heard piano played like that! She premiered the first piece I ever wrote that wasn't just about steel pans, and my first piece that included other instruments besides percussion. It was called "Subconscious Inconsistency" and was written for the new music ensemble at
Manhattan School. It was scored for 3 flutes–flute, alto flute and contrabass flute, soprano voice, trumpet, 2 percussionists (I was one of them, and my part had a lot of steel pan), piano (played by Vicky), and bass clarinet. Vicky blew me away with how she played, and I knew that I'd write something for her down the road–I knew it would be an honor to collaborate with her.
This was the same year (2007) that I went to that summer's Bang On a Can festival as a percussionist, and I met Vicki Ray, who was a phenomenal player and a wonderful teacher too. She did a masterclass on prepared piano that just blew my mind. I'd heard the Cage pieces but I never really understood
what was going on. She gave a masterclass on preparing the piano and all the different things that can be done with it. The thing that caught my ears the most was threading the dimes between the strings–when you played it, it sounded like a cross between a bell, a steel pan and/or a Balinese gamelan. It's still one of my favorite sounds to hear, and that's what inspired me to write the piece with the dimes in the strings, so I dedicated the piece to both Vicky Chow and Vicki Ray.
There are only eight notes in the whole piece inside a symmetrical scale. If you look at the title of it, 'V' would be the center of that scale, and it kind of mimics the spelling of their name going in either direction, but the 'i' or the 'y' can be, depending on the chord that was used, either B-flat or A-sharp. It was just a way to have fun with the sketches, and the process of coming up with the piece.
CM: Vicky [Chow] told me that piano technicians hate dealing with prepared pianos for concerts!
AA: Yes, I've gotten yelled at a lot for that piece, but that's why we used dimes, so that it wasn't too destructive to the piano.
[youtube=http://www.youtube.com/watch?v=3KRWqZOyTtM][youtube=http://www.youtube.com/watch?v=ghJY0LIdWPQ&feature=mfu_in_order&list=UL]Vick[i/y] (Vicky Chow, prepared piano; live at MIT, 10/4/10)
CM: Then this really great thing with eighth blackbird just happened with the Finale Composition Contest–Your piece "ERASE" was the chosen winner. Can you talk a bit about this event?
AA: It was hosted by American Composers Forum and MakeMusic, the makers of Finale. There was an anonymous call for scores–you had to send in 3 representative scores, and it was like many composer competitions. I was fortunate enough to make it into the finals, and I was in great company. I was really inspired by Eric Lindsay and Kurt Rohde. We got to go to Chicago to workshop the piece, and we had a good amount of time to work with them as well. I think each of us had 2 1/2 hours to workshop the piece with them, and the next night we had a concert where they played the piece in its entirety. We even got to interact with the audience. "ERASE" was originally titled "thE stReAm of conScious machinEry", with capitals spelling "ERASE", but we ended up just going with "ERASE" because we liked it better. It sounds like a bunch of machines taking over this nostalgic melody, and they kind of take over with their own conversation. I thought eighth blackbird did an amazing job, and it was an incredible experience working with them. I would be so happy if they recorded it!
EDITOR'S NOTE: If you're reading this, eighth blackbird…
BONUS TRACK:
[youtube=http://www.youtube.com/watch?v=3hCCVqxZs1o&feature=related]Concerto for Steel Pans and Orchestra (Yale Philharmonia conducted by Adrian Slywotzky; Woolsey Hall, CT 1/21/11)
Andy Akiho.com
Andy's offical website