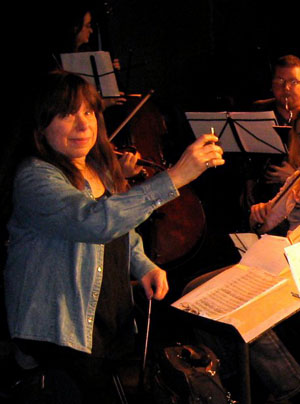 2011 was an great year for freelance composer/cellist/conductor Peri Mauer. Premiere performances of her work this past year included her trio AFTERWORDS, for clarinet, cello, and piano; BLOGARHYTHM: Scenes 1 & 2 for 24-piece chamber ensemble (which she also conducted) RHAPSODANCE, for clarinet and piano; BLOGARHYTHM ON THE ROCKS, for chamber ensemble, as part of Make Music New York 2011 in Central Park in June; and MORNING IN A MINUTE, in the Vox Novus Concert Series at Jan Hus Church in October. In 2011 her music was heard on the radio for the first time as well. Just this past January brought the world premiere of her piece for three cellos in Composers Concordance Festival 2012, and she's about to have the world premiere of PIXELIANCE this Sunday, Feb. 5th at 3 pm, St. Mark's Church in- the- Bowery (131 East 10th St.), as part of a New York Composers Circle concert paying tribute to composer Dinu Ghezzo, and also featuring works by Elliott Carter, Robert Cohen, Debra Kaye, Nataliya Medvedovskaya, Nailah Nombeko, and Matt Weber.
I asked Peri to answer a few questions from me, and she was happy to oblige:
Besides your usual hectic rounds as a freelance cellist/conductor, you've had a pretty good and busy year for performances of your own music. How did all of these things come together?
Being a constant presence on the musical scene and getting in on just about every opportunity I come across is the main reason I get so much work. My motto is "Seize the moment", and there is so much opportunity, so many amazing people to hook up with. I see myself as part of a larger picture, and the possibilities for so much creativity and actualization are everywhere.
Your piece BLOGARHYTHM had a couple really well-received performances (in very different venues, I might add!). Could you tell me a little more about the title/inspiration, and the form of the piece?
Overall, BLOGARHYTHM is what I think of as an "umbrella piece". I can adapt it to different performance situations and will keep adding scenes to it when given an opportunity to present it. It is totally my own project, my musical blog set to performance, and I enjoy it tremendously. Plus I get a chance to conduct and put ensembles together, which I also really enjoy. With it, I can integrate all the various facets of my musical life.
With all those previously-mentioned hectic rounds, where do you find the time to really sit down and compose? How hard is it to keep a good balance between playing and composing?
Doing both playing and composing are extremely important to me. At times it can be very difficult to maintain the balance (like right now, having  just returned home from a three-hour rehearsal for a concert), but I do my best. It is like having two children that you love equally and want to be sure they get equal time, one is not favored over the other, etc.  The result is I am always working on some project. This is what I do, this is my life.
You're a life-long New Yorker? Does your life now resemble whatever plans you were laying for it back when you were just coming up through school? You've seemed to avoid the standard, safer course of sticking with teaching; was that a conscious decision?
Yes, I am a life-long New Yorker. Truth is, I never made any plans. I just kept going! I began piano when I was 5, cello at 11, went to the High School of Music & Art, and just never stopped. I am a bit unusual as far as composers go, in that I love to perform and miss it terribly if I let it go. I am miserable when things fall into an everyday sameness, so I never sought out either a steady orchestra or teaching gig. It would drive me crazy to have a regular ongoing routine.
When you look back at musical life in New York when you were just coming out from The Manhattan School of Music, and what you see going on now, what seems different/same, easier/harder?
The internet has definitely made everything a lot easier. I am amazed at how easy it is to learn of opportunities, to create them, to hook up with them, and get them going creatively.
What influences have been the guiding lights and inspiration for your own music language?
My own ear : ) …  I've always liked the sound of 12- tone music. Discovering Webern was very pivotal for me. Although my own music isn't serial, it is 12-tone. I write from my life, and therefore my work is dramatic and emotionally relevant.
One thing you wish I'd ask you…..
Hmm, not sure! : )  My life is a musical one, this is what I do.