It was not a great year for movies, in my humble opinion.  But like they say in the most obnoxious Bud commercials yet:  here we go.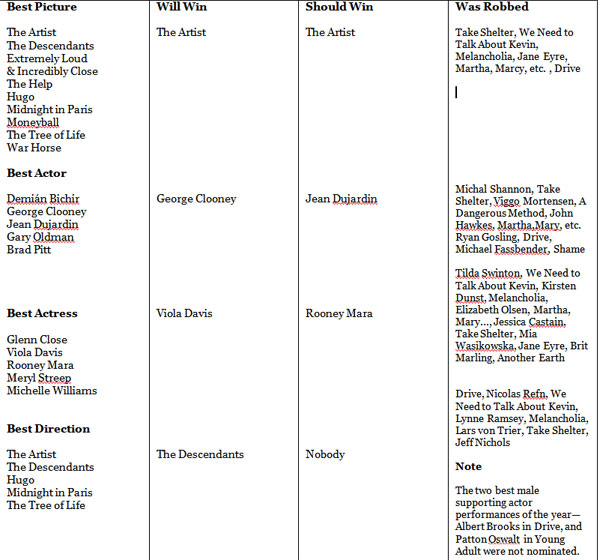 The Top Ten Movies I Saw in 2011
The Trip – Two prominent English comics eat and impersonate their way through the Lake District in a film that is barely a film at all but manages to be both hysterically funny and oddly touching.
Submarine – Young Oliver gets laid. A coming of age film that will make you forget that you ever saw one of those before. Memo to Woody Allen: This is how to write funny.
Bullhead (Rundskop) – Cattle  doping and simmering French-Flemish violence create a brutal backdrop to a horrifying and unforgettable tale of revenge.
A Separation – Educated, secular Iranian couple war over the soul and approval of their daughter as they approach divorce. Could have been filmed in Shaker Heights without changing a word of dialogue.
Another Earth – Overlooked gem that address the question of whether we can ever undo—on this earth or another—the damage that we do to each other.
Take Shelter – Another neglected small masterpiece about a construction worker with premonitions of impending disaster.
Drive – Great performances by Ryan Gosling, Albert Brooks and supporting cast in a stylized tale  whose roots run from Jean-Pierre Melville to Walter Hill to Nicholas Refn. (I watched Refn's earlier Danish-language Pusher Trilogy this year, too, and found the three films astounding.)
Martha, Marcy, May, Marlene – Girl escapes cult and Manson-like leader but cannot shake the fear of being stalked. Gripping, real.
We Need to Talk About Kevin – So your son is a serial killer? In a just world, Meryl Streep would be Tilda Swinton's maid.
Cedar Rapids – An old-fashioned comedy that makes you laugh without resorting to gross out.