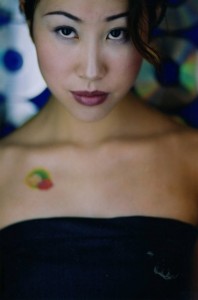 New music pianist Jenny Q. Chai is making a special appearance at Carnegie Hall's Zankel Hall on April 19th at 7:30 PM playing some great pieces by
Ligeti, Marco Stroppa, György Kurtág, Messiaen, and even Schumann (guess they're trying to make him sound young again) as well as two world-premiere pieces by composers Ashley Fu-Tsun Wang and Inhyun Kim.
She had some time to talk with me about that upcoming show and her musical path.
CM: Fascinating to read how you went through a period of studying music and then took a break during a doubtful period until you heard Chopin. What was it about that music that changed your mind?
JQC: I don't think it was necessarily Chopin that turned me around, but then again, I can't go back in time and prove it'd be the same turning around if Schumann or Brahms were being played. I guess what I'm trying to say is that it wasn't because of a specific piece, a specific composer, but it was a symbol. A symbol and a striking impression of classical music. It hit me in that specific moment. Of course, Chopin is clearly a good symbol for the romance of classical music!
[youtube=http://www.youtube.com/watch?v=eiveQC4YUAM&feature=related]Schumann: A Child Falling Asleep (Manhattan School of Music, NY; 2009)
CM: Who were the people that were the biggest influence for where you stand as a musician today?
JQC: Throughout my music education, I've been very lucky to have met great encoring teachers. From Seymour Lipkin, Solomon Mikowsky, to Nils Vigeland, Anthony de Mare, and Pierre Laurent-Aimard. They've all been really influential to me in different ways and I am still in touch with all of them, sharing both my life and musical experiences with them once in a while.
Mr. Lipkin and Dr. Mikowsky, though more classical pianists and teachers, have always encouraged my curiosity and yearning for new music. I played Henry Cowell's Banshee along with quite some other modern other works at Curtis while studying with Mr. Lipkin. My graduation recital was considered the most edgy and used as an educational material at Curtis [Institute of Music]. Dr. Mikowsky encouraged me to study with Mr. de Mare. In fact, it was he who said he thought I'd be great in contemporary music, even to play only contemporary music from my D.M.A. He was the one who gave me the backbone to switch to playing contemporary full-time.
I've learned great things, all kinds of genres, new ways of playing, singing, knocking, plucking techniques from Tony de Mare. In the contemporary music world, he made a strong base for me and took me in.
Nils [Vigeland] became my mentor/friend/colleague/composer who wrote for me. I can't thank him enough for being all of the characters for me and supported me, guiding me in every way. He taught me analysis to an extended degree, and had helped me to find my own taste in new music. He made me feel very close to Feldman and Cage, and all the ones who were influential to him. Probably the smartest person I've met.
Prof. Aimard opened my sense of new music to a different level, showing me all the composers I was craving to learn more about. Ligeti, Kurtag, Messaien, Stroppa, Boulez, and all the composers he worked closely with all became clearer and more personal to me. Prof. Aimard has also shown me great ways to design concert programs, to create specific colors and to invent new playing techniques. Also probably the smartest person I've met! 🙂
[youtube=http://www.youtube.com/watch?v=8D87wWg6pf4&feature=relmfu]Nils Vigeland: L'empire des illuminer (The Stone, NY; 2009)
There's also Dr. Marilyn Nonken. I have been working on my doctoral thesis with her, on the subject of Marco Stroppa and his piano cycle Miniature Estrose. She has always been an amazingly helpful adviser to me, even though I don't go to NYU. She is such a knowledgeable musician both in musicology and contemporary music performance. I am very happy that MSM gives me the liberty to work with Dr. Nonken for my MSM D.M.A.
CM: Can you talk about the two pieces that you are debuting at the upcoming Carnegie Hall concert by Inhyun Kim and Ashley Fu-Tsun Wang?
JQC: Inhyun's Parallel Lines is a theatrical piece. It has 2 moving lines, sometimes moving in parallel motion, sometimes crossing simultaneous. I think she's trying to depict two lives, in a natural state of happenings. She is never just a composer for music. She has always believed that all art forms are related and should be together. That's why she is the artistic director for many concerts integrated with visual arts. In this piece, although it's only for piano, one can also perceive it as some sort of visual art performance.
Ashley Wang's piece is purely musical. Its musical language is so natural and organic, it is hard to be categorized into any new music school. that's one reason I like her music. The title is Current, and it alludes to the currency for the ocean or electricity. It also has the meaning of the present.
It is like a rhapsody, all in a person's brains. To me, it's waves and waves of internal emotions and thoughts, sometimes a little drifting, sometimes a little whimsical, sometimes roaring like big waves.
The piece reminds me of a mix of undefined musical languages like Brahms, Schoenberg, Boulez, Vigeland and Stroppa, but most importantly, it is very much Ashley. Ashley Wang is a unique talent in the musical world, quite a young Ms. Crawford Seeger, in the 21st century.
[youtube=http://www.youtube.com/watch?v=AQlBuuu1jQU&feature=relmfu]Ashley Wang: Intimate Rejection (The Stone, NY; 2009)
CM: How do you feel about playing at Zankel Hall?
JQC: I feel very excited about it! A year ago, my fiance and I were talking about it that it might happen in a few years, but I didn't think that it would happen so soon. I've always liked the composers and musicians who played at Zankel. I like it much more than Weill. To me, a history and a association of a place is important to me. And I'm very happy that this tine, I get to play all my favorite pieces there and be completely honest with my musical beliefs.
CM: Do you feel differently now about the more classical and modern repertoire than when you worked only on new music (with Anthony De Mare)?
JQC: I certainly do feel different about it now. It is the result of my search for great music that echoes with me for years. Only playing new music was a necessary step to take, after playing years of classical repertoires, in order to free myself from the conventional pianist's mind. After I jumped out of it and went to the extreme end, I then was able to step a little further and look at music without preformed judgments and with more objectivity. It is quite like looking at impressionistic paintings.
That's why I felt the need to work with Pierre-Laurent Aimard. His way of choosing music after that was similar to my aesthetics, and the one year and a half with him was greatly satisfying and self reassuring. The whole journey gave me the clear realization that I'm playing good and honest music, neither old or new.
CM: How did you feel about doing vocals on the New York Love Songs CD?
JQC: I've always liked singing. It's not that hard for me. I enjoyed very much trying to figure out voices, looking for different characters for each piece. I used some examples such as "Norah Jones" or "Bjork" voices. 🙂
I wasn't trying to be a singer, these are not songs, they are a new musical form, combining voice and piano for one player. So I wasn't just singing and playing, I was singing-playing.
[youtube=http://www.youtube.com/watch?v=0TnQ4cXo6JA&feature=relmfu]Stockhausen: Piano piece no. 8 (The Stone, NY; 2009)
Click here for tickets and information on the Jenny Q. Chai performance on 4/19 at Zankel Hall at Carnegie
Jenny Q. Chai.com
Jenny's official website