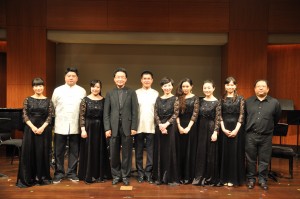 Dialogue between the Traditional and the Modern
Chinese Hua Xia Chamber Ensemble
Tsung Yeh, conductor
Zhang Weiliang, Artistic Director and xiao soloist
Alice Tully Hall at Lincoln Center, NY
May 7th. 2012
The biggest thing I can say about the Hua Xia Chamber Ensemble's program at Alice Tully is this: For the first 5 minutes or so when they came out and played the first piece Lang Tao Sha, which was a traditional piece, I couldn't write a thing. It was an incredible rush that made me more fully appreciate not only the music of China, but music at its best, for its organic healing abilities, and for sounds that force you to take the time to consider them.
This concert, titled Dialogue between the Traditional and the Modern was very much what it describes, very prominent-sounding folk music that served as Eastern statements from the Chinese ensemble that were alternated with their take on the music of living American composers, Victoria Bond and John Mallia, whose works were being premiered on this occasion. The notation of the Chinese instruments being different from our system, it made me wonder how they were going to pull it off. I believe they did.
Chinese-American composer Wenhui Xie also had a traditional sounding piece titled Less, but More that had its World Premiere at this concert.
Mallia's piece titled Nodes was a very Schoenbergian cacophony of a work whose atonal identity revealed itself even through the Chinese instrumentation, but the debut of an updated version of Victoria Bond's Bridges was a marvelous treat not only for its brightness and upbeat presence on its own terms, but also because even the Chinese are quite capable of playing orchestral Gershwin Jazz, as evidenced in the final section of the piece! I very badly wanted to isolate the erhu from the rest of the ensemble just to hear how bluesy this instrument suddenly sounded.
It should be noted that Chai Shuai, who played both the erhu and erxian in this concert, played marvelously and passionately. I remember when I saw Hilary Hahn once playing a piece, I used to remark that I saw smoke coming from the fiddle in a way of describing the intensity of her performance, but Ms. Shuai's erhu was indeed producing smoke. You can make of that what you will.
The meeting of Chinese and Western instruments was something that provided great insight into two different camps of hard-working musicians. There was such pungency and intensity of both the Western cello and Chinese instruments such as the zheng and the pipa, and all of these at times provided a clearer folk-sense that Western classical music doesn't always capture fathfully.
Although it had only been happening in the second half, Tsung Yeh, the ensemble's conductor, gave the audience some wonderful and thoughtful introductions to the works and had the composers present walk up to the stage for bows.
Zhang Weiliang, who is both the Artistic director of the ensemble and a soloist of the xiao (vertical-end-blown flute), came out and performed Wild Geese in The Sandbank as if it was a field recording of the species. It was a very natural performance that won Mr. Weiliang gracious appeal.
Another memorable moment was the ensemble's reading of the Peking Opera piece Deep Night, which featured both erhu and Beijing erhu, which had a much higher-end sound, and the two together created this incredibly tasty ethnic harmony in what was an exciting traditional piece that received the biggest reception of the night.
To have seen this beloved event where we were given the opportunity to hear the most exciting music from China played on the instruments of their country was something to be extremely proud of, and I have to say that seeing an erhu being played alongside a Western violin is something akin to seeing two living kindred spirits meeting for the first time and bonding for life.
Tsung Yeh's listing on ArtsEverywhere.com