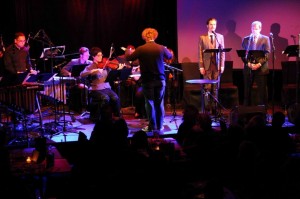 Experiments in Opera, the new collective founded by composers Jason Cady, Aaron Siegel, and Matthew Welch, presents its Spring Series on May 10 + 11 (Thursday and Friday) at Roulette in Brooklyn. Four new operas will be heard in workshop performances over the two evenings.
The May 10 program features a complete semi-staged, multi-media performance of Cady's Happiness is the Problem, plus a semi-staged, work-in-progess presentation of To Scale by the creative trio known as Cough Button, and a concert excerpt from Siegel's Brother Brother.
May 11 will be devoted to a semi-staged production of Welch's Borges and The Other, heard in its premiere as a complete work. Both shows begin at 8 pm.
While highly divergent in style and tone, all four works engage in a provocative dialog with the fundamental assumptions of the operatic form. Laugh tracks, graphic novels, localized radio transmitters, characters that are (literally) two-dimensional, two pairs of singers portraying a single historical figure: all of these elements figure in EiO's experiments. Yet their creators remain devoted to craftsmanship and the expressive power of music to tell a story, no matter how non-linear.
Cady, Siegel, and Welch, who met at Wesleyan University, describe Experiments in Opera as:
"…a composer- and performer-driven initiative, featuring recent and new works with unorthodox answers to the traditional questions about how to connect words, story and music. Our activities emerge from a pronounced need to nurture composers drawn towards extending their work beyond the standard concert experience and into the hybrid space of the theater, performance, installation, dance and storytelling arts."
Thursday, MAY 10
Cady's Happiness Is The Problem is a two-act opera buffa about idealism and disillusionment. It presents three young women who sell an elixir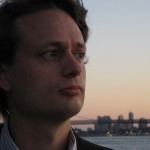 of happiness derived from the secretions of slugs which they market as "Euphoressence." The Problem of Happiness, which has perplexed philosophers since Plato, is explored in lighthearted yet penetrating fashion. Cady's musical idiom melds postmodernism and pop, with occasional interjections from a very canned laugh track. The script by Cady and Nadia Berenstein takes the form of a comic book drawn by Berenstein, which is projected as sopranos Christie Finn and Megan Schubert and mezzo-soprano Lisa Komara perform to pre-recorded tracks.
"It's a 2-act opera, semi-staged and directed by Jeremy Bloom," explains Cady. "We did the first act at Le Poisson Rouge, but this will be the full two-act performance.".
Aaron Siegel speaks about the work on his piece Brother Brother: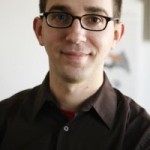 "For the concert last January, I shared 2 selections that were for percussion instruments, and this coming week, I'll be sharing 2 of the choral excerpts. This is a piece that is still in progress, and I've done a little bit of recording on these works just to be able to share them. This is the first time these pieces are to be performed live, and we're not doing it with the full ensemble this time, just with piano reduction. So there will be about 20 mins. worth of music. I'm super excited to do a work that has some choral elements in it. It just adds a whole other dimension of possibilities when you're doing a bigger work like this.".
Cough Button's To Scale is a work-in-progress that details the relationship between an architect and his "scalies"–the two-dimensional characters who populate architectural models. Co-written by Cough Button members Lynn Levy, Dave Ruder, and Aliza Simons, To Scale explores the gap between creator and created. The piece will also play with novel techniques to bridge the gap between singer and listener, including the use of localized transmitters, picked up by radios in the audience. The cast includes Paul Pinto, Brian Rady, Lainie Fefferman, Dylan Widjiono, and Aliza Simons, accompanied by instrumentalists Karen Waltuch (viola), Vasu Panicker (keyboards), Lea Bertucci (bass clarinet), and Dave Ruder (electronics).
~~~~~
Friday, MAY 11
Matthew Welch's Borges and The Other is based on the iconic writer's life and work. It's scored for two mezzos, tenor, and baritone, backed by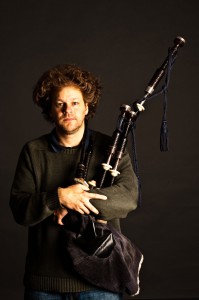 Welch's ensemble Blarvuster, which serves up a potent brew of Celtic sounds, raga, minimalism, and progressive rock. Says Welch, "In 2007, the first of [my] Borges mini-operas featured two mezzo-sopranos portraying an older and younger Borges meeting in a dream space. For a second act written for tenor and baritone, two additional Borges of differing ages meet yet again in a separate encounter of dreaming each other. In both acts, each Borges views his other in disbelief, hashing out self-loathing critique, whilst verifying biographical information." Mezzo-sopranos Lisa Komara and Amirtha Kidambi, tenor James Rogers, baritone Jeff Gavett, and The EiO Chorus all portray Borges. Blarvuster consists of Leah Paul (flutes), Karen Waltuch (viola), Emily Manzo (piano), Taylor Levine and Matthew Hough (electric guitars), Ian Riggs (bass guitar), Joe Bergen (vibraphone), and Mike Pride (drums). Matthew Welch conducts.
Further information can be found at experimentsinopera.com.
Experiments in Opera
Thursday, May 10th and Friday, May 11th, 8 PM
Roulette
509 Atlantic Avenue
Brooklyn, NY
(917) 267-0363
Roulette.org