Pictured: Chai Shuai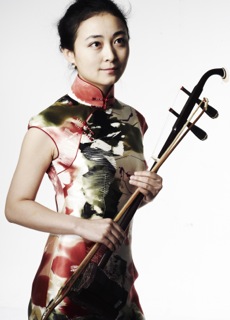 Performing a program entitled Dialogue between the Traditional and the Modern, including folk and Chinese Opera works as well as contemporary works by both Chinese and Western composers such as Xie Wenhui and Victoria Bond, the Chinese Hua Xia Chamber Ensemble (pronounced HWA SHA) makes their Lincoln Center debut at Alice Tully Hall on Monday, May 7 at 7:30pm.
Founded in 1995, and currently touring the United States with performances in New York and Boston, the Chinese Hua Xia Chamber Ensemble of the China Conservatory has become one of the most dynamic and technically impressive chamber ensembles of China. Under the strong leadership of Professor Zhang Weiliang and Maestro Tsung Yeh, the ensemble has achieved international acclaim. Its musicians, who are mainly young conservatory teachers, have won numerous instrumental competition awards in China and abroad. Their repertoire ranges from traditional Chinese folk music and Chinese opera music to contemporary Chinese and international classical music. The ensemble has recorded several CDs and has performed in the United States, France, Portugal, Australia, and in Asia and Africa. For this performance, the program will feature six world premieres commissioned by the ensemble for this US tour.
The Program includes:
Lang Tao Sha (Traditional)
Feng Qiu Huang, by Liu Qing (World Premiere)
Five Impressions, by Gao Ping (World Premiere)
Wild Geese in the Sandbank (Traditional)
Graceful, by Wang Dan Hong (World Premiere)
Nodes, by John Mallia (World Premiere)
Deep Night (Traditional Chinese Opera)
Less, but More, by Xie Wen Hui (World Premiere)
Bridges, by Victoria Bond (World Premiere arrangement for this ensemble)
Victoria Bond talks about her piece Bridges and its newly expanded arrangement:
"Bridges is something I wrote for John Yeh, clarinetist for the Chicago Symphony. He is of Chinese ancestry, born in this country, and he and I have known each other ever since we were in school together. He also had an ensemble that was composed of both Western and Chinese instruments, so I wrote it orignially for him, for quartet–clarinet, bass clarinet, erhu, and pipa. Then, when I got a request from the China conservatory, I made an expanded arrangement so that now it encompasses several other Chinese instruments such as ediza (another flute) and a number of western instruments–violin, cello, piano and percussion, which consists of both Western and Chinese percussion instruments. Even though the title is really a philosophical one, bridging East and West, I decided to base it on several real bridges, such as the Brooklyn Bridge, the Golden Gate Bridge, the Stone Bridge in China, and a railroad trestle bridge, and the story behind that is that 2 of the Chinese instruments, the erhu and the pipa, sound to me like banjo and fiddle, and it reminded me of a connection to American bluegrass and country music. It uses both American folk and Chinese folk music which are both largely related through the pentatonic scale, so making a merger between those two musics was not that far-fetched, both because of the timbre and of the nature of the music itself."
Performers include: Huang Mei (guqin); Wang Yidong (Chinese percussion); Mark Baekbum Yee (cello); Chai Shuai (erxian & erhu); Qiu Ji (zheng); Ge Yong (pipa); Chen Yue (flute); Wu Huanghuang (yangqin); Huang Mei (ruan); Chen Yue (flute); Tomoya Aomori, Justin Doute (western percussion); Zhang Weiliang (xiao); Han Shi (violin), Eric Umble (clarinet), Sun Pei (piano). Tsung Yeh, conductor, Zhang Weiliang Artistic Director. Zhao Talimu, President of China Conservatory, serves as leader of this delegation.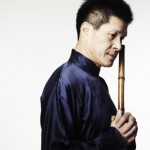 Hua Xia Chamber Ensemble Artistic Director Zhang Weiliang is a professor, graduate supervisor, Xiao and Di player, and educator at the China Conservatory. He is currently Dean of the Chinese instruments department of the China Conservatory, a member and Vice Dean of the Academic Committee of the China Conservatory, President of the Chinese Bamboo Flute Society, Vice-Chairman of the Beijing Musicians Association, and member of the Beijing People's Association for Friendship with Foreign Countries. He has published the monograph "Performance Practice of Flute", "Performance Practice of Xiao", and released a dozen teaching DVDs. His compositions have won many awards. He contributed solo performances for soundtracks of award winning movies such as Ju Dou, Raise the Red Lantern, Farewell My Concubine, and The Emperor and the Assassin.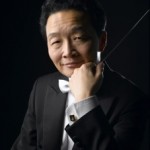 Shanghai-born conductor Tsung Yeh has the distinction of being the first conductor ever to hold music directorships of both a western symphony orchestra and a major Chinese instrument symphony orchestra. He presently serves as Music Director of the Singapore Chinese Orchestra, and Music Director of the South Bend Symphony Orchestra in his 22nd season. In an age where conductors specialize in ever-narrowing niches within the musical world, Maestro Yeh repeatedly demonstrates the unique ability to transcend boundaries both musical and cultural on three continents.
Tickets are $20 and are available at lincolncenter.org and at Alice Tully Hall, 1941 Broadway (65th Street between Broadway & Amsterdam Avenue)
For more information, call 212 671 4050