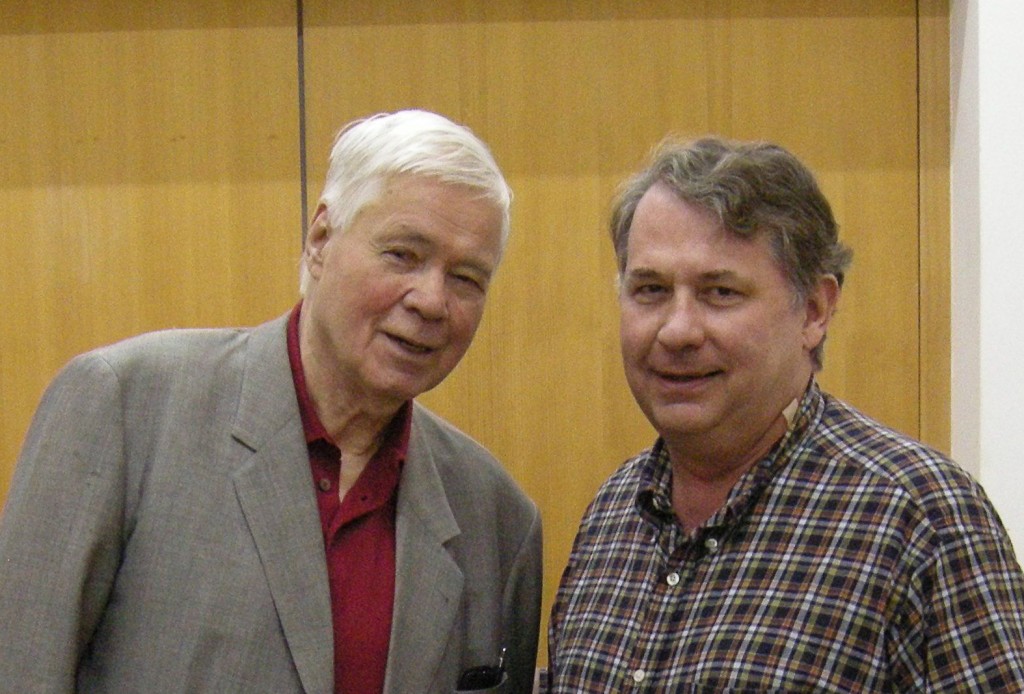 Attending my very first Lieder recital, and my first experience of hearing Schubert's "Winterreise", at Carnegie Hall in the early 70's. Sitting up in the last row of the balcony—the cheap seats—listening to that gorgeous voice float up to me and bring me down to the stage, to his world, even his softest whisper, with a technique he used often and so effectively. Immediately going out to buy his historic recording. Literally wearing it out over those next several years. His work introduced me to the world of art song, song cycles, and, most especially, Schubert. After Schubert, there was the great Lieder of Schumann, Brahms, Wolf and Mahler.
I heard almost every concert Dietrich Fischer-Dieskau gave in NYC over that next decade, bought every recording I could find of his, and began a life-long study of his work. I am still trying to replicate or imitate on the violin what he did with his voice and his artistry.
Fast-forward to many years later, when my quartet had a concert at the Schubertiade in Hohenems, Austria. We had a free night and, to our delight, saw on the brochure that Fischer-Dieskau was giving a recital in nearby Feldkirch as part of the same festival. Not only was he singing, but this was to be his very last recital. We were invited to attend by the organizer and presenter of the festival, Gerd Nachbauer, and sat together in about the 10th row, center. He came out on stage, elegant as always, intense and thrilling without doing very much, it seemed. A Presence (with capital P). He greeted the audience with a smile and then stood in the curve of the piano, head bowed. He stayed this way, frozen, for what seemed an interminable amount of time, then, suddenly looked up—right at me!—and the pianist began the first song, which was, if I remember correctly, one of Schubert's more dramatic songs. The curious thing about it was that when I said this to the others, they each thought he had looked right at them. Probably everyone in the hall that night had the same feeling.
It was an extraordinary concert and very moving, especially because everyone knew it was to be his last. I lost count as to how many encores he sang, but the applause finally stopped. He must have walked at least a mile that night going back and forth onstage and off. When I got back to my hotel room, I decided to write him a letter. I had never written a fan letter to anyone and never have since, but I felt I wanted to tell him what he had meant to me as a musician and to thank him. I used up all the stationery available in my room and then got some more from the front desk. When I finished, I had quite a bundle of paper, which I stuffed into an envelope and gave to Herr Nachbauer who said he would make sure to hand it to Fischer-Dieskau. I didn't include my address and never expected him to answer my letter, so I wasn't surprised that he didn't. Maybe he thought it was silly, all my gushing about how great I thought he was and the impact he had on me. But it was sincere. He was such an important teacher to me even though I never had the opportunity to play for him.
Fast-forward again to two years ago, again at the Schubertiade, now in Schwarzenberg, Austria. Again a free day and this time Fischer-Dieskau was giving a master class. We all went and it was pretty brutal to watch. Not that he was nasty about it, just extremely demanding. He stopped the singers and pianists every few bars, sometimes after only a few notes, usually dealing with musical and/or vocal questions, but also often about the text and working on improving the piano part. He knew these songs inside and out. His discussions about the text were fascinating and I realized that this is such a huge part of what made him so extraordinary. He understood as well as, or better than, anyone what he was singing. What the composer was setting, what the poet was saying.
I got up my courage and went quickly backstage after the class and caught him before the throng of fans engulfed him. I introduced myself and told him in person (briefly) what I had written to him all those years before. He couldn't have been more gracious and also complimentary about the quartet. He even said he remembered my letter, but I think he was just being polite. Who knows?
I have many recordings of "Winterreise", but Fischer-Dieskau's are still my favorite. He recorded it 3 or 4 times, twice with the incomparable Gerald Moore, which are the favorites of my favorites. If you have never heard Dietrich Fischer-Dieskau's "Winterreise", your life is not complete. As the protagonist trudges through the snow, and his heartbreaking tragedy of lost love leads him ever onwards towards madness and eventual death, Fischer-Dieskau's complete understanding of the music and the text colors his singing in a way that is both exquisite and devastating. If you are not in tears by the end of his "Winterreise" there is something wrong with you.
We are all fortunate that he left so many recordings. He will never be too far away.
Dietrich Fischer-Dieskau died at his home in Bavaria on May 18, 2012
—-Philip Setzer, Emerson String Quartet