(A few introductory words: I teach theory and composition at The University of Minnesota, Morris. I'm originally from Pinhook, IN – pop. 19 – and hold degrees from Morehead [KY] State University and the University of Cincinnati College-Conservatory of Music. I blog on matters musical, political and random at Walk In Brain. I've been composing for nearly three decades, and occasionally some of it gets heard. I want to thank Steve for giving me the space. There's some good stuff happening out here in the hinterlands, and if you're doing something interesting within, oh, 3 – 6 hours of Morris, MN let me know about it. – Wes Flinn)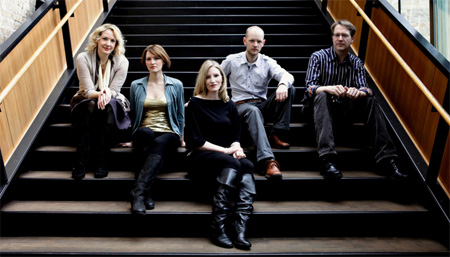 When I took the job at UMM, I was concerned that I wouldn't be able to find fellow composers and new music. (We are pretty far out here, after all.) I need not have worried. Last night I drove over to Central Square (a converted high school) in Glenwood to hear "Water Music," a performance by Ensemble 61, a new-music group out of the Twin Cities led by composer Kirsten Broberg and percussionist Erik Barsness.
There's something wonderfully "only in America" about contemporary music in a small-town high school auditorium. I immediately thought of Charles Ives who, though not represented in the composers last night, would no doubt have approved. The show opened with what is now standard new-music repertoire – George Crumb's Vox Balaenae. Linda Chatterton deftly tackled the flute/vocal opening, and cellist Joel Salvo (a colleague at UMM) nailed the seagull effects. Pianist Matthew McCright handled the extended inside-the-instrument challenges effectively, and apart from some minor synchronization issues Crumb's work was given a solid reading.
Soprano Carrie Henneman Shaw performed two songs for unaccompanied singer by Jarrad Powell – "the rain of the white valley" and "i am rain." The songs, chosen for their connection to the larger theme of the evening, were quite haunting. Unaccompanied voice is always a risk, and Henneman Shaw rose to the challenge. The hall's acoustics weren't much help to her, unfortunately. I was seated toward the front, and even as close as I was the enunciation was problematic. Given that I could hear how clearly she was pronouncing the words, I can only chalk it up to the hall.
The first half closed with Magnus Lindberg's Steamboat Bill, Jr. for clarinet and cello, a post-modern tour-de-force inspired by the Buster Keaton movie of the same name and performed with considerable verve by clarinetist Paul Schimming and cellist Salvo.
The second half opened with former Minnesotan Jesse Langen playing Morgan Krauss's I Water, I Night for solo guitar. As with the solo voice works, it was beautifully done and possibly swallowed up in the back of the hall. Langen pointed out beforehand that the dynamic never exceeded mezzo forte; I do hope the back was able to hear how well he performed the work.
The final piece was co-founder Kirsten Broberg's The Waters of Time, a setting of six sonnets – in the original Spanish – by Pablo Neruda. The instrumentation was Pierrot-plus-percussion, so in addition to the above players the ensemble featured violinist Emilia Mettenbrink and Barsness on percussion. I did not know Broberg's music beforehand, but now I want to know more of it. This was a sensitive, beautiful work that took advantage of the capabilities of the ensemble. I would like to single out Henneman Shaw and Schimming in particular for their contributions.
I have been out here on the prairie for exactly six weeks today. If I get the chance to hear new music once every six months, I'm thrilled. Broberg mentioned the group was taking this concert on a tour of Minnesota (they have just a couple more stops, including one in Fergus Falls in mid-October). It's exciting to be in a state where even more isolated areas like here have a thriving music scene. Between all the concerts at UMM and groups that come out of the Twin Cities and Fargo, I don't think I'll ever want for the good stuff.