If you were having a conversation with fellow music lovers about the great American composers, Carl Ruggles would not be the first person to come to mind. The "Great American Composer" honor is most often bestowed upon Copland, Ives, or even depending on the company you are with, Bernstein.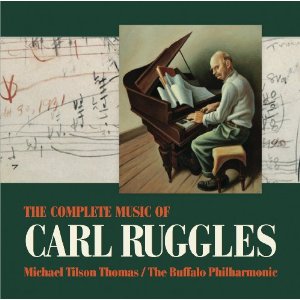 This is not to say, however, that a popularity contest equates to greatness. An equally adept and creative composer, Carl Ruggles produced a small yet intriguing output of pieces for a variety of ensemble types. It is only fair, then, that when recording the complete works of a lesser known composer such as Ruggles, top-tier musicians should be brought in to lead the process. This recording does not disappoint, and the Buffalo Philharmonic, under the leadership of Michael Tilson Thomas, have produced an earnest and committed recording of Ruggles' entire catalogue.
Toys, which was written for his son on his fourth birthday, is the first track on this album, and provides us with an excellent example of Ruggles' style in a more concise form. Judith Blegen (soprano), accompanied by musical jack-of-all-trades Tilson Thomas, perform with the rhythmic crispness of Babbitt, and the warmth of Brahms. Often compared with Ives and Varese, Carl Ruggles exemplifies what sets him aside from his compositional colleagues in this piece. His music has a sustained and driven feel that is different from the music of Ives and Varese. Certainly Ives and Varese can have a drive to their music, but "Toys" displays a compositional ability to magnetize each pitch so that, in a strangely Mozartian fashion, it feels as if there is no other possible destination than the one Ruggles writes.
Carrying next to Vox Clamans in deserto, Tilson Thomas transitions from the piano bench to the podium and leads Bevely Morgan and the ensemble Speculum Musicae through three movements for chamber orchestra and mezzo-soprano. Both Speculum Musicae and Beverly Morgan provide us with a performance that is only capable from those committed to the music they create. The performance is lyrical, polished, and comes from a place of great depth and resonance.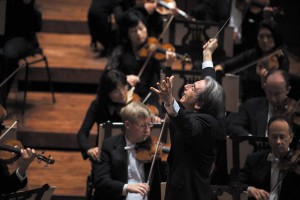 Now within more of a Varese soundscape, the Buffalo Philharmonic makes its first appearance on this recording in a piece entitled Men. Featuring largely dissonant, stacked orchestral chords, the Buffalo Philharmonic plays with an intense energy and force creating a boisterous and confrontational sound, just as Ruggles would have liked. Following Men is a piece for muted horn ensemble entitled Angels. This track features the orchestra's brass ensemble lead by Gerard Schwarz. The ensemble, still conducted by Tilson Thomas, provides a calm, cool, and collected tone that could easily have come from Kurt Weill.
Men and Mountains is the next piece on this illustrious album, and it is quite possibly the composition that marks Ruggles' own true discernment of his musical voice. Ruggles splices together a number of elements that have been featured in his previous compositions- wandering chromaticism, a creative embrace of the prevailing orchestral tradition, and an effort of experimentation with musical idioms that will continue to be heard through the following pieces in his catalogue (for example, a steadily beating timpani that will be heard in a number of other later pieces).
Sun-treader follows Men and Mountains, and a clear progression from one piece to the other can be heard through Ruggles' previously mentioned use of the steady, pulsating timpani. In Men and Mountains, a pulsating timpani can be heard at the beginning of the final movement. Sun-treader begins with an incredibly similar pulsating timpani line that could be likened to the opening of Brahms' First Symphony. Sun-treader is Ruggles' longest single movement work, and shows a highly-functioning compositional virtuosity. He plays with clearly distinguishable sections, and the common 20th century practice of fragmenting stylistic trademarks of romantic, impressionistic, and expressionistic musical concepts. This complex work is performed with subtlety and a traction that drives the music forward from beginning to end. The consummate musicianship of both the Buffalo Philharmonic and Michael Tilson Thomas provide us with deep and honest performances of Ruggles' works. Portals, for string orchestra, follows this, and explores a musical interval of persistent fascination to Ruggles- the tritone.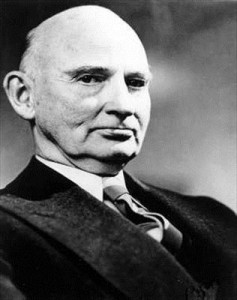 The audience is now treated to an interesting musical exercise- Carl Ruggles' composition Evocations is presented in both its solo piano and orchestral forms. The solo piano performance is presented by the late John Kirkpatrick, a well known champion of the music of both Ruggles and Ives. Kirkpatrick plays this piece like a master, with crystal clear tone and carefully placed beauty. He attends to the compositional adventure that is Evocations, playing with a total understanding of each section that allows the audience to feel truly present in the compositional process of Carl Ruggles. Each pitch has a future full of infinite possibilities. The silence that is heard at the end of the final movement exists as a true vacuum of sound, taking immense trust and dedication for the performer. Hearing Evocations in its piano form first allows for the listener to become familiar with the themes and form of the piece in a less dense setting. Michael Tilson Thomas gives a startling different yet equally valid portrayal of the piece with the Buffalo Philharmonic. Anyone who wants to experience the vast difference between the color of the piano and the color of an orchestra should listen to both of these selections back to back. It is a true lesson in composition and orchestration.
The two most interesting tracks come at the end of this fabulous recording. Organum begins with what an obvious quote of the opening theme from Bartok's Music for String Instruments, Percussion, and Celeste. Ruggles takes this recognizable theme and provides his own unique take on developing and embroidering it within an orchestral setting. He uses his own wildly dissonant chromaticism, yet there is more of a tonal, Mahlerian sound to this piece. The ever flexible and adaptable Buffalo Philharmonic plays with a fresh and playful touch.
The final track on the album is entitled Exaltation, and is an wholly startling display of tonality. Beginning with an organ solo and followed by the entrance of horns and a choir, this is an anthem that could be heard at church on any given Sunday, that is, if the organist had been into the communion wine and was hence having a bit of a sloppy Sunday. Ruggles' pure, Church-going sound is tarnished by smudges of dissonance and chromaticism, placed delicately with an Ives-ian sense of humor. Ruggles still sings the audience to sleep in this still unexpected hymn-tune. The brass ensemble, Gregg Smith Singers, and organist Leonard Raver perform this piece without any special attention to the dissonances, in an honest and timeless presentation of the piece.
All in all, this is a wonderfully recorded and unique album. It is important that major artists such as the Buffalo Philharmonic and Michael Tilson Thomas continue to explore both the popular and less popular classical repertoire. Without such artists and artistic organizations spearheading an adventure into lesser-heard music, it makes it much more difficult to keep our art form alive in the 21st century.