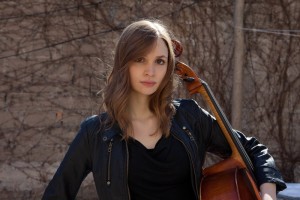 Cellist Mariel Roberts is a rising star in the NYC new music scene. Tomorrow, Sept. 25th, her debut solo album, Nonextraneous Sounds, will be released on the Innova label. The disc features works by five young, super-talented composers, (in program order): Andy Akiho, Sean Friar, Daniel Wohl, Alex Mincek and Tristan Perich. Each of their pieces are very distinct and show off both the cello's versatility and Mariel's virtuosity.
I talked to Mariel a couple weeks ago and have just published our conversation as the latest episode of my audio web-series/podcast, "We Are Not Beethoven" on Washington Public Radio. As you'll hear, Mariel is as charming and articulate an advocate for contemporary music and composers and there is, and there are several fascinating conceptual topics related to the creation and design of Nonextraneous Sounds that are definitely worth your time to explore.
You can stream and/or download my conversation with Mariel Roberts here…
…also, there is a CD release event  for Nonextraneous Sounds on Wednesday, September 26th at the Issue Project Room in Brooklyn, follow this link to find more details and ticket information.
Enjoy!