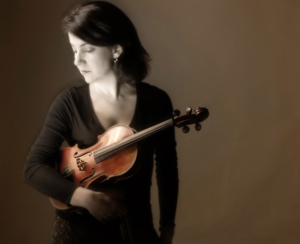 Acclaimed and award-winning 'new music specialist' Sarah Plum (right) is giving a recital of new works for violin this Friday (Sept. 28th) at 8 PM at the Firehouse Space in Williamsburg, Brooklyn.
Sarah has dedicated her career to performing the works of living composers and establishing meaningful, collaborative relationships with them – a fact highlighted by her recital's program which includes pieces by Christopher Adler, Christopher Burns, Matthew Burtner, Laurie Schwartz, Mari Takano and Sarah's longtime collaborator, Sydney Corbett.
I talked to Sarah about Friday's concert, her career, working in Europe and other topics related to contemporary music on my web-based music show/podcast, We Are Not Beethoven on Washington Public Radio. You can stream/download our conversation here.
Once again, violinist Sarah Plum is giving a recital at the Firehouse Space in Brooklyn this coming Friday at 8 PM. Tickets are $10, and the Firehouse Space is located at 246 Frost Street in Williamsburg, Brooklyn. More information about the event can be found here.
Enjoy!