(Houston, TX) Liminal Space Contemporary Music Ensemble is continuing what has become a welcome and well-received series of innovatively staged and programmed concerts of contemporary music. Featuring the core duo of composer George Heathco on electric guitar and Luke Hubley on percussion, Liminal Space has presented concert tributes to the music of John Cage and Frederic Rzewski, composed and performed music for a puppet show realization of H.P. Lovecraft's "Cthulhu," and participated in the Houston Fringe Festival. This Sunday at 14 Pews, they will present an evening of music by Pulitzer prize-winning composer David Lang. Works on the program include how to pray, lend/lease, string of pearls, warmth, and arrangements of selections from memory pieces.
Heathco (who, by the way, is an excellent composer as well) confirms that Lang's music present a set of unique challenges to the performer.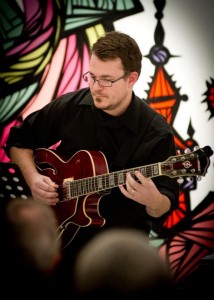 "One thing that seems to run central to performing Lang's music is the amount of concentration and mental stamina required to just get through a piece," says Heathco. "He gives the performer very little opportunity to let up, mentally. On top of that, some of the pieces we are performing are also technically challenging. Works like lend/lease or string of pearls have an element of subtle virtuosity. They don't immediately sound flashy or technically demanding to the listener, but from the performer's point of view it is a whole other story!"
The majority of the works by Lang on Sunday's program have been re-arranged for various combinations of marimba, electric guitars, cello, and keyboards.
"We have arranged several of Lang's memory pieces, originally for solo piano, to be played by marimba and electric guitar," says Heathco. "We are also adapting lend/lease, originally for piccolo and woodblocks, to fit our ensemble. In lend/lease, there is only a single melodic line that is to be played in unison, with one of the instruments being largely unpitched. We wanted to bring out the beauty of Lang's melody, and so rather than woodblocks, Luke will be performing the line on marimba, doubling the electric guitar."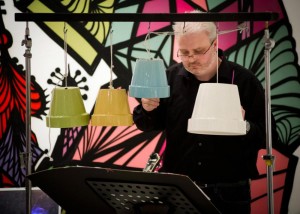 The new music scene in Houston continues to grow and expand into ever more intriguing permutations, stretching beyond the cozy confines of its universities and on into the clubs, galleries, and alternative performance spaces that fill the city's un-zoned citiscape.
An evening of David Lang's music performed in what used to be a church? Perfect. Lang performed by Heathco, Hubley, and a selection of amazing guest musicians? Even better.
Liminal Space Contemporary Music Ensemble presents The Music of David Lang, Sunday, March 24, 7:30 p.m. at 14 Pews, 800 Aurora Street, featuring George Heathco (guitar) and Luke Hubley (percussion) with guests cellist Daniel Saenz, pianist Mark Buller, keyboardist Jeremy Nuncio, and guitarist Chapman Welch. Tickets are $11 online, $15 at the door.