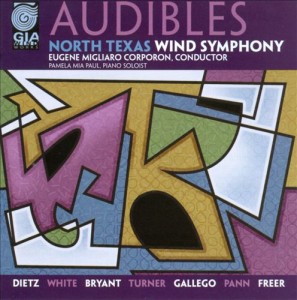 American composer Steven Bryant has recently contributed a beautiful new piece to the piano-and-winds repertoire. Commissioned by pianist Pamela Mia Paul, Bryant's Concerto for Piano was recorded for the GIA Wind Works label, as part of a new disc entitled Audibles. The performers are Paul and the North Texas Wind Symphony, conducted by Eugene Migliaro Corporon.
Concertos for piano and wind instruments are a rare breed. The twentieth century produced only a handful of them, the most famous being Stravinsky's Concerto for Piano and Wind Instruments (1923-24, revised 1950). Shortly after Stravinsky, Colin McPhee wrote Concerto for Piano and Wind Octet in 1928. In 1943 Henry Cowell composed Little Concerto, for piano and band, and George Perle contributed Concertino for Piano, Winds, and Timpani in 1979. More recently additions to the genre include the Norwegian composer Mark Adderly's Triptych for Solo Piano, Orchestra of Winds and Percussion (1988), and Concerto for Piano and Wind Instruments by Kevin Volans (1995). Bryant's compelling work is likely to become a well known member of this lesser known genre.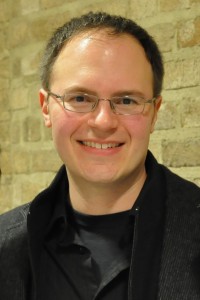 Bryant explains that the two contrasting movements of the concerto are constructed from the same set of descending dyads. The first movement begins in wistful, contemplative simplicity, slowly unfolds, reaches towards its triumphant and spirited zenith, and then recedes again. The arc structure of the movement is elegantly punctuated by a shift from descending to ascending motion at the halfway point. The second movement, with its running sixteenth notes and playful syncopated rhythms, is a display of virtuosity for soloist and ensemble alike. In both movements Bryant uses the concise material to develop music that is thematically cohesive, rhythmically compelling, and filled with timbral beauty. Paul's performance is clear, powerful, and supportive of the compositional structure.
Also included on the disc are compositions by Brett William Dietz, Donald White, Jess Turner, Francisco Jose Martinez Gallego, Carter Pann, and Justin Freer. Audibles is available on Amazon and also at www.giamusic.com.
Listen to Steven Bryant's Concerto for Piano