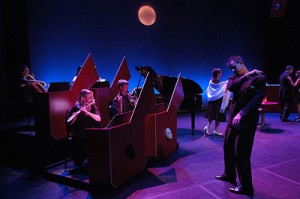 Last Tuesday, April 16, I trekked to Snyder Hall on the campus of Michigan State University in East Lansing, MI to see a performance by the Musique 21 ensemble, an immersive 'Theatre of Music' Production entitled Drunken Moon. The piece was conceived and created by conductor Kevin Noe and composer Kieren MacMillan, and features the merger of MacMillan's eponymous monodrama for two voices with an English version of Arnold Schoenberg's legendary Pierrot Lunaire.
Drunken Moon is more than a concert performance, it is a theatrical unfolding where the music and storyline are deeply intertwined and overlap on many occasions. I chose the descriptor 'immersive' deliberately, because Drunken Moon is more inviting to its audience than standard chamber operas. This is the touch of Kevin Noe, who has become renowned for his innovative programming with the Pittsburgh New Music Ensemble. In fact, Drunken Moon began as a PNME production, one of that group's many fully staged programs, which push the boundaries of traditional concert presentation to create an audience experience that is undeniably memorable and powerfully meaningful.
Even though he was armed with students from MSU's College of Music, Maestro Noe's designs hit their mark Tuesday night. The show began immediately as the audience entered the theatre, in that the performers and actors were dancing, drinking and chitchatting in an imagined bar, 'La fin bleu', set up on the stage. Walking in on the onstage commotion like this set a refreshing and relaxing tone, at least compared to the prescribed ceremony of most Classical or Contemporary music concerts. Although the 'Fourth Wall' was not manipulated to any extreme, the attitude of the performance made observing Drunken Moon feel like being a part of it in some small way.
The intimate audience experience I enjoyed Tuesday night was not only a product of the small theater, sets, costumes, lighting and music. My compatriots in the audience and I were drawn into the performance by the stellar acting and singing of soprano Lindsay Kesselman and baritone Robert Peavler who brilliantly portray the main characters in Drunken Moon – dubbed only "she" and "he". The couple's interaction is the focal point of the performance's narrative and the link that connects MacMillan's Drunken Moon with Pierrot Lunaire.
Kesselman plays a hopeless romantic, weathered by a life spent alone and dissatisfied in love. Peavler is her object, a 'player' – to be colloquial – who steals Kesselman's attention, and that of other ladies in the bar that night. Their initial flirtation and courtship plays out in Drunken Moon, which uses a vast palette of musical styles to reflect the fluid evolution of their emotions as they glance across the bar at each other, dance and, ultimately share a glass of wine together. MacMillan's score is skillfully crafted and deliberately friendly, for the most part, employing playfulness and popular allusions to distract from the sinister tone underlying the story. By the time the audience is aware that the lovesick dreams of Kesselman's "she" will not come to fruition, MacMillan has passed the baton to Schoenberg's Pierrot, whose text, translated into English, is divided between and shared by the two singers. Kesselman and Peavler's performances of the Schoenberg were lively, provocative and convincing, with a vocal style that is more Eight Songs for a Mad King than 'sprechstimme'.
The pairing of Drunken Moon with Pierrot Lunaire has an extraordinarily transformative impact on the 100-year old work. Placed beside MacMillan's charming and vivacious music and within the dark, desperate world of these would-be lovers, Pierrot comes alive like I could have never imagined. It is as if Noe and MacMillan have found an unfailing context within which Schoenberg's expressionism feels at home. Perhaps this is the influence of the English translation, because the wildness of Schoenberg's free atonality feels more ingenuous when you understand the text he is setting. However, I think my appreciation for the work is more closely tied to MacMillan and Noe's creative design and Kesselman and Peavler's compelling performance.
The madness of Schoenberg/Giraud's 'Pierrot', which Kesselman and Peavler convey impeccably, grafts onto the maudlin disappointment of MacMillan's romantics and transports it to a realm of profound artistry. Moreover, Pierrot Lunaire needs Drunken Moon to escape its baggage and awkwardness of its anachronism. Together, at the hands of Kevin Noe, his supporting cast of musicians and actors, Lindsay Kesselman, Robert Peavler and Kieren MacMillan, the two musical works fuse into a new, stunning body of story and sound, that left me deeply satisfied and piqued to see what else Maestro Noe and his colleagues at MSU, or the PNME, are capable of creating.