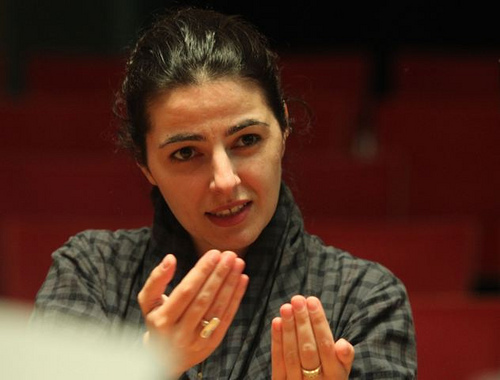 What's the most important factor in becoming a successful contemporary composer? (By successful, I mean a composer whose work gets played regularly in public venues, recorded, and written about in the music press). Talent? Sure. Determination? Of course. Hard work? Maybe. Strong relationships with musicians who inspire and play your work?
Dobrinka Tabakova, the 32-year-old Bulgarian/English composer whose debut ECM CD, String Paths, will be released in the U.S. on June 18, has all those qualities in spades but her career illustrates just how important that last social aspect of building a career are. Tabakova's music is a textured blend of modern and ancient, familiar and unknown, tonal and modal, eastern and western, folky and formal. Her big musical gestures are bold and assertive. Among post-modern composers only John Adams and a handful of others write opening "hooks" that grab the listener as seemingly effortlessly.
When Tabakova was 11, her father, a medical physicist, took a position at Kings College Hospital and moved his family from their native city of Plovdiv, Bulgaria, to London. For Dobrinka, a quiet, only child with still rudimentary English skills, it was an opportunity to immerse herself even more deeply into the world of classical music.
"I had started taking piano lessons in Plovdiv when I was 7 and I continued them in London," she says. "I was lucky enough to have teachers who didn't seem to mind that I sometimes improvised when I came to a part I didn't know," she says, with a laugh. She applied and was accepted into the Junior Academy of Guildhall School of Music and Drama, which provides specialist training Saturday training to promising young people between the ages of 4 and 18.
"By the time I applied to Guildhall, I was improvising more and more and writing down sketches that I was pleased with. I took along a couple of those to my entrance exam and was accepted to study composition." She ultimately graduated from regular Guildhall and then earned a doctorate in composition from King's College, London.
Her first "big break" came at the age of 14, when she submitted a piece to the Fourth Vienna International Music Competition and won the Jean-Frederic Perrenoud Prize & Medal.
"I had seen an advert in the corridors at Guildhall and submitted a piece as a kind of lark," she says. "I was stunned when I learned I had won." Other opportunities quickly followed. She received a scholarship to attend the Centre Acanthes. Xenakis was guest composer and Messiaen's widow Yvonne Loriod was giving lectures. Heady stuff, indeed, for a 15-year-old.
"Guildhall not only gave me the opportunity to study composition but also to meet and become friends with some of the most talented young musicians in Europe," Tabakova says. That aspect of her musical education—the relationships with players—has played an enormous role in getting her music played.
Several of the pieces on Tabakova's debut ECM recording String Paths, which features her music from 2002 to 2008, were composed specifically for her former conservatory colleagues: violinist Roman Mints, violist-conductor Maxim Rysanov and cellist Kristina Blaumane, principal with the London Philharmonic Orchestra. Tabakova composed her Concerto for Cello and Strings expressly for the Latvia-born Blaumane. The piece runs the emotional and technical scale from the breathtakingly difficult opening movement "Turbulent" to the playful third movement "Radiant," linked by a pensive middle movement called "Longing." Blaumane moves seamlessly from masterful virtuosity to tender beauty.
Suite in Old Style, for viola and chamber orchestra, which shares its title and impetus with works by Górecki, Schnittke and Penderecki, is one of three suites that Tabakova has written for the Russia-born Rysanov. The "old style" in this case come from Baroque and Classical and was inspired by mainly by the short, highly concentrated compositions of Rameau, with their dense structure with bursts of Respighi-like color and energy. This new recording resulted from a happenstance meeting of the composer with label founder-producer Manfred Eicher at the Lockenhaus Festival in Austria, where Rysanov was performing Suite in Old Style.
"There are no direct quotations from Rameau in my piece, but I used the letters of his name in musical notation to make the melody of the movement 'Riddle of the Barrel-Organ Player,'" she says. "The suite draws from architecture as well as music, including the idea of clean, symmetrical structures with inner decoration, reminiscent of the Baroque."
The inspiration for Frozen River Flows – a meditation for violin, double-bass and accordion – stemmed from the wintry image of a mountain brook flowing beneath a frozen crust. The piece has a Winterreise sort of melancholy amplified by the lyricism of the violin and double bass and the droning of the accordion.
"Years ago, I heard Messiaen's organ work La Nativité du Seigneur performed on the accordion – a magnificent achievement," Tabakova says. "I imagine the accordion as this extremely versatile one-man orchestra, like a folk-music organ. The introduction of the sound world by the accordion reflects my initial image of the icy brook. Gradually, as the piece unfolds, the music mirrors the realization of a flowing stream underneath the ice–a beautiful natural phenomenon."
Tabakova composed the album's concluding string septet, Such Different Paths for the awesome Dutch violinist Janine Jansen, who has become a more recent supporter of Tabakova's work.
Although the new ECM album contains works only up to 2008, Tabakova has been busier than ever. Her recent major premieres include her Centuries of Meditations for orchestra and chorus at the 2012 Three Choirs Festival in England. The piece spurred the reviewer of the Birmingham Post to write: "It takes a lot to upstage Fauré's Requiem, but it happened… with Centuries of Meditations." Others include On the South Downs, performed by cellist Natalie Clein with the West Sussex Youth Orchestra and Choirs; and her Concerto for Piano and Orchestra, by Evelyn Chang and City Chamber Orchestra of Hong Kong. Janine Jansen has performed Such Different Paths across Europe with the Academy of St. Martin-in-the-Fields.
On the social front, Tabakova has always dedicated much of her time to promoting contemporary music, which started in her student days at the Guildhall School. As well as conducting a number of premieres and chamber operas there, in 1999 she became President of the Contemporary Music Society. In that role, spanning five years, she acted as artistic director of the concerts and Festivals which aim to promote the up and coming composers of this generation. Following on from her post at the Guildhall, she was appointed series coordinator of the British Music Information Centre's Cutting Edge series (2003-2009), which aimed to present post 1960's contemporary music with a focus on British composers. In that period, the series introduced over 300 premieres by new composers as well as established British names like Michael Finnissy, Howard Skempton, Harrison Birtwistle, Graham Fitkin, Judith Weir, Jonathan Harvey and many more.
"I'm a people person, I suppose," she says. "I like working with other composers and musicians and I especially like writing specific pieces for specific people. They inspire me—their interests, their stories, their individual talents. It's a kind of human connection and collaboration that enriches the experience of composing."
The little lost girl from Plovdiv is obviously lonely no more.