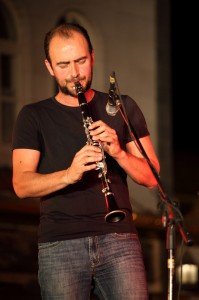 On September 3rd Kinan Azmeh CityBand returned to Joe's Pub for the official release of their new album, Elastic City. The disc, a collection of passionate and virtuosic pieces in the genre of Arab World Jazz, features Azmeh (clarinet), Kyle Sanna (guitar), Josh Myers (bass), and John Hadfield (drums and percussion). Formed in 2006, the ensemble has received critical acclaim in the US, Europe, and the Middle East. Judging from the large and wildly enthusiastic audience at Joe's Pub, they are clearly developing a big following here in New York.
Born and raised in Damascus, Azmeh finished his training at New York's Juilliard School and has since gained international recognition as a clarinettist, composer, and musical innovator. He's currently recognized as one of Syria's leading classical musicians and composers, and also has a well deserved reputation as one of New York's most engaging composer-performers. In addition to his work with CityBand, Azmeh performs regularly with the Syrian ensemble HEWAR, the Damascus Festival Chamber Music Ensemble (of which he is the artistic director), and also as a solo artist.
CityBand has a captivating stage presence and an interpersonal attunement that comes from years of performing together. They respond intuitively to each other, grooving effortlessly in complex meters, and never getting in each other's way. Their improvisations are sophisticated and emotionally powerful, each member contributing a distinct individual voice to a seamlessly blended whole. At times Azmeh brings the dynamics of the group down to an almost inaudible level, building it slowly to ecstatic heights.
Azmeh started the evening with a deeply moving solo entitled A Sad Morning, Every Morning, a composition that he wrote in memory of the thousands who have lost their lives in the Syrian conflict. Other memorable moments included Woods, a haunting and transportive work by Kyle Sanna, and Wedding, a raucous piece written by Azmeh that featured the group's dazzling virtuosity.
Kinan Azmeh: A Sad Morning, Every Morning  (art by Kevork Mourad)

[youtube]http://www.youtube.com/watch?v=nD9jbBFKetA[/youtube]