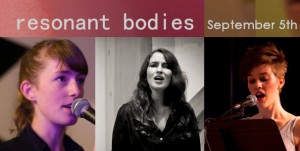 Thursday night kicked off the Resonant Bodies Festival, a new 3-day parade of contemporary vocal music at ShapeShifter Lab in Brooklyn.
Each night features three young singers performing programs of their favorite music. This curatorial freedom gave last night's show a happy zealousness, where the singers' enthusiasm for their repertoire was contagious.
Festival curator Lucy Dhegrae marked out a broad territory in her set. Beginning with Jason Eckardt's mantic Dithyramb, she swiftly established her virtuosity in an elastic, preverbal but hyper-articulate world. In Old Virginny, by Shawn Jaeger, juxtaposed a forthright Appalachian lament with a snarling, snaky bassline, played athletically by Doug Balliett, to surprisingly tender effect. Balliett then took the mic for the premiere of his newest Ovid rap cantata, #11, Clytie and the Sun. While not the most arresting of his cycle (see Echo and Narcissus), it delivered a highly entertaining mix of humor and pathos, and Dhegrae's theatrical arias, as the smitten Sun, were the perfect foil to his informal Narrator.
Ariadne Greif began her set with the darkly dazzling Apparition: Eight Elegiac Songs and Vocalises by George Crumb. Perfectly at home in its brooding world, Greif was riveting. Each line seemed to come from the bottom of her; she seemed to taste the ash of each bitter word. She felt its silences too, never letting a lull sap the crackling tension of her presence, while Jason Worth teased a black aura from the amplified piano. She followed Crumb with a trio of "Beloved, Old Songs," by Machaut, Monteverdi, and Bousset. These were presented in highly personal loop-pedal reinventions, in which wails become ground basses, gasps become grooves, and wineglasses and birds serenade the serenader. It's a new direction for her that I hope she continues to explore.
Charlotte Mundy closed the night with Feldman's Three Voices, a 45-minute banishment-from-reality with loudspeakers ("like tombstones") multiplying her presence. Mundy's voice is well-suited to this music: pure and direct, it gives clarity to the seas of half-steps and ease to the cascading lines, like whirling snow; unaffected and slightly plaintive, even the most mechanical patterns seemed to have an emotional core. There is often an inclination to perform Feldman as flat as possible, but she brought out, in subtle but illuminating ways, its not undramatic rhetoric.
The rest of the festival is highly recommended.
Friday Sept. 6 (tonight!)
Amirtha Kidambi
Jamie Jordan
Megan Schubert
https://www.facebook.com/events/137981983068171/
Saturday Sept. 7
Jeffrey Gavett
Christie Finn
Kjersti Kveli
https://www.facebook.com/events/140628399468234/
ShapeShifter Lab
18 Whitwell Pl. Brooklyn (Gowanus)
7pm, $20
http://resonantbodies.wordpress.com/schedule/