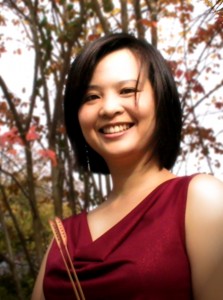 (Houston, TX) On Sunday, April 27, 2014 the Houston Composers Salon presents its Spring Concert, featuring works by Houston-based composers Hsaio-Lan Wang, Stephen Yip, Ryan Gagnon, and Eric Fegan. All four composers will be in attendance to introduce their compositions and answer questions from the audience. The concert takes place at 6:00 PM at 14 Pews, a popular venue for independent film screenings, visual art, and experimental and contemporary music performances.
The eclectic and provocative program includes Wang's Houston Duet, a collaboration with video artist Daniel Zajicek with an electro-acoustic score by Wang, Gagnon's Three Duets for flute and vibraphone, Fegan's Coexist and Separate for violin and bass, and Stephen Yip's Tide and Time for trombone and percussion. 14 Pews' cozy atmosphere and great acoustics are ideal for playing and listening to this kind of music.
Formerly known as the Houston Composers Alliance and founded in 1986 by the then Houston Symphony Composer-in-Resdience Tobias Picker, the Houston Composers Salon was renamed in 2013 and held its first concert at Avant-Garden, a popular Montrose bar that also hosts performances by Classical Revolution Houston and Da Camera. That first concert featured works by Houston Composers Salon president Thomas Helton performed by pianist, composer and improviser Hsin-Jung Tsai, who co-leads the organization with Helton. The organization's goal is to provide an intimate, supportive environment for local and international composers to have their work performed.
Houston Composers Salon Spring Concert, Sunday, April 27, 2014, 6:00 PM, at 14 Pews, 800 Aurora Street, $5 suggested donation.