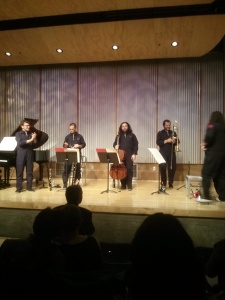 The friendly confines of Boston Court in Pasadena was the venue for a concert by Los Angeles-based gnarwhallaby on Saturday, October 4, 2014. The quartet appeared complete with their trademark rock-solid playing and black jumpsuits for the performance of six pieces by European and American composers of new music.
The concert opened with Euphorium (1995-96) by the Czech composer Martin Smolka. This featured Matt Barbier on euphonium and Brian Walsh on baritone saxophone. Combined with the piano and cello this produced a wonderfully robust bass line and a big sound that bounced and jumped playfully about. The rhythms were fast, bold and angular with an active feel, like a city at rush hour. The composer describes this piece as follows: "The tempo is breakneck and there are too many notes leaping up and down the entire range and the irregular rhythms in alternate measures remind a maze… The score invites the players to find alien tones. It is full of indications to play out of tune and at times out of rhythm… It is a musical illustration to a Scrap Iron Art Manifesto." Even so the playing by gnarwhallaby was tight and the irregularities well managed. As the piece progressed the driving rhythms often broke into a satisfying groove and this offered a measure of accessibility amid the split tones and intense textures. The overall feeling was like standing too close to a slightly out of control street band and enjoying the sense of imminent catastrophe. The piece eventually wound down with a quiet trombone solo that trailed off, as if by exhaustion. Euphorium is an exercise in joyful anarchy, accurately captured in this performance despite what is surely a challenging score to play.
FLUFF (2012 to present), by Nicholas Deyoe followed, and this was a series of short pieces written for gnarwhallaby as a collaboration to "investigate the ensembles sonic potential." These are short – ranging from 20 seconds to maybe 3 minutes – and exhibit a wide variety of rhythms, timbres and textures. They can be soft and mysterious, loud and piercing or quiet and tense. Often these short movements conjure images and in this performance there was one FLUFF that conveyed the creaking of a wooden floor late at night, producing a distinctly eerie feeling. Another had all the roar and thunder of two cars racing away from a stop light. FLUFF is an on-going project and, according to the program notes: "Ultimately, more than 20 movements will comprise the cycle, which Deyoe is gleefully going about in an occasional and out-of-order fashion." Five new movements were presented at this concert.
Quartet (2014) by Colin Wambsgans was next and this began with a series of forceful tutti chords, sustained over several seconds. Matt Barbier's trombone put down an effective foundation and there was a grand sense of assertion and confidence in each succeeding blast. It was like hearing a ship's horn in the harbor – a feeling of consummate power. Although originally calling for a bassoon, Richard Valitutto stepped up playing melodica as re-scored by the composer, and this added a sense of tension and urgency to the massive chords. As the second movement opened, the chords became quiet and questioning and the overall effect was increasingly subdued and tentative. The melodica became more of a presence and added a shrill sense of anxiety as each sequence sounded. The passages became higher in register and more uncertain – the confident sounds of the first movement now completely absent. The piece concluded with some timid scratching sounds in the cello that quietly faded into silence. Quartet managed to capture the wider emotions present in this country over the last few years: a feeling of massive confidence that has given way to anxiety and uncertainty – as this piece tellingly describes.
After a short intermission Muzyczka IV (koncert puzonowy), Op 28 (1970) by Henryk Górecki was performed. This is a trombone concerto in an intense, dynamic style by Górecki that predates his more widely known minimalistic Third Symphony. The first movement, furioso, marcatissimo is a series of frenetic, booming passages led by the trombone that explode like cannon fire on a battlefield. The outbursts are separated by a few seconds of silence, and this only intensifies the sense of chaos – even so the playing here was tightly controlled. The sound and fury builds to a climax and then stops suddenly and we are left to hear a solemn piano chord. Another loud burst from the ensemble ensues and with the following silence the piece moves into the second movement, tranquillissimo, ben tenuto. Here the piano leads with its pensive chord, striking like a cathedral clock tower in the darkness. The clarinet and trombone play a somber melody, as if in eulogy for some overwhelming catastrophe. As the piece concludes, the piano continues alone until the last chord slowly dies away. This is very powerful music and the playing in this performance was transcendent. The acoustics of Boston Court were up to task and accurately transmitted all of the emotion present in this piece. By reviving this trombone concerto, gnarwhallaby has done a great service for those with an interest in the music Henryk Górecki.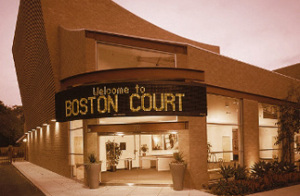 D-S-C-H (1969) by Russian composer Edison Denisov was next and this begins with a single, crisp piano note followed by a series of rapid cascading passages from the other instruments. This pattern continues, sometimes with the piano sounding two or more notes prior. The ensemble sound is angular, with sharp edges, but cleanly played. Part way through, the mood changes to an almost lethargic feel as the trombone, clarinet and cello play slow, independent melodies while the piano weaves a line of notes that dart in and out of the texture. The interplay between the piano and the others was nicely choreographed and the clarinet line seemed to be particularly vivid.
The concert concluded with Lullaby 4 (2014) by Nicholas Deyoe. This piece begins softly in the piano with a line that combines a sense of mystery with tension. A sudden fortissimo chord crashes forth, shattering the quiet like a lightning bolt. The soft piano returns with a simple melody, but there are ominous growling sounds in the cello and trombone that build tension until another crashing piano chord sounds. More quiet music follows, but with unsettling effects – an upturned wine glass is applied to the rim of the trombone bell adding to the unease. These moments of increasing anxiety are the perfect prelude to the thunderous chords that ring out at unexpected intervals as the piece progresses. Having heard the West Coast premiere of this piece in a different venue, this second hearing at the acoustically drier Boston Court revealed much more detail and complexity in the quiet portions. A recording of Lullaby 4 is clearly in order.
A CD titled exhibit [a] by gnarwhallaby is available and contains D-S-C-H, the Górecki trombone concerto and several of the FLUFF pieces. exhibit [a] is available from populist records.
gnarwhallaby is:
Brian Walsh – Clarinets and Saxophone
Matt Barbier – Trombone and Euphonium
Derek Stein – Cello
Richard Valitutto – Piano and Melodica