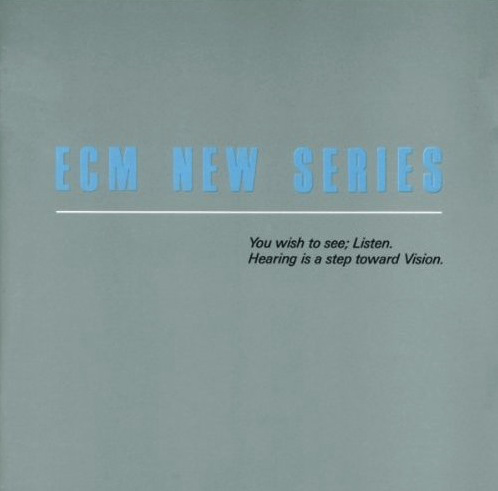 ECM's New Series has been producing classical releases of highest caliber since 1984. As the German imprint quietly celebrates its 30th anniversary, these words attempt an affectionate survey of its output. Then again, how does one delineate a history of that which is so much a part of it? Jean-Luc Godard addresses this very question in his Histoire(s) du cinéma, of which the soundtrack saw a New Series release in 1999 and from which this essay borrows its title. The parenthetical "s" of Godard's masterwork serves not merely to hinge the singular and the anural, but to unravel the multiple, simultaneous registers of the filmic medium—moving, as it were, from an "either-or" to a "neither-nor" approach. A film breaks down not only into individual frames, but also into molecular compounds within those frames, until signs of the original become nothing more than the breath expended to describe it. Similarly, the New Series vision, under the watchful ear of producer Manfred Eicher, has for three decades programmed music as if it were a field of signs that live among and within us, each an ephemeral capture that begets infinite others.
The New Series bears no discernibly overarching aesthetic. Just as ECM proper has diversified the pasture of jazz with flowers of stark variation, so has the New Series loosened the borders of the classical landscape through democratic enhancements of technique, instrumentation, and concept. Indeed, the success of the New Series vision has grown in direct proportion to its inclusivity, even as it has refined an idiosyncratic corpus of composers. If one can say that Eicher has brought a classical sense of detailing toward the jazz-oriented records that earned him first renown, one might also say that he brought to classical recording a feeling of jazz, insofar as whatever spirit animates the improviser with unquantifiable purpose also thrums like a shell around every classical recording worthy of the ECM moniker.
Inception of the New Series traces back to 1980, when Eicher first heard Arvo Pärt on the radio. Not knowing what it was, he searched for quite some time before connecting those angelic sounds to a name that would define the label to come. In its role as the first New Series release, Pärt's Tabula rasa is said to have introduced an ancient world to a new sound. And yet, it would be just as accurate to say that the album introduced an ancient sound to a new world. In other words, it wasn't the newness of Pärt's music that turned the album into such a watershed moment. It was, rather, its resonant heart, to which listeners across genres and affiliations found immutable connections, points of relatability, and glimmers of familiarity in its starry sky. Such an interpretation existed already in the name: New Series. As for the "new," one finds it in the recordings and performances. The word "series," on the other hand, connotes linkages between past and future tenses in an unbroken chain of influence. Like the single line that underscores the label's logo, it's a horizon, either side of which brings innovative possibilities to the old, and old possibilities to the innovative.
Within the parameters of Eicher's discerning archaeology, much credit must go to ECM's committed engineers, of whom Peter Laenger and Stephan Schellmann stand out for their clear, adaptive methods. Schellmann's tenure with the label has been remarkably varied, ranging from violinist John Holloway's benchmark accounts of transitional Baroque repertoires to the chamber music of 20th-century Korean composer Isang Yun. Moreover, Schellmann has shadowed András Schiff's 10-disc traversal of the complete Beethoven sonatas and, within the last year, an extraordinary account by Anna Gourari of Sergey Prokofiev's Visions fugitives. Laenger's most commercially successful intersections with ECM have generated collaborations with the Hilliard Ensemble, including the much-beloved Officium project with Norwegian saxophonist Jan Garbarek. He has also been involved in Pärt productions, Tabula rasa not least of all, and made audible the slightest whispers of Russian contemporary Alexander Knaifel. The contributions of these and others at the mixing board are integral by presence so tangible that their all-too-often-ignored efforts would be impossible not to notice.
Binding these artistic confluences is Eicher's willingness to not so much think outside the proverbial box as redefine and expand what that box may contain to begin with. An especially fascinating orbit of the ECM solar system has been traced by a relatively small but no less life-sustaining planet of spoken word projects. These have taken various forms, as in the above-mentioned Godard soundtrack and in the unaccompanied recitations of actor Bruno Ganz, who has lent his voice to the poetry of Friedrich Hölderlin, T.S. Eliot, and Giorgos Seferis. There is, too, the gorgeous pairing of Frances-Marie Uitti and author Paul Griffiths, there is still time (ECM 1882), which dovetails poetry by Griffiths, limited to the 482-word vocabulary as spoken by Ophelia in Shakespeare's Hamlet, into the cellist's fully immediate improvising.

I recently caught up with Griffiths, who kindly offered his insight into working with Eicher in the studio.
"Manfred said almost nothing, but what he did say was crucial. No less crucial was his just being there. We hadn't prepared very much—hardly at all. We tried some things out that didn't work. Others did, sometimes at a first take. It was hard work, and extremely easy. No pressure. Just let it happen. Room for spontaneity. We kind of relaxed into intensity. Frances's playing was—you can hear this, and though I don't like the word I have to use it—an inspiration."
Griffiths's summary of the recording process happens to be an effective description of the listening that attends it. One may come to each New Series recording afresh, suspending expectations toward even standard repertory in favor of the novel expositions sure to take place. Sometimes the listening clicks, achieving unity of absorption at first meeting. Other times, understanding grows as experiences bond with the music, little by little. There is room for spontaneity in how one may hear the sounds and, yes, an inspired communication behind it all.
I began, though, by asking Griffiths about his first experience as New Series listener. "That would have to have been the Arvo Pärt album Tabula rasa, when it came out, in pre-CD days, in a foot-square sleeve of unglossy white, which would be so difficult to keep clean, but one would try," he said. The historicity of his reply would seem to treat the album in question as an artifact and reminds me that my first copy of the same was on the even more outmoded medium of cassette. And his initial impressions?
"I was bowled over, like everyone else, especially by the title piece. Before that 'Arvo Pärt' was just a name floating around—one of the younger Soviet composers who'd taken modernism on board—without that name being grounded in any experience of the music. We're talking of a time, of course, when knowledge of music from the Soviet Union was very limited. To anticipate your third question, I can't remember what came next—maybe the second Pärt album, Arbos, or a Lockenhaus compilation. But I'm not sure I was aware that the Lockenhaus disc came from the same stable; it took a little while, for me at least, before I began to have a notion of an ECM identity."
And what did that identity signify once he became aware of it as such?
"There was the matter of design, which impressed in a very different way when sleeves were 12" by 12"—I vividly recall the beautiful starkness of, especially, the Arbos cover, with the title in blue-green against dark grey. Then the notes were always good. But of course it was the sound, the combination of intimacy and distance, and the awareness that a recorded performance is not simply a recording of a performance but something distinct—the Glenn Gould lesson, absorbed with total simplicity and straightforwardness. It may have taken me a little longer to notice that ECM was also creating its own repertory."
On the topic of notes, any fan will have become acquainted with the contributions of Griffiths, who along with music critic Hans-Klaus Jungheinrich has brought his erudition to the lion's share of New Series booklets. In addition to an encyclopedic knowledge of contemporary classical music and its lineages, Griffiths has given beautiful, narrative readings to handfuls of compositions in ways thitherto unexplored. I inquired about his first assignment, which to his recollection was Kim Kashkashian's disc of three Hungarian viola concertos—by Bartók, Kurtág, Eötvös—with the Netherlands Radio Chamber Orchestra (ECM 1711).
"That would have been in the late nineties. I knew it had to be good. I would guess that everyone working for Manfred, in whatever capacity, strains to deliver only the best. That's part of his skill and his success, that he doesn't impose but somehow opens, lets you achieve as much as you're able. The terms are perhaps too grand in which to talk about liner notes, but I felt—and still feel, maybe twenty or thirty albums later—an ECM assignment to be a special opportunity."
Special, too, for those on the receiving end of their intellectual labor.
No such musical body would stand without the nourishment of its composers. In this respect, ECM has widened the listenership of previously insularly known figures. Pärt, to be sure, heads the list for his inaugural significance, but more lastingly for the unpretentious depth of his notecraft. Here is a human being of flesh and less tangible things who tends the latter with such integrity that even those who wouldn't normally consider themselves classical listeners have made his motives a staple of their listening diet. I hesitate to describe Pärt as a "universal" composer, implying as the term does a reach fanning out from this blue orb and its galaxy into countless more beyond, when in reality his power has the opposite effect, burrowing so far inward that it caresses the spark which makes each of us unique.
Pärt's ruminations comprise but one landmass in a changing map that has lowered its waters to reveal archipelagos, canyons, and glaciers—each possessed of its own topographical influence. In this respect, one value of the New Series is its vested interest in the marginalized, the exiled, and the misunderstood. Estonia has blessed us further with the folkloric choral interpretations of Veljo Tormis and the glowing architectures of Erkki-Sven Tüür, while the former Soviet state of Georgia has given the thematic persistence of Giya Kancheli, Ukraine the postludinal elegies of Valentin Silvestrov, and Armenia the open loom of Tigran Mansurian's threadbare prayers. On the European continent, we find the meticulous microscopy of György Kurtág, while Gavin Bryars emotes from across the English Channel with his sonorous fusions. Through all of this, the works of Bach—and, more recently, Schubert and Schumann—have become touchstones. Hence, my final question for Griffiths on the nature of ECM's classical interests, to which he replied:
"Yes, there certainly is an ECM repertory—a world where Schubert and Schumann are more prominent than Beethoven, and certainly than Mozart—but I'm not sure its rationale can easily be defined. Factors include Manfred's taste, of course, but also his loyalty to artists and his curiosity, or perhaps his eagerness to go against his own grain. Perhaps there's a sort of intimate yet intense expressiveness that links all these things. And an absence of show. Is it possible to think of a composer unimagineable on ECM? Wagner? But then I could imagine the Siegfried Idyll, with the right performers and the right context. Oh, perhaps the key is in some sense of the music—and the performance—creating an arc of an uncompleted circle, a sense of something beyond."
Mention of performance speaks to the talented musicians that have lent their hands, bows, and voices to the above repertoires. Notable among them are violinist Thomas Zehetmair and his famously score-less quartet; cellist Thomas Demenga for his pairing of Bach's cello suites with contemporary chamber works, to say nothing of his phenomenal homage to Paul Sacher (ECM 1520/21); Gidon Kremer and the Kremerata Baltica for their sense of adventure; Kashkashian for her impeccable tone and tireless championing of modern music; the now-disbanded Hilliard Ensemble and their thriving protégés Trio Mediaeval for likewise expanding vocal repertoires with utmost professionalism and respect; pianists Alexei Lubimov and Herbert Henck for their artful assemblies and contrasting touch at the keyboard; and tenor John Potter's Dowland Project for unusually organic permutations of the troubadour's heart. These are but a few.
There are those—namely Meredith Monk, Heinz Holliger, and Thomas Larcher—who fulfill both categories with comparable proficiency, and still others who are in categories all their own: violinist Paul Giger, composer Heiner Goebbels, and keyboardist extraordinaire Keith Jarrett. That Jarrett has been able to cross the line so fluidly between jazz and classical realms speaks to the blurriness of that line. Whether playing Bach's French Suites on harpsichord (ECM 1513/14), the 24 Preludes and Fugues of Shostakovich on piano (ECM 1469/70), or fronting an orchestra in sweeping accounts of Mozart piano concertos, his contributions to the label circle back to where it all began: with him at the keyboard and Kremer at the violin ushering in an age of discovery as Pärt's Fratres prepared to speak its mantra for all time.
In line with an arbitrary and subjective tradition, I conclude with the following "Top 10" list of New Series recommendations. More than anything, it reflects a hierarchy of personal engagement and as such may or may not overlap with your own experience of the label. Either way, I hope it will be cause for (re)discovery. The astute fan will note that a good portion of my picks was recorded in the first half of the 1990s. This is no coincidence. Many of my favorites immediately proceeded from my introduction to the Series by way of Pärt's Te Deum (ECM 1505) and represent something of a golden age for the label, during which production, aesthetic, and selection were for me at their peak of harmony.
Giya Kancheli: Exil (ECM 1535). Kancheli's Exil will forever be the crowning achievement of all for which the New Series stands. Recorded in the defining acoustics of Austria's Sankt Gerold monastery and featuring the incomparable soprano Maacha Deubner, its sounds are of an order beyond the craft of any wordsmith. Hear it, and you may just find that your heart has been holding a space for it since before you were born.
Paul Giger: Chartres (ECM 1386). The Swiss violinist combines improvisation and through-composed scripture in a peerless—all the more so for being solo—exploration of the Chartres cathedral. Through extended techniques such as overtones, percussive tapping, and choral textures, Giger forges an effect so unearthly that it pulls ghosts from every stone.
Heinz Holliger: Scardanelli-Zyklus (ECM 1472/73). Holliger's seasonally inflected obsession is a masterpiece. From the album's mysterious cover, in which the autograph of Hölderlin's alter ego floats in a sea of stars, to the shuffling of a cappella settings into small orchestral longings, and all of it sheltering an epic flute solo by Aurèle Nicolet, there's enough here to satisfy a lifetime of returns.
Erkki-Sven Tüür: Crystallisatio (ECM 1590). With a background in progressive rock and abiding interest in jazz-like sonorities, Tüür pulls out all the stops in his ECM debut. Shorter works for various orchestral combinations build to the title composition for 3 flutes, glockenspiel, strings, and live electronics, and beyond it to the 1994 Requiem, which stands as one of the most compelling examples to ever bear the title.
Gavin Bryars: Vita Nova (ECM 1533). Though Bryars seems to have faded from the label's auspices, there was a time when he flourished, and never to such beauteous effect as on Vita Nova. The album documents some of countertenor David James's most articulate singing on record, both among the Hilliards and with a haunting trio of strings, and amends the composer's atmospheric precision with textual resonances, even in the absence of words.
Arvo Pärt: Miserere (ECM 1430). Of the many recordings I might have selected from the Estonian composer's archive, Miserere stands apart. Pärt's handling of the title work balances the apocalyptic and the introspective with such care, it's a wonder the musicians don't weep as they play. The singers' interactions with organ and winds prepare the skin until the ritual drumming of Sarah Was Ninety Years Old anoints with holy genealogy.
Christopher Bowers-Broadbent/Sarah Leonard: Górecki/Satie/Milhaud/Bryars (ECM 1495). There's nothing quite like this rarely mentioned record, which combines the smooth limb-work of organist Christopher Bowers-Broadbent and the atmospheric reach of soprano Sarah Leonard (both featured to astonishing effect on Miserere) across a bridge of music by Górecki, Satie, Milhaud, and Bryars. While the middle two are writing for organ alone, the album's massive bookends feature the unusual duo, and the results shatter. Between the declamatory punctuations of Górecki's O Domina Nostra and the stream-of-conscious narrative of The Black River, for which Bryars sets words of Jules Verne, listeners might very well find themselves transformed.
Hans Otte: Das Buch der Klänge (ECM 1659). Even more rarely mentioned is this enchanting album of solo piano music by Hans Otte, which in Henck's capable hands comes alive in a most assured interpretation. Otte's infusion of fundament and fragment belongs to a world unto itself.
J.S. Bach: Ich hatte viel Bekümmernis (ECM 2229). Despite the fact that Bach lurks in so many places, some more overtly than others, it wasn't difficult to settle on this recording by master oboist Heinz Holliger, violinist-director Erich Höbarth, and the Camerata Bern, though Keith Jarrett and Kim Kashkashian's rendering of the viola da gamba sonatas (ECM 1501) comes a close second. The sheer fullness of Holliger's phrasing and feel for rhythm alone make this one worth owning. That, and one of the finest Bach programs ever assembled.
Arianna Savall/Petter Udland Johansen: Hirundo Maris (ECM 2227). So many albums might have occupied this place in my list, but this one is a more recent discovery and therefore freshest in mind. Singer-harpist Arianna Savall, daughter of Jordi Savall and the late Monstserrat Figueras (in whose memory the album is dedicated), and Oslo-born singer and multi-instrumentalist Petter Udland Johansen form the core of the titular project, which explores folk roots in early music of Norway and Catalonia. Bound by an uncompromising instinct for melody and augmented by spirited arrangements, their artistry seems boundless in one of the more surprising bouquets to sprout from ECM soil.
Honorable mentions might just as well include every other release from the label, but I would highlight, in catalog order: Meredith Mon's Dolmen Music (ECM 1197), Steve Reich's Tehillim (ECM 1215), Paul Hindemith's Viola Sonatas as played by Kashkashian (ECM 1330-32), Thomas Demenga's pairing of Bach's 4th Cello Suite with works of Heinz Holliger (ECM 1340), Gesualdo's Tenebrae as sung by the Hilliard Ensemble (ECM 1422/23), the same ensemble's landmark recording of selections from the Codex Speciálnik (ECM 1504), an impressionistic rendering of Federico Mompou's Música Callada by Henck (ECM 1523), an all-Sándor Veress program which includes his Passacaglia Concertante under baton and oboe of Holliger (ECM 1555), Eleni Karaindrou's soundtrack to the film Ulysses' Gaze (ECM 1570), Arvo Pärt's a cappella magnum opus Kanon pokajanen (ECM 1654/55), the Trio Sonatas of J. D. Zelenka (ECM 1671/72), Heiner Goebbels's spectral Surrogate Cities (ECM 1688/89), Jan Garbarek and the Hilliard Ensemble's sophomore album Mnemosyne (ECM 1700/01), H.I.F. Biber's Unam Ceylum as played to perfection by Holloway and friends (ECM 1791), the Italian Duo Gazzana's dynamic Five Pieces (ECM 2238), Dobrinka Tabakova's label debut String Paths (ECM 2239), and Victor Kissine's profound Between Two Waves (ECM 2312).
Finally, no New Series conspectus would be complete without at least passing mention of Valentin Silvestrov's Silent Songs (ECM 1898/99). Though not originally an ECM production, Eicher saw fit to reissue these invaluable recordings of poem settings for baritone and piano. Like the label that revived them, they speak for the forgotten so that we might remember.