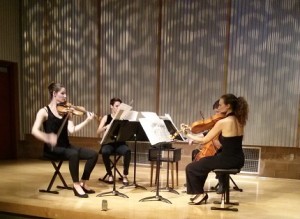 On Saturday, May 14, 2016 Microfest presented a concert of string quartet music at Boston Court in Pasadena. This is the latest in a series of concerts around Los Angeles featuring music created with alternate tuning. The Isaura String Quartet performed works by Kraig Grady, John Luther Adams, Gloria Coates and a world premiere by Andrew McIntosh.
Chippewayan Echoes by Kraig Grady opened the program, and this began with a smooth melody that started in the violins and was passed around and down to the lower strings. New lines were started and similarly shared, the various instruments weaving the melodies into a pleasing pattern. The harmonies were full and plaintive with perhaps a hint of sadness and solemn introspection. Chippewayan Echoes is a re-imagining of Native American melodies, as Kraig Grady writes in the program notes: "There is no attempt to produce an authentic historical rendition. Such a thing is not even possible. What is sought here instead is an emphasis on their melodic qualities that a translation to string quartet brings forth." The piece is based on a single seven-note scale, with 7-limit just intonation. The result was a full sound, internally consonant and very smooth to the ear as played by the Isaura String Quartet. Chippewayan Echoes succeeds through the simplicity of its construction and the economical use of natural harmonic materials to impart a convincing encounter with primal sensibilities.
Tread Softly, by Andrew McIntosh, followed and this was the world premiere Tread Softly was written earlier this year for the Isaura String Quartet as a gift from the composer. This piece was originally envisioned as an etude for harmony in just intonation for string quartets, but ultimately became, as Andrew McIntosh writes: "…a small song with speech-like rhythms and miniature arpeggiated melodies." Tread Softly begins with a sequence of soft tones coming from all the instruments and a bouncy feel – a bit like being on a boat rocking in a gentle swell. If the harmonies sounded a bit unusual, they were always agreeable. The second section sounded a bit more dramatic with some added tension in the chords. A pattern of alternating tones and single pitches prevailed and this produced some interesting harmonies. The last section was lush and flowing, with a settled, comfortable feel. Tread Softly offers a fine sampling of feelings and emotions, artfully expressed through just intonation
The Wind in High Places, by Pulitzer Prize-winning composer John Luther Adams was next, and this three-movement work sets out to sketch some of the more remote places in North America. The music of John Luther Adams is informed by his commitment to environmental causes and a long-time residence in his adopted state of Alaska. Above Sunset Pass is the first movement and the title refers to an isolated opening in the Brooks Range near the Arctic coast. This begins with high, needle-sharp tones in the first violin and sustained tones from the other strings, entering in turn, that evoke the sense of blowing wind in a mountain pass. The entire piece is played on open strings and this contributes a wide, expansive feel that adds to the feeling of majestic inaccessibility. As the pitches descend, inviting harmonies develop that are remarkable for their cordial warmth – the landscapes throughout this piece are never portrayed as harsh or inhospitable.
Maclaren Summit, the second movement, followed and this has a more active feel. Lots of motion and movement in the crisply rapid passages – like snowflakes dancing in the wind. There is an airiness to this that nicely conjures a snowy mountain summit, and the playing by Isaura was precise and delicately light throughout. Looking Toward Hope is the final movement and this begins with a low growl in cello and viola – slow and measured – followed by higher tones in the violins that invoke a sense of craggy grandeur. The pitches work their way from low to high, as if we are looking upward to the summit of a high peak. The Wind in High Places was the first string quartet music written by John Luther Adams, and it brilliantly captures the impressive Alaskan landscape while at the same time encouraging a warm personal relationship with what is too often seen as a forbidding and harsh environment.
After a short intermission, String Quartet No. 9 by Gloria Coates was performed. This was written in 2005 and first played in June, 2007 by the Kreutzer Quartet. A two-movement work, it incorporates parts of the composer's Symphony No.2 and Symphony No. 5. The first movement opens with a mysterious cello line with strong trills in the lower register. The viola takes this up while the cello continues with a new, pizzicato line. The violins enter with this while the lower instruments pass new passages along – a distorted phrase and then a rapping sound. Each instrument takes this up, in turn, and eventually the cello begins with a new theme – and the process repeats. Several such sequences followed as the piece progressed forming a mirror canon. The microtones and extended techniques in this section offered unexpected harmonic combinations and overall, an unusual feel.
About midway through, the strings all combined to form a descending glissando sound, much like that of a siren. The pitches moved slowly and inexorably downward, building tension. This made for compelling listening and was highlighted by disciplined and skillful playing. The tempo slowed as the lower limits were reached until finally a new theme appeared, beginning in the violins and working downward. The second movement felt more varied and complex, with greater use of extended techniques. There were various combinations of sustained tones, pizzicato and rapping sounds. Interesting harmonies were heard and towards the finish a strong declarative phrase in the viola and cello was accompanied by climbing, siren-like tones in the violins. The sense of anxiety was increased as all the instruments joined in. This climaxed with a grand pause just before a series of rapping sounds brought the piece to a conclusion.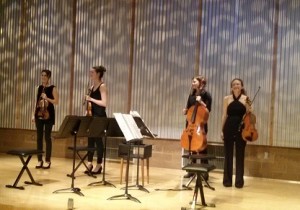 String Quartet No. 9 is an engaging work suffused with a strong sense of order. The plentiful extended techniques and microtonal harmonies are creatively employed within a structural framework that supports and guides the listener. The accomplished playing of the Isaura String Quartet was more than equal to the demands of this remarkable piece.
The Isaura String Quartet is:
Madeline Falcone, violin
Emily Call, violin
Melinda Rice, viola
Betsy Rettig, cello
The next concert in the Microfest series will be 8:00 PM on Tuesday, June 28, 2016 at Monk Space, featuring Aron Kallay.