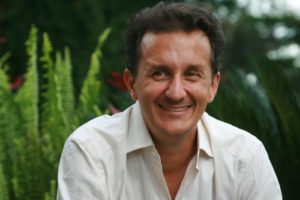 Composer, conductor, and pianist Richard Carrick has been named chair of Berklee's Composition Department. Carrick is a 2015-2016 Guggenheim Fellow and co-founder and co-artistic director of the contemporary music ensemble Either/Or. He succeeds Arnold Friedman, who had been the department's chair since 2012. Friedman remains on the faculty.
Carrick recently moved to the Boston area after living in Kigali, Rwanda, on a Guggenheim Fellowship in Musical Composition. In Rwanda, he was commissioned to pen a new official arrangement of the country's national anthem for the Rwandan Military Band. During this time, he premiered five works in New York, Boston, Tel Aviv, and Kigali. Carrick has taught in South Korea, Japan, the U.K., Rwanda, and Israel through the Very Young Composers program, and returned to South Korea last year as a Gugak Korean Traditional Music Fellow.
"I'm thrilled to be joining the Berklee community and especially the versatile, diverse, and talented Composition Department," said Carrick. "I look forward to finding more professional and educational opportunities for our students in the ever-changing musical world of concert music.
His latest release, Cycles of Evolution, incorporates pieces commissioned and performed by Musicians of the New York Philharmonic, Either/Or, Sweden's Ensemble Son, Hotel Elefant, and DZ4. Carrick conducts or performs on all works on the CD, which includes his 'apocalyptic' multimedia piece, Prisoner's Cinema. His recordings also include Flow Cycle for Strings; and Stone Guitars,which garnered acclaim in both the new music and guitar worlds. American Record Guide said, "It may change your perception of electric guitar."
Either/Or has been called "first rate" and "a trustworthy purveyor of fresh sounds" by the New York Times, and won the 2015 Chamber Music America/ASCAP Award for Adventurous Programming. Carrick has worked with celebrated composers including Helmut Lachenmann, Chaya Czernowin, Iancu Dumitrescu, Elliott Sharp, George Lewis, Alvin Lucier, Anna Thorvaldsdottir, and Rebecca Saunders.
"Dr. Carrick brings a perspective and set of experiences that our faculty and students can connect with immediately," said Larry Simpson, Berklee senior vice president for academic affairs/provost. "He is fluent in the language and ways of the academy and equally accomplished in the world of composing and sustaining creative enterprises that move forward an art form in competitive environments. He also has extensive international experience that will prove valuable to faculty and students."
Carrick has taught composition at Columbia and New York Universities and has presented master classes and lectures throughout the U.S., Europe, and Asia. He was a cornerstone of the teaching artist faculty for the New York Philharmonic, through which he has mentored hundreds of young composers internationally.
A U.S. citizen born in Paris of French-Algerian and British descent, Carrick received his B.A. from Columbia University, PhD from the University of California, San Diego, and pursued further studies at IRCAM and the Koninklijk Conservatorium in The Hague.
Berklee's Composition Department provides a thorough course of study in all areas of traditional and contemporary musical composition, including writing techniques, orchestration, and score preparation; and advanced training in instrumental, choral, and musical theater conducting. A faculty of 40 active composers and conductors, many with national and international reputations, prepare students for careers as professional writers and conductors. Although sharing similar methods with departments such as Jazz Composition, Songwriting, Film Scoring, and Contemporary Writing and Production, the Composition Department is mostly concerned with concert music. The department also works with creative multimedia, from traditional opera and theater to contemporary electronic and mixed media