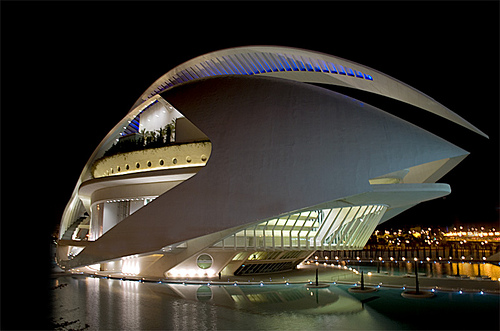 Boston Conservatory at Berklee – recognized for offering one of the best opera programs in the U.S. – is launching a summer program at Berklee's campus in Valencia, Spain for students from all over the world looking to pursue a career in opera. The Boston Conservatory Opera Intensive at Valencia is a comprehensive three-week program taking place June 25-July 15, 2017. This is the first program to be developed jointly between the Valencia campus since the merger between Berklee and the Conservatory in June 2016.
"This summer program is designed for students who are serious about building a career in opera and are looking for next-level training," said Richard Ortner, president of Boston Conservatory at Berklee. "Talented young singers from around the globe will come together to hone their technical skills with unparalleled faculty, gain valuable performance experience in a variety of settings, increase their understanding of what it takes to build and maintain a career in opera, and connect with industry professionals."
The program will feature a robust schedule of lessons, musical and dramatic coachings, classes, and rehearsals, culminating in public concerts and performances of opera excerpts. "Special classes will provide insights and strategies for managing both the business and interpersonal aspects of a sustainable career," said Johnathon Pape, director of Opera Studies at Boston Conservatory at Berklee. "Guest clinicians like renowned Chilean soprano Cristina Gallardo-Domâs, among others, will present master classes and seminars on pertinent information such as auditioning and working in Europe."
One of the unique features of the Boston Conservatory Opera Intensive at Valencia is the opportunity for participants to access Berklee's state-of-the-art recording studios. Students will be able to record some of their selections for use in applications to graduate schools or young artist programs. The selections will be coached and accompanied by program faculty members, and recorded by Berklee engineers. Each participant will leave the program with a professionally produced recording of their selections.
Located in the iconic City of Arts and Sciences, Berklee Valencia is annexed to the Palau de les Arts Reina Sofia, an inspiring setting with top notch facilities and home to world-class cultural events. Many luminaries of the opera world have been associated with the Palau, including Zubin Mehta, Lorin Maazel, and, most notably, Plácido Domingo.
"The Boston Conservatory Opera Intensive at Valencia provides an exciting and supportive environment that will stretch and inspire students, and help them succeed," said María Martínez Iturriaga, executive director of Berklee Valencia. "Valencia, with its rich cultural heritage and beautiful scenery, is a perfect setting for a program of this caliber."
Boston Conservatory at Berklee is recognized for offering one of the best opera programs in the U.S. With a nurturing community of teachers and peers, and a forward-thinking curriculum that is continually evolving, its voice and opera programs are oriented to help students grow as professional singers and as whole artists for the 21st-century stage.
About Boston Conservatory at Berklee
Boston Conservatory at Berklee provides a progressive learning environment where students are challenged to realize their potential as artists and inspired to pursue their dreams. Long recognized for its specialized training in dance, music, and theater, the Conservatory's recent merger with Berklee now combines this rigorous, focused instruction with unparalleled access to a broad range of academic and creative opportunities. Set in the cultural, historical, and educational hub of Boston, this extraordinary institution represents the future of performing arts education. Learn more at bostonconservatory.berklee.edu.
About Berklee College of Music's Valencia Campus
Berklee's campus in Valencia is the first international campus established by the renowned Berklee College of Music—and its first campus outside of Boston. Located in the iconic City of Arts and Sciences in Valencia, Spain, the magnificent 3,600 square meter campus has been designed specifically for music and is equipped with state-of-the art technology.
Berklee's campus in Valencia aims to provide a hub to launch the careers across the globe for the most musically talented international students. Offering a unique curriculum, as well as an International Career Center to assist students in their transition from student to music professional, the campus presented Berklee College of Music's first graduate master's degree programs in contemporary music (Scoring for Film, Television and Video Games; Contemporary Performance (Production Concentration); and Global Entertainment and Music Business) in September 2012, and launched a fourth new graduate program: Music Production, Technology, and Innovation in September 2013.
In addition, Berklee's campus in Valencia offers a Study Abroad Program for Berklee students from Boston to study for a term at Valencia, Summer and Special Programs, as well as a new way for musicians around the world to join the global music community – as performers, as practitioners, and as leaders.
More information can be found at valencia.berklee.edu