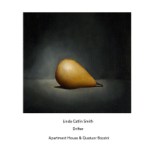 Linda Catlin Smith
Drifter
Apartment House and Bozzini Quartet
Another Timbre at105X2
Born in the US and residing in Canada for more than a quarter century, Linda Catlin Smith has become a fixture on that country's cultural radar. She has been welcomed and feted as one of Canada's own. For instance, she is only the second woman to win the Jules Léger Prize for Chamber Music and has had a long association with the ensemble ArrayMusic, whom she served as Artistic Director. Several recordings have been released of her music, but last year's Dirt Road won her critical acclaim and belated notice in the United States, ending up on many critics' "best of year" lists (mine included). Released by Another Timbre, Dirt Road was merely a foretaste of that label's commitment to Canadian music. Another Timbre has recently released a set of five recordings in its Canadian Composers series (another batch of five is due later this year).  Catlin Smith features prominently, with the double disc Drifter serving as Volume 1 in the series. Other composers include Martin Arnold, Isiah Ceccarelli, Chlyoko Szlavnics, and Marc Sabat.
Drifter's program is performed by two chamber groups: Apartment House and Bozzini Quartet. The "drifting" in question is not itinerant hitchhiking, but rather the placid tempo pathways frequently chosen by Catlin Smith. The piano trio Far from Shore, played here by Philip Thomas, Anton Lukiszevieze, and Mira Benjamin,  is a case in point. Slow, soft music for the trio, often reminiscent of Morton Feldman's approach (one that Catlin Smith acknowledges as a signature influence on her work) abides alongside passages of colorful piano chords. The spectrum moves from inexorably repeated constrained sets of pitches, to chromatic counterpoint, to whole washes of sound. The intuitive sensibility that Catlin Smith claims as her approach in preference to any dogmatic systemization clearly allows her to move through constantly changing musical terrain, all the while maintaining an organic sense of each piece. How does she manage this? An interview in the booklet accompanying the Canadian Composers set quotes her as saying,"Listening. Lots of listening." One could do worse as a composer in any style to listen as carefully as Catlin Smith does.
Cantelina (2013) for viola and vibraphone, played by Emma Richards and Simon Limbrick, presents another of the composer's interests, one in heterogenous instrumental pairings. Both here and in the Piano Quintet ( 2014), another of Catlin Smith's predilections, exploring tightly knit counterpoint in close registral positions, is featured. The overlapping in Cantilena is quite fetching (it is a combination that should be explored by more composers and one I'll keep in my own hip pocket) and it is equally affecting when writ large in the quintet. The title work is also for a seemingly challenging combination, piano and classical guitar, played by Philip Thomas and Diego Castro Magas, but Catlin Smith's gentle daubs of coloristic harmony and unequal ostinatos work beautifully in this duo context as well. Mon Qui Tremblais (1999), played by Thomas, Benjamin, and Limbrick, has a pulse-driven piano part that is joined by sustained violin and bowed pitched percussion. An interesting notational device is used: rather than writing out all the notes and rhythms, the composer specifies that the musicians silently read a Rimbaud poem and use its speech rhythms to shape the musical work (for instance, the percussionist gets his attack points from the accented French syllables).
Bozzini Quartet appears in two string quartets by Catlin Smith. Folkestone (1999) pits a persistently high violin line against blocks of slow articulated, syncopated chords played by the other three members (these have an almost accordion-like quality in their spacing). Gradually, other lines emerge from the texture, with the cello playing a poignant solo dissonant with the rest of the harmony. The chordal passages begin registrally to disperse, bringing the locus of activity closer to the violin's sustained flautando melody. Mid-register lines now break free and the chords move in double time for a brief stretch before ceding the terrain to widely spaced and again slowly articulated harmonies. This alternation of patterns includes still more elements to be introduced: pizzicatos, duets, flashes of quartal harmonic brilliance, and a bass-register cello melody made truly weighty by the registers it has balanced against before. Clocking in at more than 32 minutes, Folkestone is a substantial and thoroughly captivating composition. Gondola involves members of the quartet coming in and out of unison and a gentle boat-rocking pacing that Catlin Smith describes thus:"The title loosely refers to its slight undulation or floating qualities – a subtle motion or disturbance of the surface, like trailing the hand in water."
Evocative imagery for truly evocative music-making. Drifter is an album (a double-album at that) worth savoring.