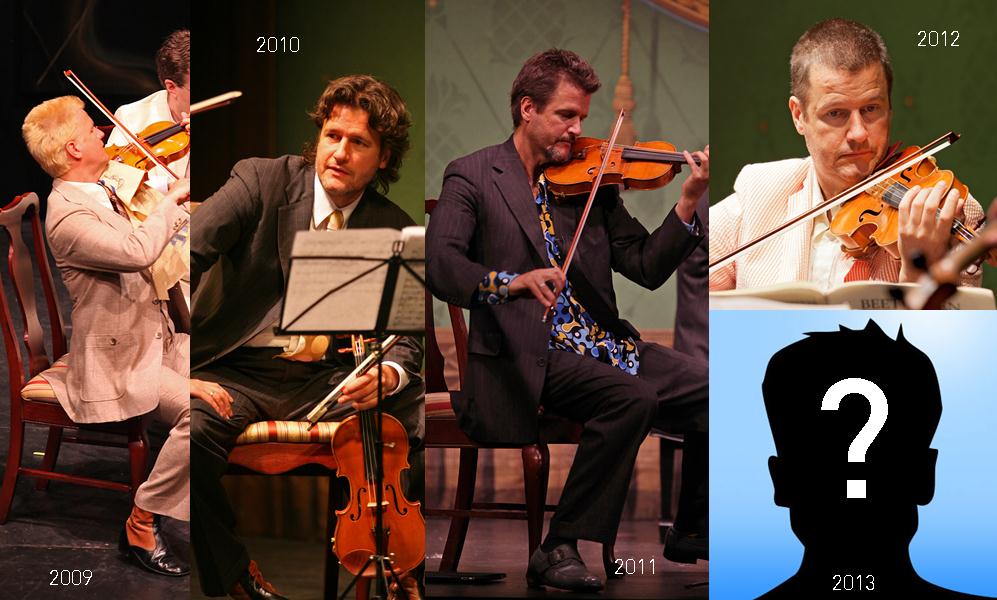 Geoff Nuttall is looking for a few good rocks. One for each hand of 60 random patrons who show up at Charleston's Dock Street Theater this Friday at 11 am or 1 pm for the first 2017 concert of Spoleto Festival USA's immensely popular Bank of America Chamber Music Series. The rocks will be there for a piece called Trans for Percussion Solo and Audience, written by composer Lei Liang. The percussion solo will be performed by the legendary percussionist Steven Schick; the audience part will be performed by the 60 patrons who have been armed with rocks.  The same program opens with Vivaldi's Oboe Concerto in D Minor and closes with Glinka's Divertimento Brilliante from themes from Bellini's La sonnambula, with another modern piece by this year's composer-in-residence Jaroslaw Kapuscinski, sandwiched in between.
"I am not really that thematic in approach to programming," Nuttall says. "You want the individual pieces to work together but you also want each of them to be distinctive and stand out on their own." He favors, what the architect Robert Venturi, once described as "a messy vitality over obvious unity."
Nuttall is a consummate showman who has shown up just about every year with a different hair style—ranging from wavy to spiky to blond, Marcello Mastroionni to Gomer Pyle in length. Audiences love it.
But, don't be fooled, the Spoleto chamber music schedule is a demanding one. Eleven programs, each played three times, over a 16-day period. "Not for the faint of heart," Nuttall says.
The opening program is a typical day at the office for the always surprising Nuttall, first violinist and co-founder of the improbably still-cool-after-28-years St. Lawrence String Quartet, lecturer and Artist-in-Residence at Stanford University, and Artistic Director of the Spoleto Festival USA Chamber Music Series, a post he inherited in 2009 from–and with the blessing of–the venerable pianist Charles Wadsworth, who guided the program for three decades (not to mention his leadership of the Chamber Music Society of Lincoln Center for many years.)
It was an inspired choice. Nuttall is one of those rare people who can explain complex music in a way that is engaging, entertaining and often downright funny. The New York Times labeled him the "John Stewart of classical music", in fact, his comedic style is closer to that of Charleston native Stephen Colbert.
Born in College Park, Texas, Nuttall's family soon moved to London, Ontario, Canada where he spent a few happy years skating on ponds and playing hockey until someone discovered he had violin talent and packed him off–at the age eight, while he still had his fingers and teeth–to Lorand Fenyves at The Banff Centre. He went on to the University of Western Ontario, and the University of Toronto, where he received his bachelor of arts.
Among the guest artists, Nuttall has scheduled this year are percussionist Steven Schick, countertenor Anthony Roth Costanzo, oboist James Austin Smith, violinist Livia Sohn, pianists Pedja Muzijevic and Stephen Prutsman composer/cellist Joshua Roman, Swiss-born pianist Gilles Vonsattel, and the Rolston String Quartet, a young Canadian ensemble that won the 2016 Banff International String Quartet Competition—an award won by the St. Lawrence many years ago.
Nuttall admits his programming choices are often influenced by the guest musicians who he chooses to perform.
"I've wanted to feature a percussionist for awhile now and when Steve Schick, who is one of my favorite musicians, agreed to do it, I started looking for pieces that would work. But the repertory for percussion is so specific, there's only so much to pick from. And because it is so specific there has to be a certain balance in the rest of the concert. That's why I chose the Iannis Xenakis contemporary solo percussion piece "Rebonds" for the first concert—to really showcase Steve's outstanding musicianship. But then it's balanced out with Vivaldi."
Another modern piece on the program this year was written specifically for Schick by composer Gustavo Aguilar and is called Wendell's History for Steve: Part I. It's a solo work in which Schick improvises on various percussion instruments while reciting poems by the cow patty poet Wendell Berry.
There's lots of Vivaldi on the program this year which require the talents of counter tenor Anthony Roth Costanzo but also provides an occasion for what looks to be an entertaining bit of fun. On June 10 and 11, Costanzo will sing "Crying," a song written and famously performed the counter tenor Roy Orbison.
"I learned that Roy's widow had once asked Anthony to perform it at a benefit and I said 'We've got to do that." Steve Prutzman put together a dynamite arrangement and it's going to be great."
That's the kind of surprising programming that has made the Chamber Music Series the most consistently popular and enduring element of Spoleto Festival USA.
"I am amazed at the dedication of Charleston chamber music fans," Nuttall says. "The Dock Theater seats about 450 people. We perform to 33 different audiences during the Festival and there is rarely an empty seat during any of the concerts. I don't know any other city in the world—big cities included—where that would happen."