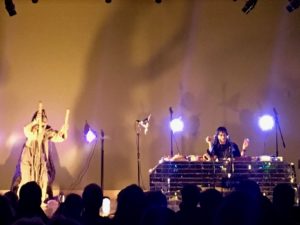 On Thursday, June 8, 2017 the Santa Monica Public Library presented the Los Angeles premiere of Breadwoman: Variations and Improvisations in the MLK Jr. Auditorium.
Breadwoman has a long and colorful history, reaching back to her first incarnation by Anna Homler in the 1980s. The late Steve Moshier created the synthesized accompaniment and in 2016 the original reel-to-reel tapes were remastered by the RVNG record label in New York. A Breadwoman and Other Tales CD was released last year to wide acclaim in publications such as Pitchfork, The Wire and the Los Angeles Times. A good-sized crowd turned out on a weekday evening for this rare presentation of performance art and music.
The liner notes of the Breadwoman CD state that: "Breadwoman is a guide, a storyteller and an observer of human events. She communicates with gestures and songs in a language that is both mysterious and familiar. Breadwoman is so very old that she stands outside of time. Her territory is that of the interior, where there are no distinctions and all things are whole." The strong interest in the 2016 CD has prompted Ms. Homler to organize a new live performance and the result was Breadwoman: Variations and Improvisations.
For this concert Ms. Homler was seated behind a microphone and shiny silver table filled with all manner of whistles, rattles, noisemakers and various other found percussion pieces. Maya Gingery as Breadwoman sat still on a chair completely covered by a gray shroud, awaiting the start of the performance. At the foot of the stage, Jorge Martin presided over a vast array of patch cables, mixers, amplifiers and analog synthesizers. All of the pieces in this hour-long performance were performed continuously with no interruptions. This began with Yesh Te', a gentle invocation sung by Ms. Homler while Breadwoman was seen to be moving and coming to life under her shroud. The electronic accompaniment was similarly subdued, and full of deep sounds – at times Ms. Homler sang, played a tin flute or rattled racks of beads to add some variety to the texture. Her vocals resembled some long-lost Central European language – the words could not be understood, nor were they meant to be – but the sounds and cadences were highly evocative of a primal culture.
Ee Chê followed and here there was a strong percussive beat in the electronics while the singing became stronger and more assertive, as if part of some ritual incantation. At this point, Breadwoman had completely removed the shroud and, although still sitting in her chair, was fully revealed. Her heavily layered clothing and face, obscured by the bread-like headgear, brought to mind a homeless woman such as might be seen in many Los Angeles neighborhoods – the anonymous look and slow movements evoked an immediate and timeless empathy. Breadwoman gathered in some long loaves of bread from the floor before her, and using these as canes, slowly rose to her feet. All of her movements were slow and deliberate as if the weight of a thousand past generations were weighing down on her old body. The choreography, pace and drama of Breadwoman's movements corresponded perfectly with the music and electronics; even as she was buried in the costuming and makeup, Ms. Gingery couldn't have been more convincing. Fittingly, Jorge Martin's analog synthesizers seemed to be closely following Moshier's original tracks.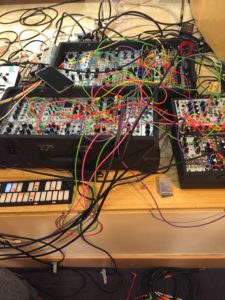 More evocative music followed. In one segment, Breadwoman took up what looked to be two large cups and seemed to be splashing the contents on the ground, perhaps in a rite of fertility. The electronic beat was solid and the singing of Ms. Homler was like that of a mystical incantation. Breadwoman later lifted two large rattles and shook them while turning slowly around. It was as if we were witnessing some age-old ritual with Breadwoman as a venerable high priestess.
In another segment deep tones coming from the electronics were accompanied by the sounds of a forest at night. Crickets, frogs and larger, more ominous critters seemingly lurked in the darkness while Breadwoman remained passively seated. Heavy breathing was heard, with indistinct voices and the sounds of running water. Ms. Homler took up various items of found percussion and the clicking, grinding and growling sounds added to the sense of predatory danger. Breadwoman remained stoically seated, making only a few slow movements, as if resigned to the organic dangers of primal life.
The final segment was brighter in tone, the sound of some small bells dispelled the ambient tension and a low drone in the electronics was accompanied by Ms. Homler with a chant. This was taken up by voices in the electronics as Breadwoman rose and faced skyward. The feeling was communal and mystical, as if we were present at the dawn of human spirituality. A low drone in the electronics added a sense of importance to the proceedings as Breadwoman raised a long loaf of bread upward as if acknowledging a higher power. The chanting vocals faded to silence with Breadwoman standing in motionless reverence as the performance came to a conclusion.
The loud and long applause that followed was intended the performers, of course, but also for the artistic concept of Breadwoman as a tangible representation of our distant human past.
The Breadwoman and Other Tales CD is available from RVNG Records and Amazon.
Photo courtesy of  Elaine Parks.