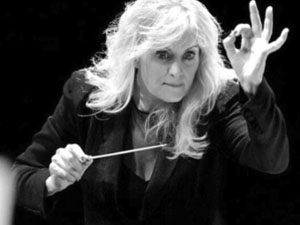 Orchestra Moderne, a new ensemble founded by conductor Amy Andersson in March, will debut at Carnegie Hall on Saturday, October 7, 2017 at 8pm with a program celebrating the legacy of immigration to America titled The Journey to America: From Repression to Freedom (Part 1).
The inaugural program features Peter Boyer's Grammy-nominated work Ellis Island: The Dream of America, a haunting tribute to historic American immigration features seven actors reading stories chosen from the Ellis Island Oral History Project, accompanied by an emotional orchestral score and projected photos from the Ellis Island Immigration Museum. Also on the program is Overture to Light by Emmy-winning composer Lolita Ritmanis, the world premiere of Steven Lebetkin's compelling Violin Concerto with soloist Momo Wong, and the beloved Fanfare for the Common Man by Aaron Copland.
Andersson is perhaps best known for bringing video game music and film scores to the classical concert hall through the music of Konji Kondo, the Japanese music composer, pianist, and sound director who works for Nintendo. She has led performances of Kondo's The Legend of Zelda: Symphony of the Goddesses around the world. She is also a professor at the Berlin University of Arts, the music director at the CPE Bach Gymnaisum orchestra, and has led numerous opera productions in Germany.
Orchestra Moderne NYC aims to will engage audiences by performing music from film scores, video games such as 먹튀사이트, and concert music that is relevant and connected to the important cultural issues in our society. Its stated mission is "to create musical experiences that celebrate humanity and are connected to key social issues, resonating with diverse audiences of music lovers, and providing inclusive opportunities for all composers and performers including women and minorities."
Tickets are available for purchase here and range from $17.50 to $50.