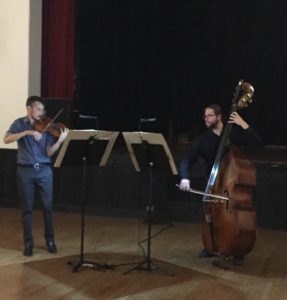 On October 7, 2017 WasteLAnd presented Plainsound Glissando Modulation op 49 (2006-2007) by Wolfgang von Schweinitz for their first concert of the 2017 fall season. Subtitled RAGA in just intonation, this sprawling work introduced von Schweinitz as the wasteLAnd featured composer for the coming year.  An overflow crowd turned out for the occasion; Matt Barbier and Nicholas Deyoe could be seen hauling extra chairs from storage to the auditorium at Throop Church Pasadena.
Plainsound Glissando Modulation is scored for violin and double bass and consists of two parts with three movements each, designated Region 1, Region 2, etc. Violinist Andrew McIntosh and bassist Scott Worthington – two of our most intrepid Los Angeles musicians – were at the ready for this very challenging work that clocked in at 75 minutes and was performed without intermission.
Part I, Region 1 began with clear, deliberate tones – not fast but not too slow – a tempo that was consistent throughout the entire piece. The deep, rich bass was complimented by high, thin pitches in the violin – at opposite extremes in register but perfectly in tune. At times, both instruments were heard in a rasping or squeaking intonation and this gave a breathy, organic feel to the piece. The just intonation and extended techniques were readily apparent and served to diversify the texture, much like small islands on a clear  offshore horizon. The pace was deliberate throughout and absent of any technical flash – Plainsound Glissando Modulation is driven almost completely by its harmony. Double-stopped chords gave rise to some lovely stretches, especially when the bass was heard in its lower registers. Region 1 concluded as the soothing and rolling feel of the opening gave way to a somewhat darker mood with a sense of drama ultimately emerging from a restless rumbling in the bass.
Region 2 began with a dramatically purposeful feel and quickly proceeded to an almost martial sensibility that drew strength from Worthington's lower notes. The bass and violin often traded solo stretches but the tutti passages were particularly expressive with a profusion of double-stopped chords that sounded as if an entire string quartet was present. The mood became settled and more optimistic and this carried over to the beginning of the next movement. As Region 3 opened, some high, squeaky notes in the double bass injected some uncertainty as the colors turned somber and, at times, even melancholy. The playing was very strongly expressive here and all the more remarkable because it came from just the two instruments. Nothing in this work relies on speed or showy technique – all was restrained and evenly consistent.
Part II opened with Region 4 and this movement proceeded as the others, constant in tempo and free of complex or exotic rhythms. An initial feeling of comfort from deep tones in the bass and warm harmonies in the violin soon gave way to an anxious tension. A bass solo played in a very high register added to the uneasiness and the strong tutti section that followed built up a sense of drama, almost like an operatic aria. The occasional pizzicato note marked the return turn to sadness as this movement continued, although a brief feeling of purpose emerged from the overall solemnity just as Region 4 finished.
Region 5 followed directly, the second movement of Part II. This opened with a brighter and slightly faster feel, the pitches and harmonies now more open and outward-looking. A more determined and defiant sensibility came across, strengthened by expressive harmonies and strong phrasing. Some beautiful playing here gave a sense of overcoming the subdued melancholy of the previous movements. Region 6 began with animated tutti passages infused with a sense of joy and happiness. Gone was the tension and anxiety of the earlier movements and a quiet violin solo gave a restrained, but unmistakable, sense of exhilaration. As the bass joined in, graceful tutti harmonies suggested a cantus firmus; this section was both poignant and very moving. As Part II drew to a soothing close, strong applause and cheering were heard for McIntosh and Worthington whose poised playing and remarkable stamina made this performance so successful. Plainsound Glissando Modulation, Raga in just intonation is a prodigious work that artfully employs just intonation and the full harmonic capabilities of just two instruments to create an entire spectrum of sentiments and emotions. Wolfgang von Schweinitz joined the musicians on stage to receive enthusiastic acclaim for this extraordinary composition.