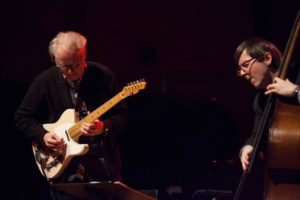 Bill Frisell and Thomas Morgan
The Jazz Standard
December 10, 2017
Sequenza 21
By Christian Carey
NEW YORK – Like the dearly departed duo of Jim Hall and Charlie Haden, guitarist Bill Frisell and bassist Thomas Morgan make a sound much greater than the sum of their parts. This is not an issue of amplitude – their set on Sunday December tenth at the Jazz Standard was perfectly scaled for this intimate space. However, in terms of richness of rapport, musical detail, and imaginative improvisation, they can stand toe-to-toe with many larger groups. In part, they seem like a bigger ensemble because of the sheer number of notes per bar that their interplay encompasses and the quick shifts that occur between registers on their respective instruments.
There is another touching and musically fulfilling aspect to the pairing. While Frisell is the "veteran," chronologically speaking, Morgan needn't and doesn't adopt a subordinate role: their interplay is on an equal footing. Frisell and Morgan began with "Days of Wine and Roses," a venerable pop song turned jazz staple by pianist Bill Evans and memorably interpreted by guitarists such as Wes Montgomery and Joe Pass. Here, there was no feeling out process; it was an interweaving dialogue from the get-go. Frisell and Morgan seldom look at one another; such is their sense of each other's unfolding strategy that they seldom need to do so. They seamlessly "duck" above and below each other, covering several octaves in their musical repartee.
Some of the set took tunes from Small Town (ECM, 2017), Frisell/Morgan's live recording of a March 2016 stint at the Village Vanguard. A standout that appears on the CD is the fetching ballad by Morgan, "Pearl," a tune with a turn around that contains just a whiff of "My Only Love" and is adorned with chromatic changes. Frisell supplied an original of his own, "Strange Meeting," originally recorded back in 1984 on the guitarist's ECM album The Rambler. While Morgan generally takes a polyphonic and harmonic approach to bass playing, here he imitated the pulsations found on the original recording (courtesy of Jerome Harris and Paul Motian), his instrument thrumming with intensity.
Both Thelonious Monk's "Misterioso" and "Subconcious Lee" by Lee Konitz gave the two opportunities to switch gears to demonstrate facility in the bebop idiom. Later, the Carter Family's "Wildwood Flower" presented another avenue of inquiry long in Frisell's kitbag: the refraction of Americana and folk music through a jazz lense.
In a year fraught with violence and strife, it seemed especially appropriate for the set proper to end with Burt Bacharach's "What the World Needs Now is Love," a tender, but not overly sentimental, take on yet another iconic pop song turned standard. Warmly received, the duo returned for an encore from the Bond song catalog, John Barry's "You Only Live Twice." You can hear another Bond film theme by Barry on Small Town: "Goldfinger."
Worthy of mention is the hospitable atmosphere at Jazz Standard. Their "quiet policy" makes it most conducive to listening, and the audience on Sunday readily complied, seeming earnestly engaged throughout. The servers are attentive, but they observe the quiet policy too. In addition, the Standard supplies customers with the best food to be had in a New York jazz establishment. Planning to see Billy Hart in February!
Set list
Days of Wine and Roses (Henry Mancini)
Misterioso (Thelonious Monk)
Pearl (Thomas Morgan)
Strange Meeting (Bill Frisell)
Subconscious Lee – (Lee Konitz)
Wildwood Flower (folk / Carter Family)
What the World Needs Now (Burt Bacharach)
encore: You Only Live Twice (John Barry)
Upcoming concerts by Frisell/Morgan
February 15 Mill Valley CA
February 17 Eugene OR
February 18 Portland, OR
(Revolution Hall, Portland Jazz Festival)
February 19th Seattle, WA