Best of 2018 – Best Violin Concerto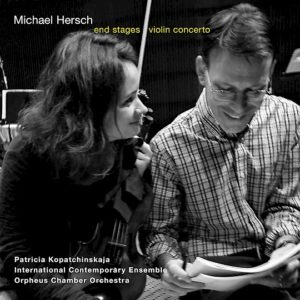 Michael Hersch
end stages, Violin Concerto
Patricia Kopatchinskaja, violin,
International Contemporary Ensemble, Tito Muñoz, Orpheus Chamber Orchestra
New Focus Recordings fcr208
Composer Michael Hersch consistently writes music with emotional immediacy that explores aching vulnerability with consummate eloquence. His Violin Concerto is like a wound still raw. Soloist Patricia Kopatchinskaja ramps up the intensity, as does ICE, conducted here by Tino Muñoz, rendering the work's first and third movements with bracing strength and its second with fragile uneasiness. This emotion returns, amplified by high-lying solos and echoing attacks from the ensemble, to provide a tensely wrought close to the piece.
Orpheus Chamber Orchestra is renown for their conductor-less approach to chamber orchestra works. Still, the coordination and balance they exhibit on Hersch's end stages deserves particular praise. Glacial slabs of dissonant harmonies give way to howling French horn and a buildup of contrapuntal intensity. This is succeeded by a tragically mournful tune accompanied by a bee's nest of clusters and sliced string-led attacks. Taut wind dissonances then punctuate an angular, rambling string melody, succeeded once again by nervous pile-ups of angular crescendos. The seventh movement is buoyed by heraldic trumpet and vigorous repeated string chords, while the finale returns to a colorful, harmonically ambiguous ambience. The piece is Hersch at his most Bergian, bringing together artful organization and visceral emotion. Recommended.