Unlike those big-media favorites lists that appear in mid-December to grease the skids of the Great Shopping Season, my year-end reckonings dawdle until the last moment and don't claim to define the best of anything. But with audio streaming, social media and other factors pushing the contemporary music landscape into an increasingly variegated but fragmented state, some measure of thoughtful inventorying seems both prudent and practical. In that spirit, here's a biased and opinionated survey of albums and other media released in 2018 that made an impact on me.
Stage to screen
New music theater was a recurring theme during the year. Tops in prominence was the premiere of Kurtág's Fin de Partie at La Scala, but we're still waiting for that to be recorded. Another notable 2018 event was the US premiere of Saariajo's chamber opera Only the Sound Remains (its European video release was one of my picks in 2017). Over in the UK, a string of high-profile operatic premieres—including Muhly's Marnie, Dean's Hamlet and Adès's The Exterminating Angel—reached an apex with the captivating Lessons in Love and Violence by George Benjamin. Its libretto, which Martin Crimp adapted from Marlowe's play Edward II, divides the palace intrigue into seven scenes, and shoehorned into a tight 90 minute span, the result invites comparisons with Wozzeck (though Berg, when faced with the insane King's insistence that "I can hear drumming", would surely have used the orchestra to depict his deluded reality, whereas Benjamin depicts things as they really are). Lessons is similar in style to Hamlet and Angel, but Benjamin's textures are thinner and clearer, and thus seem more varied and communicative by comparison.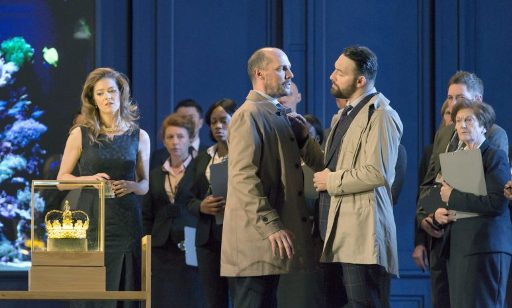 You can view streaming video of the Royal Opera's premiere production at medici.tv (subscription required) or purchase it on Blu-ray. Highlights include the powerful second scene where three peasants describe their impoverished agony to the callous Queen Isabel (played by Barbara Hannigan). One peasant asks why both the poor and the rich sleep three-to-a-bed (the latter alluding to Edward's same-sex consort Gaveston). Another fine moment is the brief threnody for Edward that features cimbalom and Iranian tombak drums (one of the opera's few nods to beat-driven vernacular music). Benjamin's use of cimbalom and two harps is effective throughout: they seldom play simultaneously, but working in tandem they create a soundscape rich in struck/plucked string sonorities.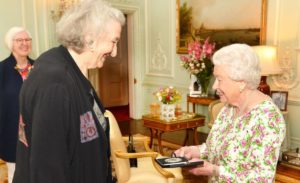 Speaking of British royalty, there's Thea Musgrave's Mary Queen of Scots, wherein Scotland's most famous female composer weighs in on its most famous female politician. The long-unavailable 1978 recording of this most admired of Musgrave operas has finally reappeared in celebration of her 90th birthday (Amazon, Spotify, YouTube). While Lessons in Love and Violence belongs to the Tippett tradition of English-language opera, Mary is squarely within the more conservative Britten lineage, but its style is still contemporary and unsentimental. My favorite moment comes in the ballroom scene where one courtier starts up a bawdy reel to disrupt Mary's dance with a rival, the musics clashing like the men's ambitions. Won't someone revive this work onstage in lieu of yet another production of Donizetti's Maria Stuarda?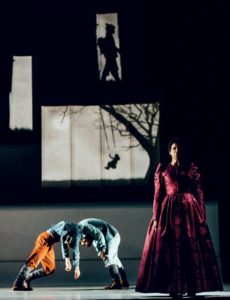 In November 2018, while various world leaders were in France commemorating the end of WW1 (or in Trump's case, hiding indoors from the rain), Parisian audiences took in a concert staging of Nicholas Lens's 2014 opera Shell Shock. The libretto, a collection of anguished reflections from war veterans and widows, ostensibly set during the Great War, was penned by Nick Cave, thus explaining how a traditional opera might open with a lyric like "Some asshole…some asshole…some asshole shouts at me in words I do not properly understand". The eclecticism of Lens's score is reminiscent of Henze, though specific passages conjure up other composers. The prelude, for instance, is practically a clone of the Kyrie from Ligeti's Requiem, while the Canto of the Nurse resembles the serial music heard throughout Eisler's German Symphony.
That Shell Shock has been successful enough to warrant revival is due largely to its weaving of cultivated and vernacular styles into a fabric that is postmodern but not hackneyed. ENO and the Met should take note of how much better this works for "accessible highbrow" than Marnie, whose application of bel canto opera accoutrements in service of fancified Broadway-style music comes off as pretentious and overproduced.
Video of Shell Shock can be streamed here for a limited time.
Electronic music today…
Fixed media music has often been marginalized within the broader classical music world because it doesn't align with traditional performer-centric institutions and publicity machines. That its prominence is increasing today is testament to the shakeups engendered by inexpensive digital instruments and new distribution channels. One of the few regrets I have over this development is the amount of high-quality studio work that I've had to set aside to shrink this part of the list to a manageable size:
…and yesterday
Éliane Radigue with her ARP 2500 (photo: Yves Fernandez)

Éliane Radigue: Œuvres Électroniques (14 CDs, from GRM, available at Metamkine, excerpts on SoundCloud)
The epic electroacoustic works of the mother of dark ambient, gathered into an attractive 14-CD box. My contribution to Second Inversion's Top 10 Albums of 2018

Jerry Hunt: from "Ground" (Bandcamp)
Other Minds reclaims this 1980 studio performance by America's most iconoclastic shaman-musician. See my review here
Xenakis: Persepolis (Bandcamp)
Martin Wurmnest and Rashad Becker's new presentation of this 1971 tape piece is a true remix (not an arrangement) of Xenakis's 8-track original. It's simply awesome: strong bass, clear separation, by far the best this classic has ever sounded on record
More tribute to the elders
Gloria Coates (photo: Simon Leigh)

Gloria Coates: Piano Quintet, Symphony No. 10 (Drone of Druids on Celtic Ruins) (Spotify, YouTube)
Coates is like a kinder, gentler Ustvolskaya with her single-minded emphasis on colliding sound masses and abstract forms. This new Naxos recording starts with her un-Brahms-like Piano Quintet (2013), in which half of the string instruments are tuned a quarter tone sharp (a technique borrowed from Ligeti's Ramifications). Next comes her Symphony No. 10 (1992–3), which is like a Phill Niblock piece arranged for brass choir with a battery of snare drums added in. A new octogenarian and longtime Munich resident, Coates is finally receiving some well-deserved recognition in her native United States

Dominick Argento: The Boor, Miss Havisham's Wedding Night, A Water Bird Talk (Spotify, YouTube)
The Boor competes unfavorably with Walton's The Bear (both set the same Chekhov play), while Miss Havisham's Wedding Night (adapted from Great Expectations) loses out to Maxwell Davies' similarly-themed Miss Donnithorne's Maggot. But it's all worth it for A Water Bird Talk (1975–6), one of this nonagenarian's most imaginative works. Featuring a baritone solo, some clever use of bird song, a little bit of coughing and a small chamber ensemble, it's like Erwartung for people who prefer Britten to Schoenberg
Berio: Sinfonia, Boulez: Notations I–IV, Ravel: La Valse (Amazon, Spotify, YouTube)
Ludovic Morlot and the Seattle Symphony are joined by Roomful of Teeth to present one modern and one postmodern sacred cow. With Boulez's orchestral miniatures thrown in. One of my colleague Christian Carey's picks, along with…
Harbison: Symphony No. 4, Ruggles: Sun Treader, Stucky: Second Concerto for Orchestra (Spotify, YouTube)
Harbison further represents the octogenarian set, and his Fourth Symphony (2003) is one of his more humorous orchestral works. The Ruggles performance is second only to Michael Tilson Thomas's classic 1970 recording, while the late Steven Stucky (1949–2016) is well represented by this colorful work from 2003 that might remind you of a composer like Stephen Albert. David Alan Miller conducts the National Orchestral Institute Philharmonic
Kondo: Syzygia, Snow's Falling, Pebbles: Pine Cones Fall (Bandcamp)
Paul Zukofsky (1943–2017) is another recent departure, an accomplished violinist (he premiered the title role in Glass's Einstein on the Beach), conductor, arts administrator, and the bane of many a graduate student whose interest in his father—the noted symbolist poet Louis Zukofsky—was thwarted by his zealous copyright guarding. In this, his final recording project, he showcases Kondo at his most Feldman-like. Syzygia is like hearing the Lutheran hymnal reimagined by old Morty, while the choral Snow's Falling is like Rothko Chapel with a literary reference to Three Voices thrown in. In between the two Kondo tracks is Craig Pebbles' similarly Feldmanian Pine Cones Fall
Ichiyanagi: Sapporo (audio excerpt)
Seattle's Eye Music ensemble takes a fresh look at a quintessential graphic score from 1963 in this new CD from Edition Wandelweiser. See my review here
Richter, Schnittke et al: Through the Lens of Time (Spotify)
Looking back even farther is violinist Francisco Fullana's concept album whose centerpiece is Max Richter's The Four Seasons Recomposed, a droll update to Vivaldi's famous concerto tetralogy (imagine Winter in a modern 7/8 time). Between each Season, Fullana inserts other neo-Baroque compositions: Schnittke's Suite in the Old Style (modeled after Baroque dance suites), the Spaniard Salvador Brotons' Variations on a Baroque Theme, and a fantasy on Bach's Musical Offering by Isang Yun. Fullana and company present these works in the best possible light, leaving it to you to decide whether they're transient nibblings at the feet of the old masters, or fresh prospects deserving of a foothold in the repertory
Justifiably admired
Next come three albums that seem to be on everyone's list, and understandably so.
Dennett and Johnson (photo: Alonso Nichols, Patricia Nolan)

Scott Johnson: Mind Out of Matter (Amazon)
Alarm Will Sound performs this new "atheist oratorio" from the master of speech melody, based on speeches by Daniel Dennett. I review it here

Josh Modney: Engage (Spotify)
Three CDs of (mostly) unaccompanied violin? Yes, it works! Modney takes us on a journey that includes Bach, free improvs in the Malcolm Goldstein mold, live electronic music (Sam Pluta's Jem Altieri with a Ring Modulator Circuit), an attractive duo for amplified violin and prepared piano by Modney's Wet Ink Ensemble co-director Eric Wubbels, and one of Anthony Braxton's finest composed works (Composition No. 222)
Tyshawn Sorey: Pillars (Bandcamp)
Pillars inhabits the epic-length free improv space that includes such monuments as Is and People in Sorrow. But it also has a foot in the drone minimalism lineage of Young and Radigue. Sorey employs an octet instrumentation whose most striking component is three double basses. Their bowed rumbles can be heard anchoring the chorale section at the 1:11:08 mark of Pillars I that's soon followed by trombone and cymbals music obviously borrowed from the Tibetan ritual orchestra.

Tyshawn Sorey (photo: John Rogers)

Another neo-Tibetan passage starts in the 30th minute of Pillars II with trombonist Ben Gerstein doing his best dungchen impression. Sorey soon enters on a real dungchen, though the result is more evocative of a didgeridoo. Several minutes ensue with drone plus bells/cymbals and later a bass drum. In the 37th minute, bowed double basses again launch a deep industrial growl which builds for four minutes until it completely usurps the drone from the dungchen. This slow and deep music continues until the 45th minute. Hopefully you've gotten an idea of the album's sound world and slow pacing, but remarkably, the music never seems to drag
Back to the Old World
Miscellanea and esoterica
---
The quantity of thought-provoking work that came along in 2018 makes this list quite a bit longer than last year's, and testifies to the ongoing resilience and sophistication of Western art music even as some voices prophesize its imminent demise or assimilation. But perhaps a bit of perspective should be offered by two final albums whose scope lies well outside that usually associated with Western-influenced cultivated arts:
Music of Northern Laos and Music of Southern Laos
Cherishingly recorded between 2006 and 2013, and released this year on Bandcamp by the irrepressible Laurent Jeanneau (AKA Kink Gong), these two albums showcase the remarkable heterophony and sound world of traditional Laotian folk music. On display are the spicy timbres of bamboo tube instruments, the vertical mouth organ called a khene (basically the same instrument as the Japanese shō and the Chinese sheng) and singing in a variety of throaty and nasal styles. Per Jeanneau, "most recordings available in the Western world focus on the dominant culture in Laos. I focus on marginalized ethnic minorities". It's a monument to the tenacity of threatened cultures clinging to life amid the pressures of global artistic commodification.